Buskateers on the Highway Seas
March 14 2015
While our original expedition is currently in the planning stage over at https://openexplorer.com/expedition/swimwithbluefintuna , we have found ourselves on a mission to field test our equipment. That equipment includes an Adventure Bus we call The Kraken. We will be traveling in our new ride from the Toronto, Canada area, through Nashville, and on to the Gulf Coast of Florida. There we have rented a boat to test our OpenROV with Manatees.
You are set up to receive WePay payments.
Here are the details to your account:
Name: Melissa Laforge
E-Mail: laforgem@hsdb.ca
Account ID: 1296097372
Cultural stereotypes. It's often all so easy to look outside of your own culture when stereotypes are mentioned, but our passing through rural Alabama triggered one of the most perplexing conversations I can recall.
The back story is...we needed tires. Tires in Canada were extremely unaffordable and difficult to justify, when there was "life" left on the existing tires. But then we had to turn around and used a driveway off the highway in Alabama and found ourselves face to face with a lot full of tires. The bus banter started with a simple "Hey, we could get some tires here"...and in an eager moment to discover vintage hidden gems, Charles was out of the bus to explore.
The conversation started with tires, and they turned out to be remarkably AFFORDABLE in Alabama. We justified a stop to get new tires and embarked on a conversational journey into all things Canadian.
The tire man was eager to tell us about Alabama's sweltering summers, and we shared stories of snow drifts he couldn't imagine. The weather; always a great starting point. Then it turned...
"You have bears up there in Canada, don't ya?"
We explained we have beautiful bears, roaming in remote areas, not too often in our residential areas...but it happens.
"I've always wanted to fight a bear. I fought a wee bear once".
No kidding. That conversation developed and happened. There existed a stereotype that we were rugged Canadian bear fighters, biting at the chomp for the next chance to triumph over nature.
It seems fitting that we begin here to clarify our environmental views, and deviate from this bear fighting stereotype. Our level of respect for nature is exceptionally high. While we verge on the "Deep-Eco" spectrum, we also have not extended our beliefs into veganism. However, our ethics have brought us to raising our own meat in our yard to provide the most ethical and moral existence for the meat we aim to consume. Clearly this close relationship with dinner holds it's own challenges; there always seems to exist contradictions.
Those are the kinds of people we are. With options for exploration, it's constantly weighing on our minds the ethics of the environment we enter, and how to respectfully encounter nature.
Back to Alabama though...there was driving and lots of driving as we headed south. We had a chance to play with some filming and I had a chance to feel old when I learned the kids had no clue about That 70s Show. We passed the time, and they now know That 70s Show!!
"Alabama, eh? Hmm, I've never been there".
Neither had we, and while there were certainly faster routes to the Florida Gulf and the Manatees, the idea of going somewhere new landed us a drive through Alabama.
And we met BBQ.
Keep in mind, those of you with exposure to The South know of BBQ. That wasn't us. It's one of those things elusive to us Canadians, like tailgating, grits, and all you can eat buffets.
The night before we had savvy advice to find the best southern BBQ - aim for an unlikely location with lots of cars in the parking lot. When we found a jammed lot including a fleet of cop cars and the sheriff, we knew we had found THE ONE.
After an initial overwhelmedness with the menu, we left the ordering up to the woman running the till and ran back to the bus with styrofoam packages overflowing in all kinds of meats, fries, salads, and a gallon of lemonade.
This was our first attempt to host a sit down meal on our Adventure Mobile. The rear futons can be beds at night, or the dining room ;) during the day. I continue to adore our 1950's laminate/chrome table, and the introduction to BBQ was the perfect first attempt. Feast on this!!!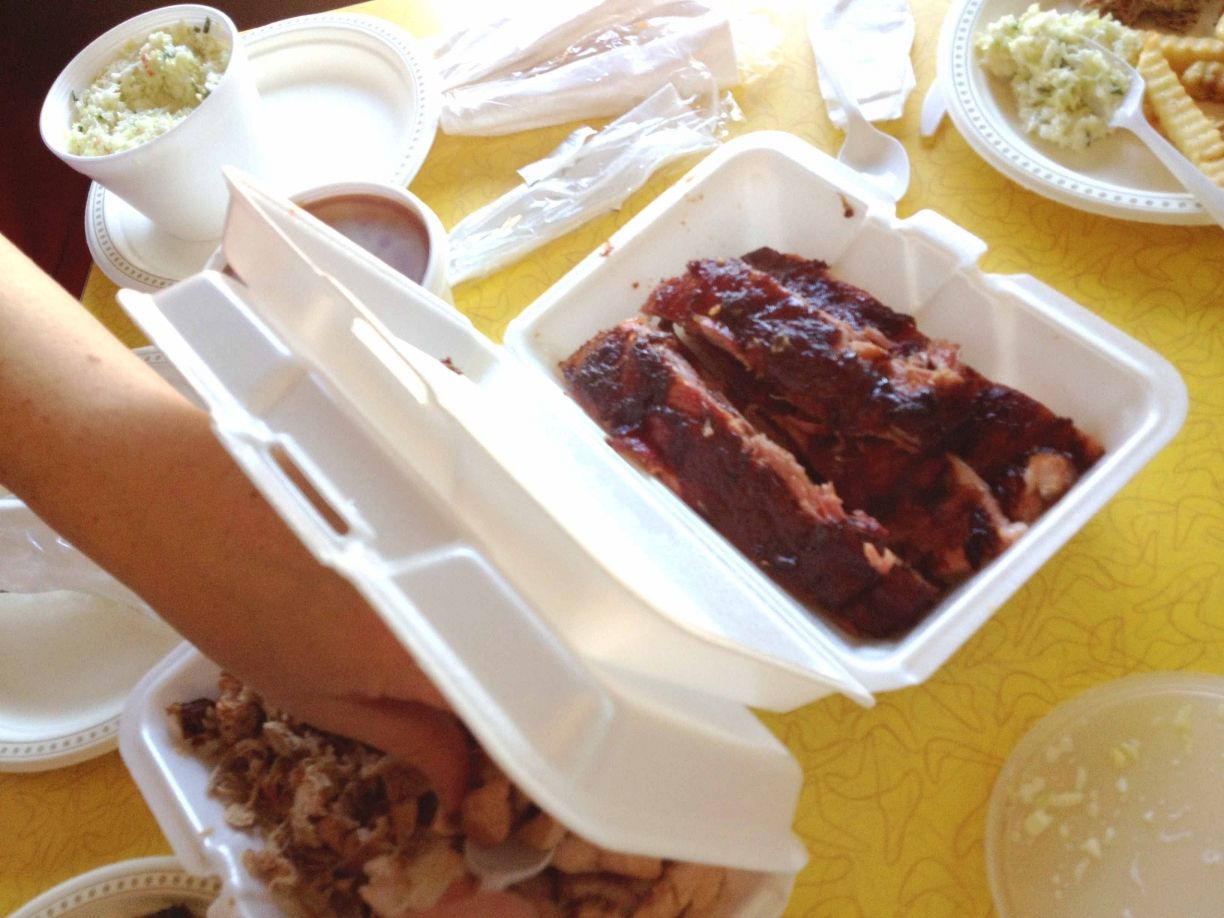 As an art teacher, I was certainly drawn in Nashville to Hatch Show Prints. With a quick glance, it's easy to recognize the style of these show prints, as they have become iconic Americana.
https://www.google.ca/search?q=hatch+show+prints&espv=2&biw=1137&bih=686&source=lnms&tbm=isch&sa=X&ei=iQoTVcrAB4WjyAS8p4GQDA&ved=0CAYQ_AUoAQ
From the political use of posters to ban Elvis, to CNN's modern portraiture, and presidential campaign posters, the nostalgia of letterpress styles are easy to appreciate.
Hatch is located in the Country Music Hall of Fame, and we booked the tour to print our own posters. We learned they offer apprenticeships, and the concept of doing art for a living created a spark for some of us.
Other great family discoveries included Las Paletas, for gourmet, hand made popsicles; and a huge collection of Vintage awesomeness. With so many amazing vintage stores, we finally learned that with the flourish of the on stage show biz in the 60's, clothiers fled to Nashville to create custom works for performance artists. The community of unique craftspeople established a rich creation of artwork, curated in the closets of the local people. With these items now finding their way to vintage shops, the assortment of unique clothing and memorabilia is plentiful...with great prices. Wait til you see me rocking my new cat's eye specs!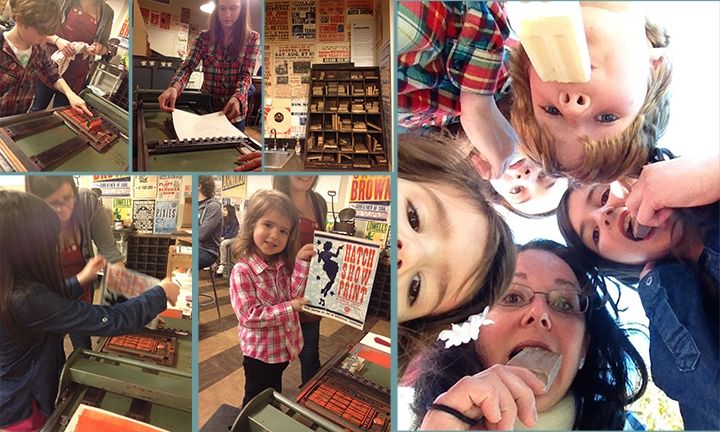 We recognized early on that the end goal wasn't the final destination, but the trip along the way. A few stars excitedly ended up aligned for us:
- Charles's 40th birthday landed on the second night
- We were in Nashville at that point
- We had a babysitter
It didn't take long for us to park the bus, book a cozy hotel and plan to celebrate the night away.
Dinner out with the kids was a Fondue hit at the Melting Pot, with an exciting drive home. I would encourage you, if ever you are in Nashville riding home on the golf cart taxis to try something like this: "Hey Blaise, I bet if you ask the cabbie, he will let you drive home". It has the potential for a wonderfully fun ending to the night.
The concept of a Honky Tonk is also rather regional to Nashville, and are a novelty to us. The live music that runs out onto the nighttime streets of Nashville is a pretty wonderful experience, even if you aren't even a country music fan. Tootsies Orchid Lounge is a historic and classic American Honky Tonk...and for a tip, some birthday stories are known to end on stage, celebrating with a Holler and a Swaller. It's hard not to join in every "Hellya" as the environment unites in music and camaraderie.
Sunday Funday continues as the honky tonks open during the day and all ages can wander and enjoy the live music.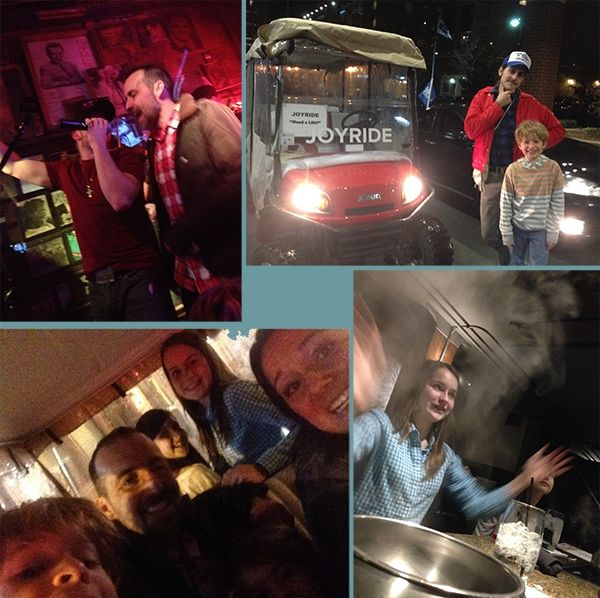 It's fair to say that this adventure had a whole lot of unexpected. Trouble shooting through some of the bus challenges, we were behind schedule on the launch date, and managed to pull our first all-nighter since University, prepping the bus to depart. While we thought all along that we would have a week to assemble the bus, we ended up having 20 hours...including sleep and a work day.
With all that behind us, the gear loaded, car seats and kids buckled in, picture then turning the ignition and getting nothing. We learned about heart sinking moments, while trying to pull it all off, and about the incredible capabilities of our driver and his solutions.
The first night of the trip was also our first test of sleeping in the bus. Being in Canada, we are still in the dead of winter, and it turns out that diesel engines prefer to be plugged in at night to start. Plugging in a bus also turned out to not be an option in hotels in the Detroit area, so we packed our winter-rated sleeping bags, a few heaters and found a highly regarded driveway on AirBNB. Yes, driveways are rentable off this unique accommodations website, and specifically offered for plug in vehicles like RVs. We realized that if things were really awful we could just drive away. It turned out to be fabulous and the kids LOVED the adventure of sleeping snuggled to each other in sleeping bags.
Expedition is a great word.
Things change the moment you shift the language, and rename whatever it is you are doing to an expedition. All of it changes. It all gets much better.
Think about it; I could send you an invitation to dinner, OR I could send you an invitation for a Fondue Expedition. I could offer to walk your dog, or take him on a Sniffing and Chasing Expedition. We could go on a family holiday for March Break, or we could go on a Buskateer Expedition. If we then call ourselves Expeditioners, there is this funny shift that happens in our head. We go from doing what most others do, to dreaming and imagining all the other things that we could possibly do. Going to see that Florida Mouse quickly looses it's appeal, when the other option is to take a Manatee Expedition, or a Scallop Digging Expedition, or a Dolphin Expedition. We dream and talk beforehand, we figure what we need to pack on our expedition pack list, we conjure up food ideas while on the road, we imagine the possibilities for fun, we google, and we map, we anticipate and we wonder (like "How did we never know you could fish scallops on your own?")
That trip to Disney is planned, safe, and marketed, and millions of tourists get a fun experience. A fun, scripted experience. An Expedition in contrast looses some of that predictability, and offers a unique adventure. The decisions and choices are made by us Expeditioners, with the chance to discover something new and unfamiliar around each corner.
We banter that we didn't buy a bus, we bought stories. We are sure to have a vault of stories to draw from for these kids' wedding speeches, some funny, some agonizing, some nostalgic…and all of them worth retelling.
We have chosen to think of the word Expedition like a salt shaker, everything is just better with a little bit of Expedition added to it.
So pass the salt, Buskateers! Let's Adventure together!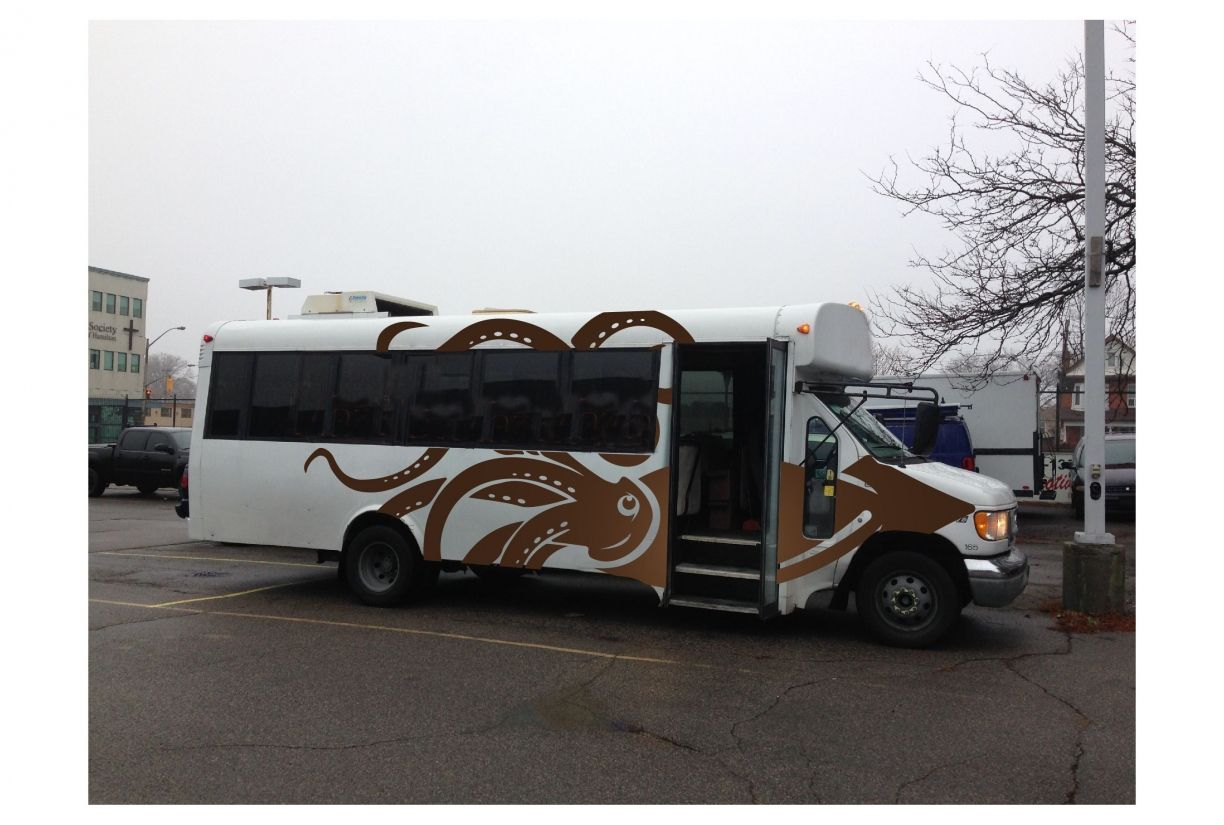 What started as a simple idea to get a view of underwater creatures off the Canadian East coast, has unexpectedly morphed into a larger scope. Our family of wee adventurers had grabbed onto the idea that we can identify ourselves as Expeditioners, and aim to live with adventure. As parents, we stand back and applaud their ideas, and strive to enable the concepts.
It was shared here that exploration isn't just a one time location and event, but an ethos. When we won an OpenROV for our Swim with Bluefin Tuna adventure, we didn't imagine the spark it could ignite and the places it could take us.
Then the kids asked for a bus for Christmas. When they explained they wanted to deck it out for adventures, we put on our "enabler" hats and pulled a proverbial rabbit out of a hat. Complete with an underwater robot on board, and a bucket list of places to see, and we have launched!
This expedition serves to field test our bus, the plans to camp in it as an expedition mobile, the official launch of our OpenROV for field testing, a swim with Manatees, a visit with Grandparents, and a stop to celebrate a 40th birthday, Nashville style!