Canadian Mines
May 22 2015
Northern Ontario has a rich mining history that is slowly fading back into the wilderness. Although we've been exploring and documenting the mines of the north for the past few years, many of the workings themselves were flooded either for safety or due to turning the pumps off. Due to the depth and stability of many of these mines, it is not feasible to explore them with divers, and this is where OpenROV comes in!
You are set up to receive WePay payments.
Here are the details to your account:
Name: Dave Beach
E-Mail: dave@slightlylost.com
Account ID: 1917445885
Hello everyone!
It's been a long, long, long winter for us here in Canada, but summer is finally here! I'd like to apologize for the paucity of updates, but now we're about a month out from our "expedition" and things are in full swing. Here's a rundown of what we're doing/what we've done to prep for this trip.
Trip Planning: As you can see in the image below, we've mapped out our route and the mines we're planning to try and hit. We'll be gone from the 28th of June to the 5th of July and we'll travel over 3,000 km (~1900 mi) round-trip. A lot of logistic consideration goes into a trip like this: trying to minimize gear weight to maximize fuel efficiency, determining where we need to fuel up (gas stations in these remote areas can be scarce), planning menus to pack food, etc. etc. Picking areas of Crown land for overnight camping (land designated by the monarchy for free and public use) is another important factor, as there will be no "campsite camping" for us!
Gear Prep: As previously mentioned, we've concentrated this year on smaller, lighter, more efficient camping gear. While it is vehicle-based camping and not backpacking, space and weight are given great consideration. Sleeping bag compression sacks, smaller sleeping bags, a tent, a camp table, lanterns and kitchen implements have all been purchased to replace the old, heavy, cumbersome gear we've used in years past. A large corner of our living room has become a staging area for all of this equipment. In addition to the camping gear, there's also mine exploring gear: helmets, head lamps, back-up lights, neoprene socks, spare batteries, pelican cases for electronics, etc. etc. While the trip is supposed to be for fun and exploration, safety is a primary concern, especially in the case of abandoned mines, and so packing the right equipment and properly prepping is an integral step.
Last, but not least, the ROV: After a bit of stagnation in progress, the ROV is about 80% complete! We're currently waiting on a few spare parts and supplies in order to finish up, but the hope is to have it done within the next 2 weeks. Before we put it down a flooded mine shaft, we'd like the chance to test its capabilities and get used to the way it maneuvers. Mines are tight spaces fraught with debris to get caught or tangled up on, so we don't want to risk losing it on the first go!
I think that just about covers it - that was a really long update! As the days wind down til departure, we'll be sure to keep everyone in the loop. We'll let you know when the ROV is complete, how our test runs went and if we make any modifications. Hope you're all getting out there and exploring! Best wishes from the Canadian Mines team.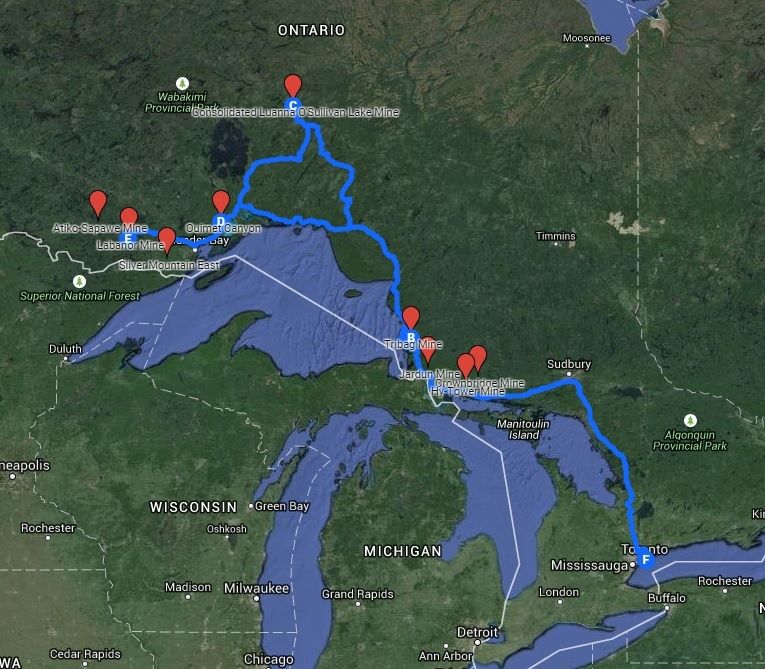 Hello everyone! It's been a while since we last updated and we are very pleased to announce that, thanks to generous funding, we have indeed received an ROV kit! We will be slowly building the machine over the winter, in anticipation of next summer.
Unlike our mine exploring friends in the UK and the Southwestern states, our exploration season effectively ends come October/November. Snow and ice make mine access difficult, and hibernating bears also pose a real danger. In addition, we try to avoid disturbing hibernating bats that take up shelter in mine adits during the winter, as many of them are struggling with White Nose Syndrome during the colder months.
Our work, however, is never done! We will spend the winter narrowing down our impressive list of possible locations, as well as designing and testing modifications to the ROV once assembly is complete. We have tentative dates set for our week-long exploring trip in early July 2015, and we will try our best to keep you all updated with the ROV's assembly and modification. Until then, we hope that you enjoy the holiday season with your loved ones and family!
So much to choose from! We've been working our way through the incredibly-helpful database of abandoned mine lands provided by Geology Ontario, and have over 5,280 possible locations.
Our current focus is on two areas of Ontario; the north shore of Lake Superior between Sault Ste. Marie and Thunder Bay, and the region surrounding Bancroft. The operations in these areas mined everything from gold, silver, and copper to uranium (don't forget the Geiger counter!) and rare earth elements.