Cleaning up the Norwegian Coastline
October 1 2014
The Norwegian Coastline stretches for a total of 83 000 km. Floating debris is a huge global problem with no apparent solution, but organizations of surfers have started in the small. Organising beach cleanup events they collect and recycle what they can find. Being an industrial designer and ex. navy diver I want to further develop an OpenROV to be able to mark debris from shore for divers to gather. If I win an ROV, this could mean drastically more efficient dive time vs. pick up ratio and more debris collected. The footage from the ROV would also be used for educational purposes towards creating awareness around this growing problem.
You are set up to receive WePay payments.
Here are the details to your account:
Name: Mats Herding Solberg
E-Mail: mats.herding@gmail.com
Account ID: 57735351
Again... So sorry for the lack of updates. Last time we posted, we had just received our ROV. It is now finished and ready for testing of tracking- and marking systems. We are so excited about this.
But even more exiting; Tomorrow we are presenting our idea and concept at a conference here in Norway. The conference evolves around the problem with marine debris and micro plastics. We have been invited to tell the story of our effort. We strongly believe that this could inject the project with even more skilled people and possibly some resources for further development as well. Exited!
We will be back with you for a more extensive update shortly!
A snap from Saltstein, one of the beaches along the Norwegian Coast that is really exposed for marine debris. Luckily the surfers are eager to host beach cleanups here...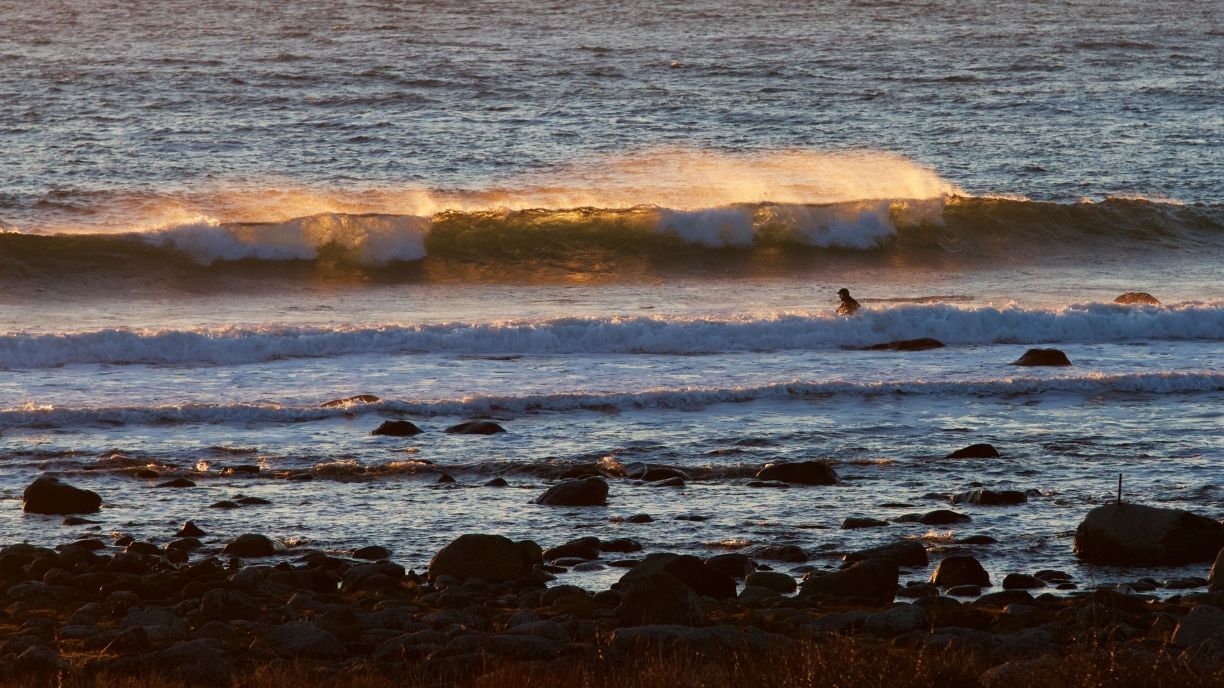 So... It´s been ages since we have posted an update, but that does not mean we have not been hard at work.Over the past weeks, we have continued development of our Arduino test-rig as Frikk posted about earlier. But most of all, we have been eagerly waiting for our own OpenROV.
Yes, that means that the OpenROV-team thought this idea was good and that they really liked what we were planning to do with this. To top it all of, I was actually given this message from Daving Lang himself when I met him during the Norwegian event MakerCon. Since then, we have been waiting to receive our kit and this week it was finally here. I was able to participate at a workshop hosted by OpenROVs Norwegian representative Christine Spiten over this week-end and next week we are building the ROV designated for the test project of cleaning up the Norwegian Coastline. During this workshop, I also met Zack who is a complete OpenROV tech. guru which was brilliant. He has given a lot more insight to the plausibility of our ideas. It seems that we were also the first ones to actually receive and build the 2.7-version of the ROV which is so cool!
As soon as this is up and running we are ready to get testing with systems for tracking and mapping marine debris and we will start testing in the field as soon as we possibly can. We have a lot of actors now that are interested in suppling insight and feedback on our ideas, so we are really looking forward to developing this further.
Most of all, a BIG THANKS to the whole OpenROV-team for giving us this opportunity! The team is eager to get in the water and start testing!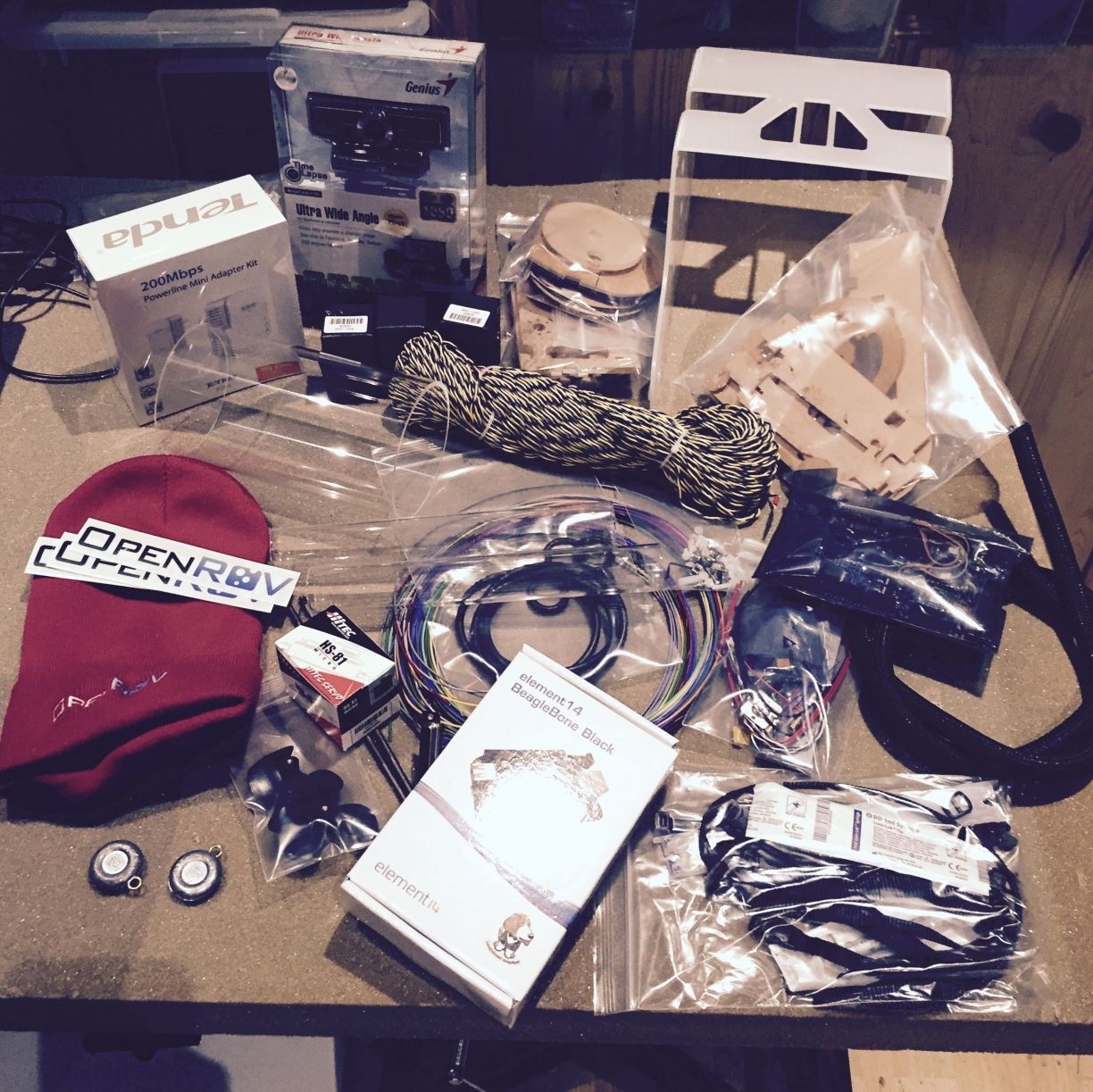 So, a little update on the magnetometer navigational system. This is the idea: we need a floating device in order to avoid the cables from the ROV to get stuck in rocks and such. We can easily place a GPS receiver on this device, but the challenge arises when we want to figure out the ROV's position relative to the floating device. We are trying to solve this by placing a magnetometer/compass and a reel that can measure the amount of cable between the GPS and the ROV on the floating device. On the ROV we are also going to place a magnetometer, and a barometric pressure sensor so we can measure the depth of the ROV. Take a look at the figure below for a more graphical description. With this system we would know the GPS position and heading of the floating device, diagonal distance between both units and the depth and heading of the ROV. Easy! The algorithm to calculate the relative position is going to be a pice of cake to figure out.
Some of the parts have already arrived and a test setup has been built. Take a look below at the system that will be placed in the ROV. It reads the heading and elevation quite well. The barometric pressure sensor has an error of +/- 0.5 meters so it should be good enough for our needs. The progress so far has been great, and there will be a new update when the rest of the parts arrive! Next we will set up the other magnetometer and start to calculate the relative distance between the units. Wish us luck!
I was finally able to participate at a Beach Cleanup-day this saturday. Through Saltstein Surfeklubb and Surfrider Foundation the beaches around Nevlundghavn and the surf beach Saltsetein was thoroughly cleaned. I was also hoping to be able to test Christines OpenROV, but it seemed we there were som battery issues. Hoping for her to be able to fix it, we will attempt a new test tomorrow.
Anyways, it was great to see all the engagement surrounding beach cleaning. Great to see all the people showing up, and I got my hands on an OpenROV for the first time. Fun!
We have also started testing the barometer/compass-principle and it looks promising. Will keep you posted with the development and the testing of the ROV tomorrow.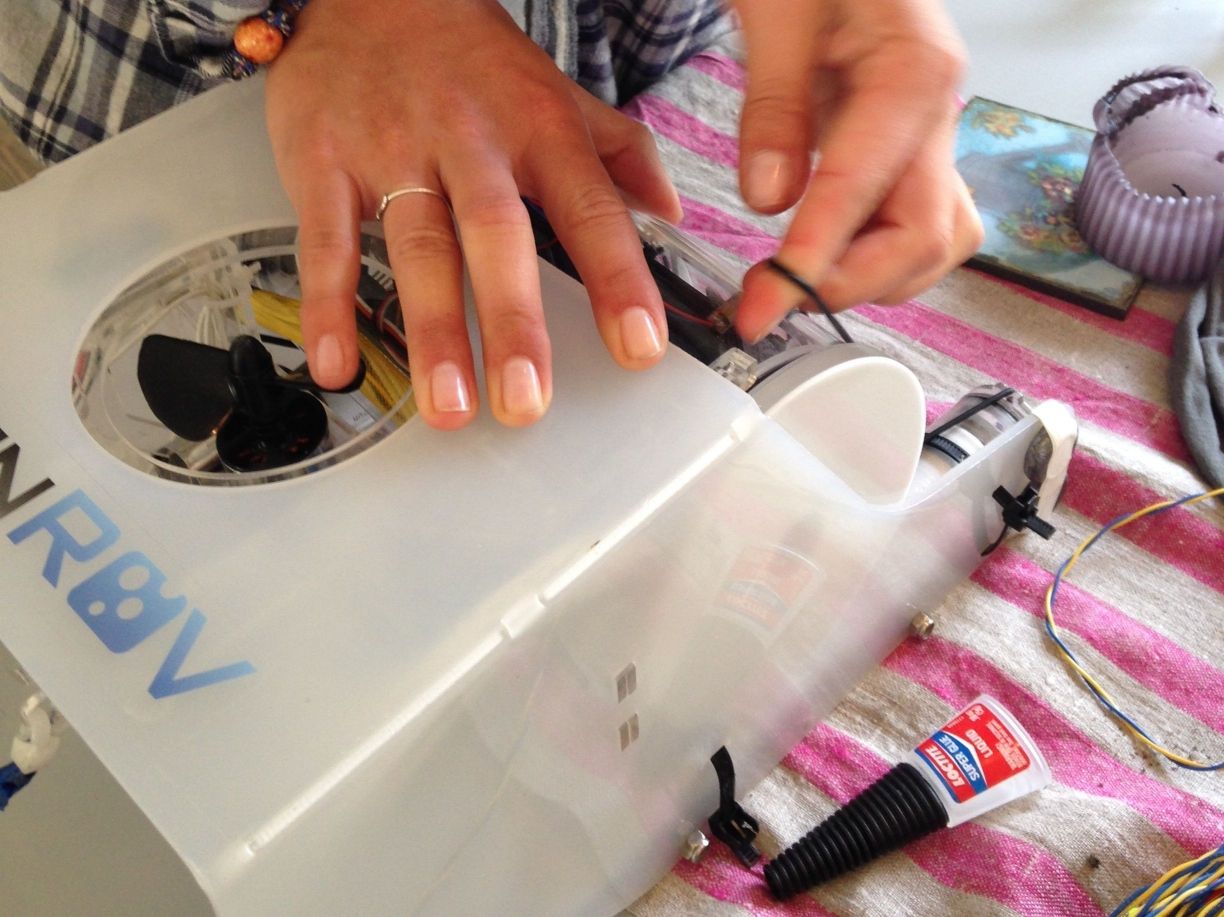 We have had some really cool development lately. After meeting with our new team member, Simen from Surfrider Foundation Norway we have been working with some exciting new connections towards diving organizations and WWF. We have already been in discussions with a lot of great people that work with mapping debris along the coast of Norway. All we need now is an ROV, and we are ready to get to work!
Surfrider Foundation is eager to get testing, so the first plan now is to do some research on how to work with an ROV at a beach clean-up saturday sept. 20th. at Saltstein. Saltstein is one of the more familiar surfing beaches near to Norwegian Capitol Oslo and the event is perfect for testing and interviewing people interested in this expedition. I will post photos and an update from this as soon as we are done cleaning the beach.
We have another new exiting team member as well. Mathias is educated a cybernetics/marine engineer and has extensive experience with ROVs from prior projects of his. He has come in to support Frikk in the electrics/cybernetics-field with great knowledge and we are now planning to test the classical gyro/accellerometer/gps-approach to tracing as well. Really looking forward to this!
I thought I would give you guys some more insight into the ideas we have been working on lately. We have not tested any of this yet, but we have ordered some Arduino-kits to start testing.
So, in depth (!), what we want to do. We need to be able to track the movements of the ROV and add waypoints along the track. The waypoints being points of interest for the divers going in after the ROV.
The challenges we have encountered (some more obvious than others, but still):
- GPS works no deeper than 3-6 feet.
- Gyros and accelerometers are expensive and unreliable when currents are strong.
- A physical solution would necessarily mean adding unwanted weight to the ROV and it would give a limit as to how many points to mark.
We started of looking at a classic submarine-solution where the ROV would surface every, say, 10 minutes and we would use gyros and accelerometers to map depth and course in-between here. What I have found from OpenROV-forums is that this is an unprecise solution and we have also found that affordable equipment of this sort often is unreliable. The calculations would also be quite extensive, so we were looking for an easier solution.
It is important to note that we do not need very precise readings. Being able to mark a point within a 2 meter radius plus depth would be more that sufficient for the divers. We were going back and forth on how to solve this more rationally than a full submarine system and the tether came to mind.
We figured that if we are able to make a floating spring loaded reel for the tether that knows how much tether is out that would give us a lot of information. If that reel is placed on a floating device that has a compass and GPS we have a lot of info. In addition we see that if the spring in the reel pulls with enough force to ensure that the tether goes more or less vertically straight down to the ROV, we have an analogue way of following the ROV on the surface. If both the ROV and the floating device has a digital compass we will have their direction relative to one another.
Another option to the reel giving information on how much tether is fed, would be to add an Arduino-barometer to the ROV. This could tell us the depth and we could manage with an analogue reel for the tether. This is possibly the easiest solution.
We have ordered some ardiuno-compasses and a barometer now and looking forward to start testing when they arrive. The algorithm needed for this should not have to be too complex, so we are really stoked to see if our idea has any substance. Please comment and attack our possible naivety ;)
Furthermore we need to map the "treasure hunt" for the divers. Our analogue idea here would be a laminated and printed map based on them going in on the first GPS-point. After that they would have compass courses and isj-distances to follow to their next point of interest. This is definitely doable with a diving board, depth gauge and diving compass. Of course the digital alternative is always intriguing. I guess we could get an iPad with a waterproof casing. My question here is wether anyone has any experience with these? I know they are claiming that you can easily take an iPad down to 30 meter, but has anyone tried this?
Exited to hear your input!
We will be back with sketches and test results shortly...
I added some pics of the arduinostash we have ordered.
So cool that we have got quite a few followers already. Thanks a lot guys! Help us share this expedition. This way, we can create more awareness about the project and hopefully recruit more people to join us in cleaning up the Norwegian Coastline.
We have started working with a principle for marking trash for the divers, and I really believe we are moving in an interesting direction. Exiting! We are looking into some hacks for the Arduino-board in combination with a floating device that registers the position of both the device and the ROV. Cool stuff.
The crew has come together, so I figured it was Selfietime!
Stay tunes for some more in-depth info on our ideas. Feedback is appreciated!

So... The team is starting to take shape. I have been trying to assemble a crew that can take on this task the best possible way. I believe it is key to have a diverse team that can handle every aspect to this development. I would like to give a quick introduction to them all.
My brother, Frikk, is a capable electrical engineer. I believe this is essential if we should move towards a GPS/Gyro-solution.
We also have to Magnuses on the team. One, a highly skillful industrial designer which I have worked closely with before. The other Magnus a Marine Engineer working daily with recycling of ship hulls.
The last guy on our team, Tobias, is an avid sailor and waterman born on and loving the Norwegian coast.
The last couple of days, I have also been in contact with Surfrider Foundation Norway. They are responsible for hosting many of the beach cleanup-events around. I will get back to this in a later post, when we have discussed how we can work together.
The picture is from my very favourite beach on the West Coast of Norway, Hoddevik.