CSUCI PIRatE AARR
October 3 2014
CSU Channel Islands' Pacific Institute of Restoration Ecology: Air and Aquatic Robot Research lab will be testing out our first ROV with an array of modifications including gopro mounts! We plan on doing several coastal monitoring trips including trips through the Channel Islands and out to our Santa Rosa Research station.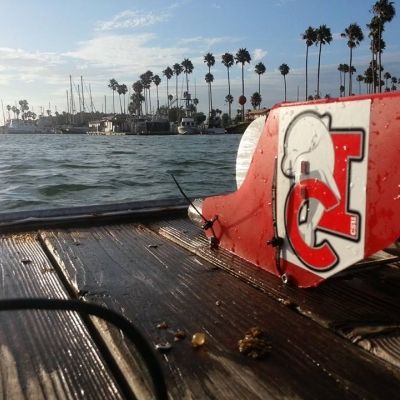 You are set up to receive WePay payments.
Here are the details to your account:
Name: Paul Spaur
E-Mail: paul.spaur157@myci.csuci.edu
Account ID: 44169262
It's been crunch time for us, the last few days has been crazy: gathering equipment and supplies, testing the ROVs, doing STEM outreach presentations and some last minute modifications before heading our to Santa Rosa Island again. This morning team members Blake and Chris, set out on the National Park Service boat to head back to the Island. Our team will be there for approximately 3 weeks doing data collection on the MPA and the intertidal zones!
To help with out mostly out door deployments, we have developed a collapsible sunshade for the bright days on the water!
More updates are coming!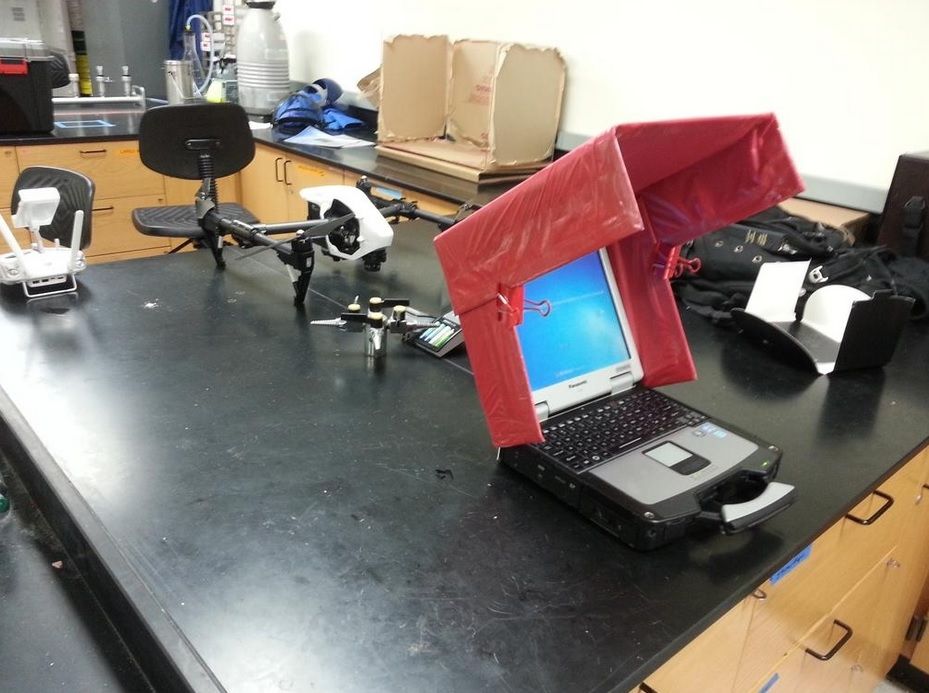 It has been quite the busy season for us! As mentioned before, we are working to release a 7 video series of our trip to Santa Rosa Island. As mentioned in the previous post, due to some hardware issues the videos have been delayed, but the team has kept going full steam!
AARRteam
From left to right: Blake, Ryan, Alex, Chris, Jessica, Tim, Paul, Rebecca and Justin
The AARR happily welcomes 4 new members to the team for a total of 10 members!
Alex – Environmental Science and Resource Management
Justin – Biology
Ryan – Environmental Science
Tim – Computer Science
We have been working hard to support our two main studies Marine Protected Area Surveys on Santa Rosa Island, and quantitative analysis of ROV platforms. There is another expedition planned to Santa Rosa Island next month!
We have a few more ROV based projects that will soon be launched, including the resurrection of the Phantom 500 ROV, studying the reactions of fish to ROVs based upon appearance (which includes disguising our ROVs like fish!), adding additional sensors (such as sonar and water chemistry), performing phytoplankton surveys and more!
The CSU Chanel Islands "Crossing the Channel" STEM outreach program is in the second phase where the team will be working with middle and high school students and building ROVs, along with teaching the high school students how to answer research questions with ROVs, and piloting our OpenROVs!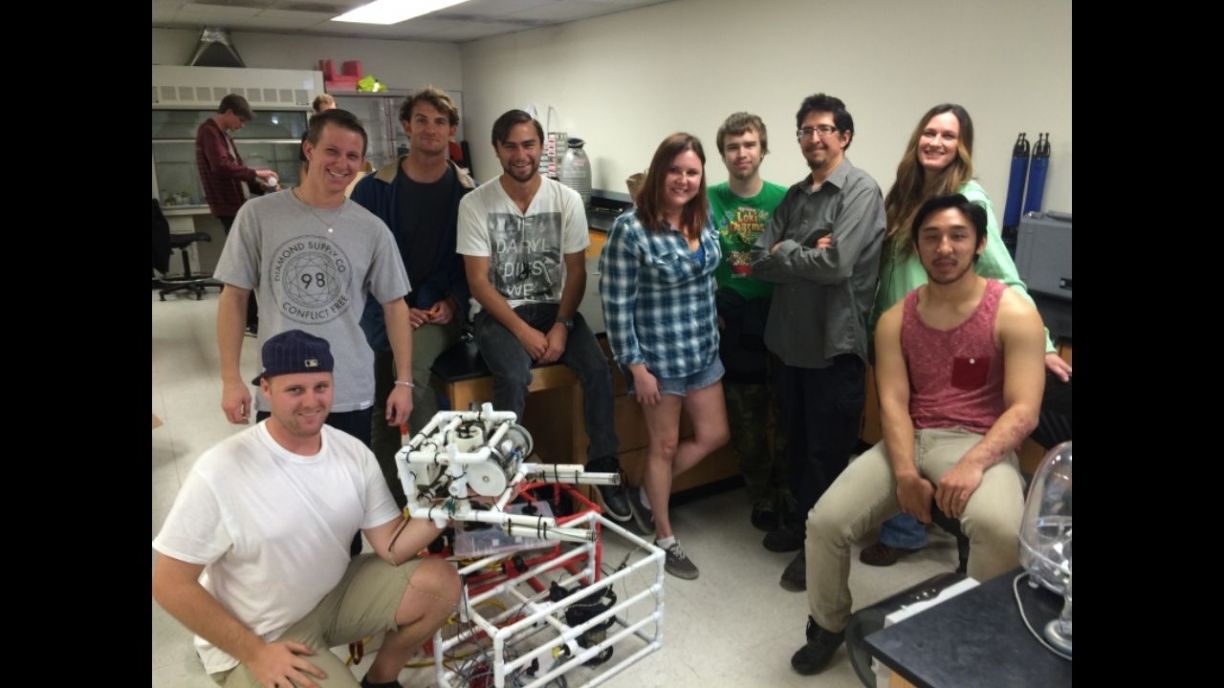 A hearty hello from the ROV team! We have some updates for you. All of our current ROVs are completed, the most recent, the trigger fish is functioning well, we will be epoxying the camera to waterproof it, and then all will be ready for quantitative ability testing.
We will be performing some modifications to some of our ROVs
New battery box which uses the OpenROVs batteries in the MATE ROVs
New upgraded battery end caps and new e-capsule end caps and rewire on Bucket. (OpenROV #1)
Four new hybrid stainless ceramic bearings to replace the old ones on Scoop. (OpenROV #2)
New tether management.
New endcap strap for Bucket
The new tether management consists of a wire spool with a rod in the center, and a slip ring which allows 6 wires to maintain continuous contact while turning. This will allow the wire to never get tangled. Also with having 6 wires, that allows us to change to a cat-5 type tether.
We also are installing a new Subsea waterproof tether disconnect so we can have an even more stiff tail on the tether, and so we can have breakaway insurance if we really need it. It also makes storage and changing tethers much easier.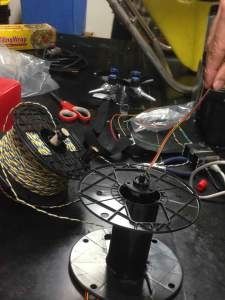 We are taking a card from Jurassic Park, and attempting to resurrect a dinosaur! We took receipt of a Phantom 500 Inspection Class ROV, it is about 25 years old and is in need of some love and care. It was graciously donated to us by Charles Lara, a NOAA Research Vessel Captain. We will be first tearing it down and rebuilding it, and hopefully upgrading the onboard electronics!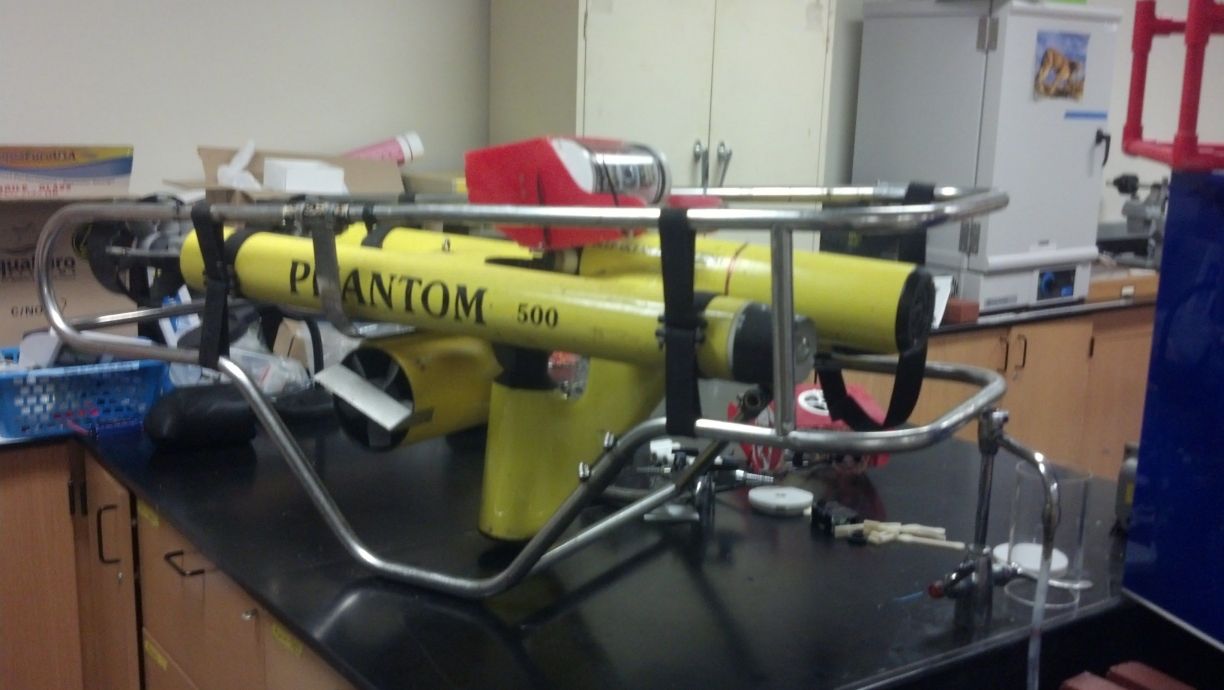 Greetings and happy holidays from the ROV team! We have been busy with all types of fun and interesting activities! On Friday, November 21st, the team went to the Channel Islands National Park Visitors Center with students from Frank Middle School and Channel Islands High School. We conducted an intertidal ecology lesson at the Visitors Center. Following the lesson, we went to the mouth of the estuary and ran environmental science research. During the course of this research, the students were able to learn how to conduct sandy beach monitoring, studied geomorphology, conducted water quality monitoring, and learned how to use compasses and GPS units to navigate on land. We are now beginning preparations to start work on an ROV component with the students.
We also had the pleasure of having Mr. David Haynes of Channel Islands High School and some of his ROV competition students visit our lab and see what we've been working on. Each year Channel Islands High goes to the MATE ROV competition. The high school students will be serving as mentors to the middle school students, just as our group will be serving as mentors to the high school students.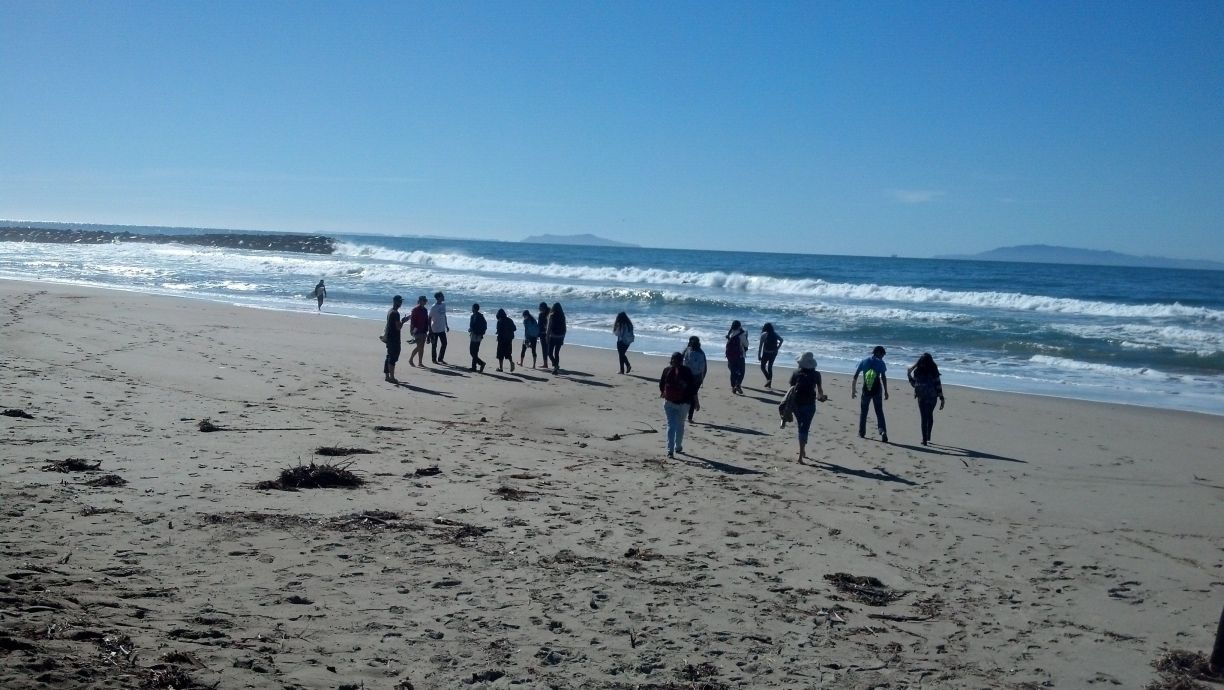 On November 2nd, the team got together to do a demonstration of the ROVs and talk about some of the research we are doing at the annual Channel Islands University sponsored science carnival. There were great activities for kids and parents to participate in, from shooting ping pong balls at the speed of sound, using compressed air to shoot marshmallows and much more.
On November 7, 2014, A symposium on unmanned systems was put together by the Association for Unmanned Vehicle Systems International (AUVSI). The event was held at the CSU Channel Islands (CSUCI) campus featuring demonstrations from local organizations and expert speakers in three arenas: environment, agriculture and business. The Air and Aquatic Robot Research (AARR) team was invited to set up a tank and a display table to showcase our ROVs.
Our project lead, Paul, was invited to co-present with Dr. Geoffrey Dilly on the environmental panel on low cost, portable ROVs and their in education, outreach, and research: The environmental panel consisted of the following people: Todd Jacobs, Shah Selbe, Jim Roth, Dr. Geoff Dilly and Paul Spaur.
Todd Jacobs is a project scientist on the National Oceanic and Atmospheric Administration (NOAA) Unmanned Aircraft Systems (UAS) Program. He has held various leadership roles within NOAA, including Research and Education Coordinator for the Channel Islands National Marine Sanctuary, and Deputy Superintendent of the Channel Islands National Marine Sanctuary.
channelislands.noaa.gov/contact/jacobs.html
Shah Selbe is a National Geographic Explorer that is heavily invested in the use of technology to solve conservation issues. Mr. Selbe has developed open source technology related to conservation and is currently working on a project using UAS in conservation.
Jim Roth is a founder of Storm King Mountain Technologies, a company that produces fire fighting related solutions through use of new materials and technology.
Dr. Geoff Dilly is professor of Biology at CSUCI, has a wealth of experience working with deep sea organisms through using underwater manned and unmanned systems, he has been aboard ALVIN and worked at the Monterrey Bay Aquarium Research Institute.
Paul Spaur is a biology and environmental research assistant, has a number of years of experience building vehicles and unmanned systems and is putting it to use to facilitate low cost solutions for education, and research using primarily underwater systems.
The symposium was opened by Assemblyman Jeff Gorell, who spoke about the use of Unmanned Aerial Systems in the military and non-military sector and use in economic and educational development. The environmental panel began shortly after. After the panel concluded, the AARR prepped the ROV's for the demonstration, while the bomb squad demonstrated their disposal robot.
After the demonstrations concluded, he symposium resumed and had both agriculture and business panels present. At the next recess, the team again demonstrated he ROV's capabilities.
This is just a quick post with our ideas for the gopro mounts,
We are using the picatinny style rails that are used for scope accessories for rifles. The picture was the first test, but I just designed a newer longer version that I don't have pictures of yet. The new design makes it so you can use the reusable zipties to mount it, and or it has holes to bolt them to the M5 rod (may need to get extended ones). I've also made a double sided one for the center of the rods, so the gopro will mount below and the laser will mount above (we're using 2 red on outside and one green for the center. The lasers will also mount to these rails, infront of the gopros and are x-y axis adjustable to get more exact sizing.
The beauty of these rails is that positioning is very adjustable which will help greatly for multiple accessories, and moreover weight distribution.
more info on our mods at:
csuciaarr.wordpress.com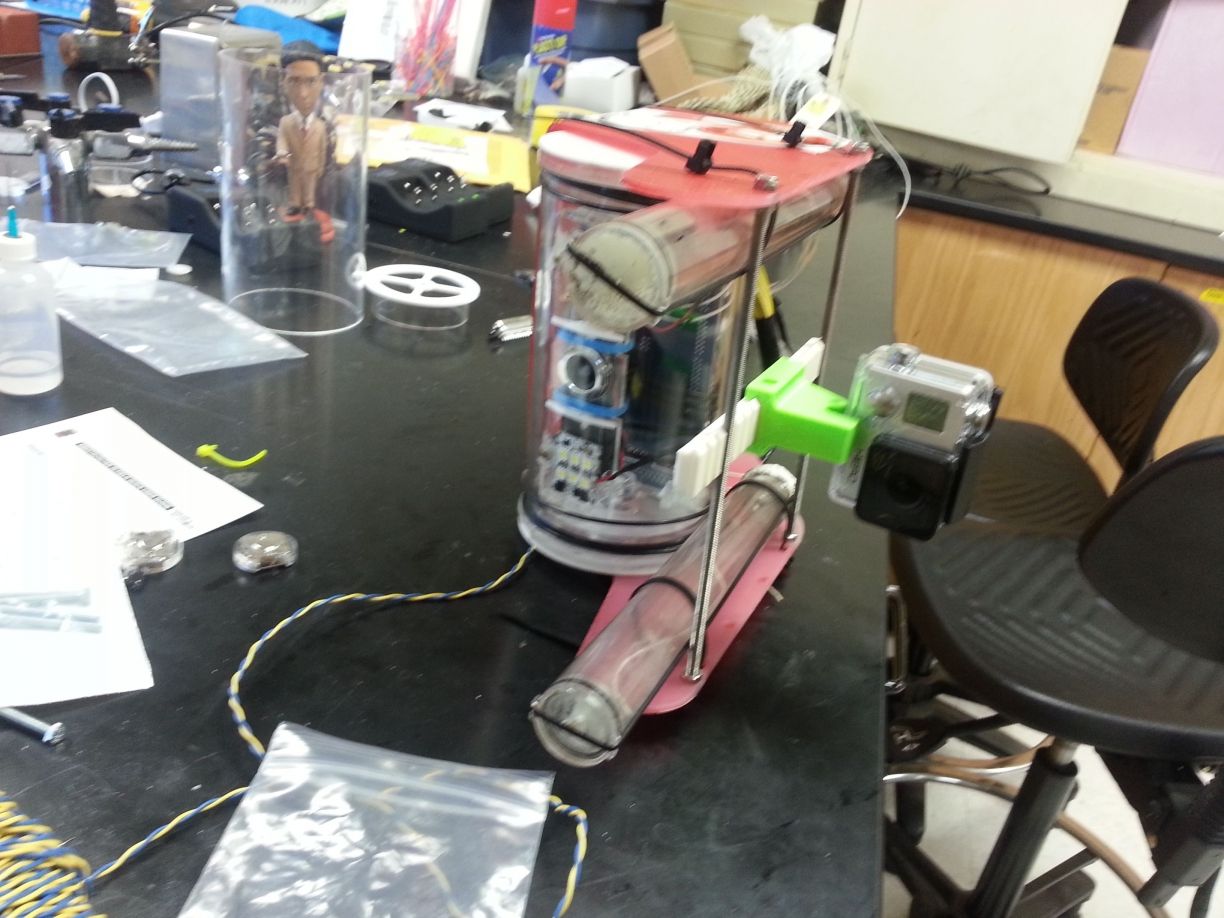 Check out the video from our first successful dive!
Everything went really well, we had problems before because of faulty Trust Fire batteries, but we now have the LiFEPO4 batteries and they work great!
Our motors are holding up well after salt water proofing them using spray on enamel. We did 3 heavy coats on both the stators and the magnet housing, along with switching the bearings from the mild steel ones to ceramic and stainless steel as used by ocean fishing rods, there's a different size for front and back: 3x8x4mm and 3x7x3mm. We found them on ebay for about 26 dollars for both.
Coming soon we'll be posting up our go pro mounting rail and our multi laser measurement system.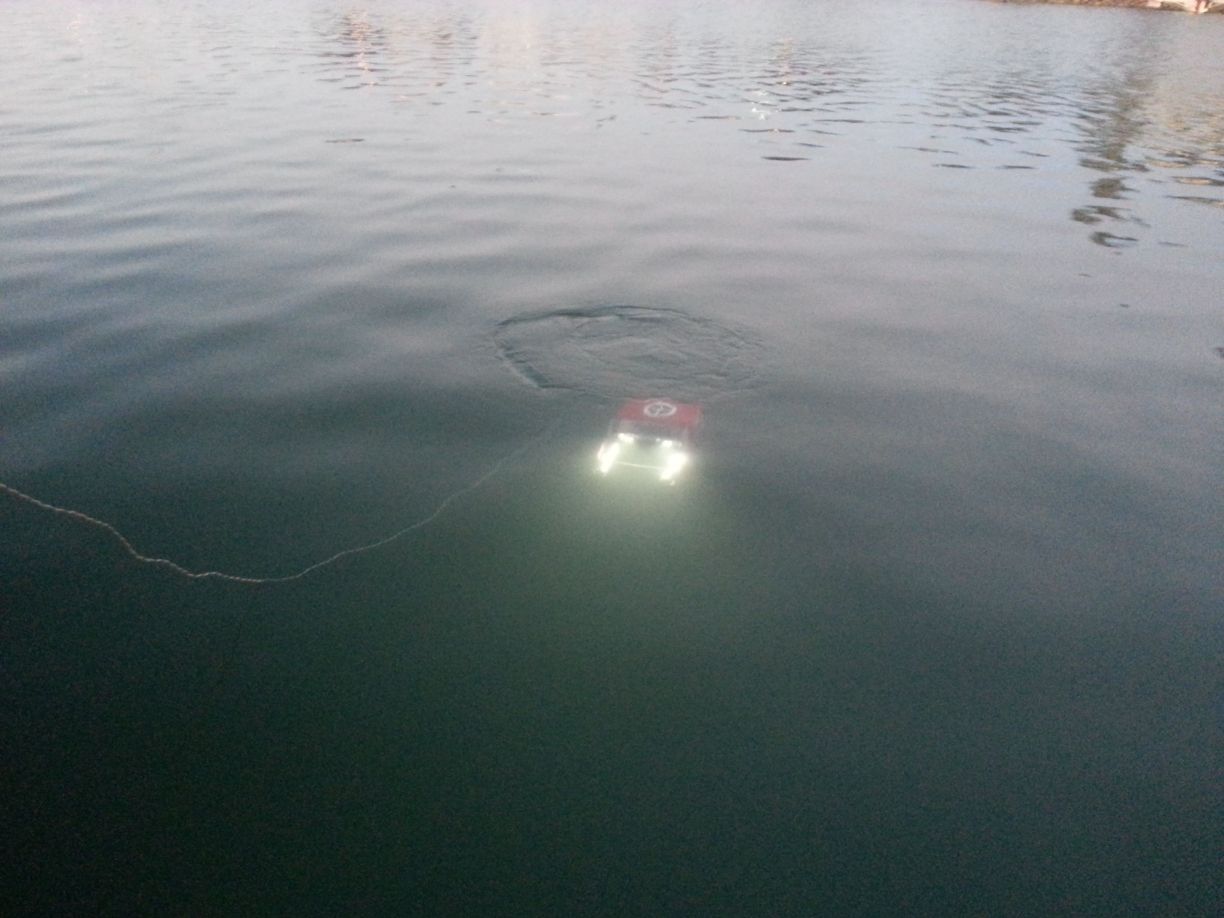 The Air and Aquatic Robot Research team is part of Dr. Sean Anderson's PIRATE lab at California State University Channel Islands. It is a multidisciplinary group of faculty and undergraduates in the fields of Biology, Environmental Science and Computer Science, working to improve research and data collection through the use of unmanned systems. The current focus is on underwater Remotely Operated Vehicles (ROVs) for both research and education. The advisory group of faculty consists of: Dr. Sean Anderson (Environmental Science), Dr. Geoffrey Dilly (Biology), Dr. Cause Hanna (Environmental Science) and Dr. David Claveau (Computer Science).
The ROVs will be used as first an educational tool. In a National Oceanic and Atmospheric Administration grant program called Bay Watershed Education and Training (BWET), CSUCI will be teaming up with local under served middle and high schools to teach children about Marine Biology, Environmental Science, and encourage a future in Science, Math, Engineering, and Technology (STEM) disciplines.
See our blog at csuciaarr.wordpress.com