Dissemination Lab - Madagascar
February 1 2015
We are hiking and hacking through Madagascar to share science. We will be doing workshops and crafting tools to try to figure out new ways to share scientific practices, and the behaviors of animals. http://www.fisherlab.org/dissemination-lab.html Follow our games and challenges from the field here and also on Twitter: Hashtag #WildHacks Brian https://twitter.com/ant_explorer Andy https://twitter.com/HikingHack Hannah https://twitter.com/openPlusea @OpenPlusea @Ant
You are set up to receive WePay payments.
Here are the details to your account:
Name: Andrew Quitmeyer
E-Mail: andrew.quitmeyer@gmail.com
Account ID: 1872433811
Another Rockwell Kent hand-drawn remix of Madagascar experiences. Following 18 hours of hiking during what we called the "Death March," Hannah and I collapse on a hill overlooking the river that will take us back home. We lay down as the sun drops behind the horizon. Time slips by. The sky changes brilliantly from colors and clouds to a monochrome speckled matte of the southern stars. The weather is perfect; the air is so pleasant you want to snuggle with the intangible vapor. To tired to actually sleep, but no where near awake.
The boats eventually come to take us away. Different textures of darkness and moonlight surround us. Hannah's face in the canoe is lit by moonlight and framed by stars. The jungle plants passing by on the shore are the only sources of true darkness. Again can't sleep, not awake, excited by adventure, beaten down by the same. Perfect feeling.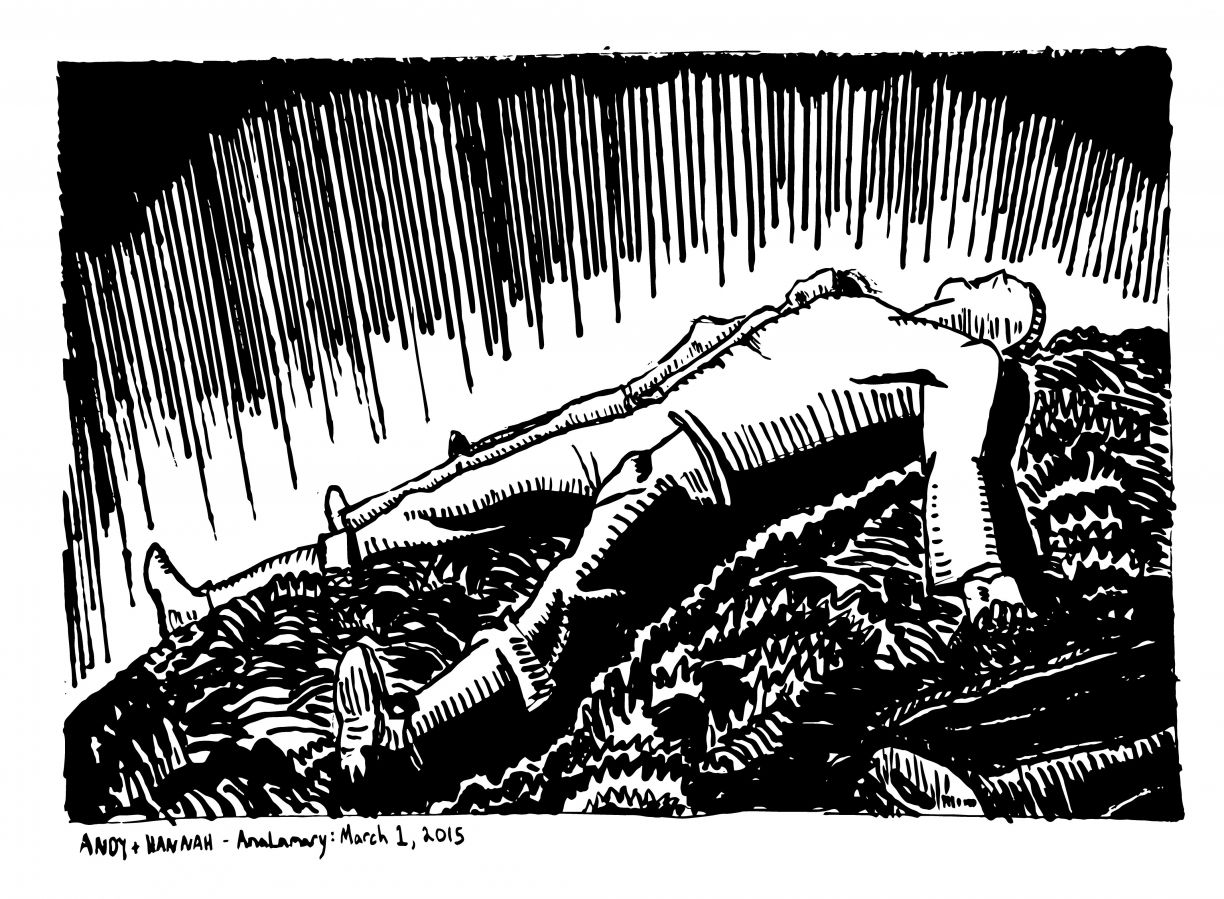 It's been over a month since the expedition ended, but some memories remain etched into my mind. There was a tough day, our first day making our way up the river. The entire day was a slippery climb over steep rocks covered in moss and slime. The speed of the porters made us feel so stupid with our fancy future gear and falling constantly.
Bazille, the 62 year old amazing guide, stayed with us slowfolk. Everytime I managed to pull myself up a steep boulder, there would be Bazille, standing magnificently, pointing the way out of this labyrinth of rocks and water.
This image stayed burned in my mind. I wanted to convey this experience, and looked to the adventure artwork of Rockwell Kent. I studied his woodcuts and created a remix of features to try to tell this story using a marker to emulate his style.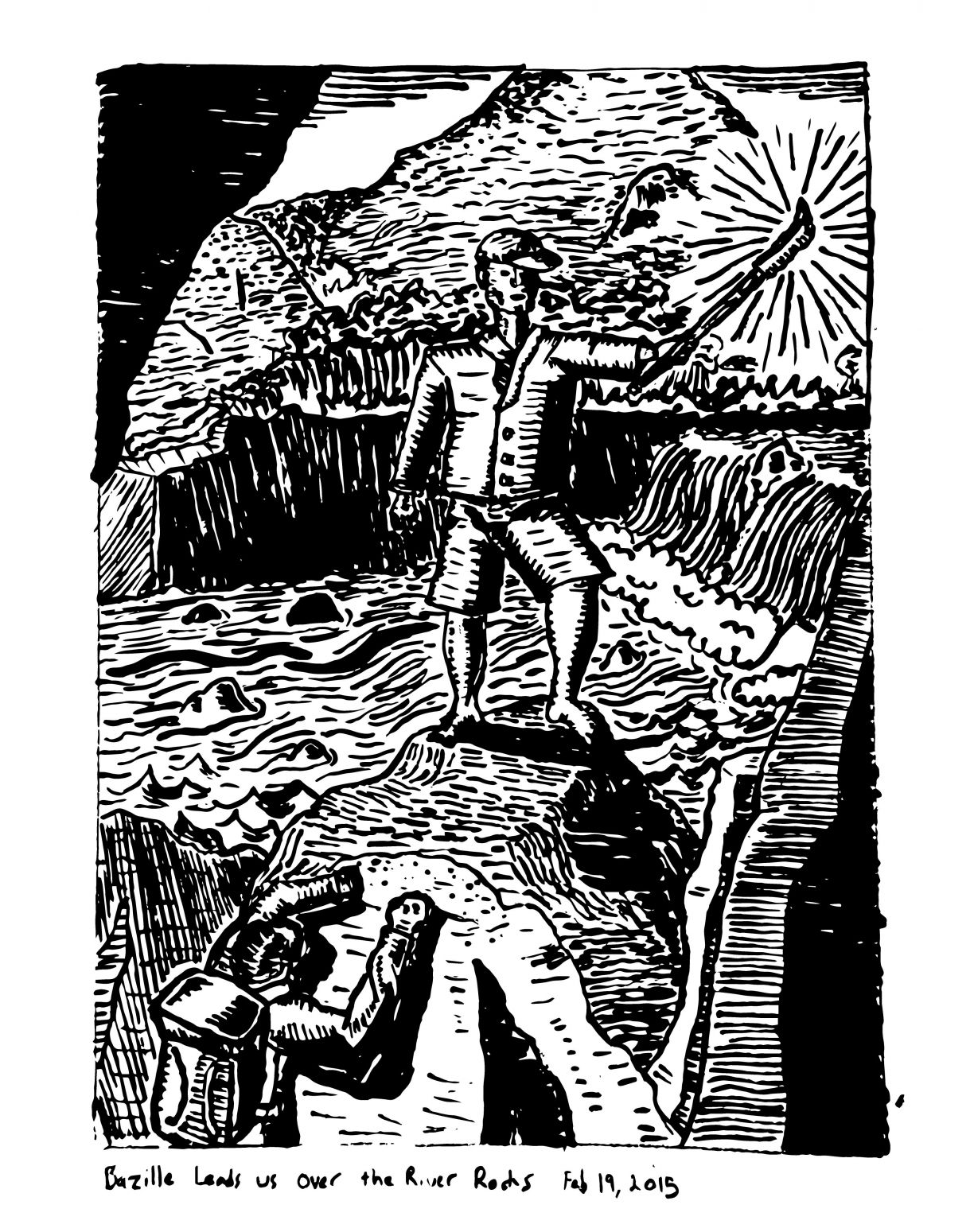 27/3/2015
One month ago today we were making our way up from our first base camp to second base camp. Now I am back in Europe, Andy is back in the USA and Brian possibly in Transit after wrapping up the Ant course at the Biodiversity Center.
The expedition ended for Andy and me the night the car broke down and we jumped in the taxi that the car mechanic arrived in. Back to hotel Mahavoky in Fort Dauphin for a few hours sleep before our flight to Tana at 6 am the next morning.
From what I've gathered through Brian's Tweets (@ant_explorer) the rest of the team spent a few days running all over Fort Dauphin and flying in parts from Tana to get the car fixed in order to leave for their next destination - the spiny bush. Perfect climate for their feet to recover from foot rot.
We made it to the summit, but we did not find the ant. I have not fully realized that I may never go back up that mountain again. Brian's experience got us to the summit with such efficiency. Even if I return to Madagascar, reaching that summit again would entail a whole new expedition. The paths we trod and the camps we left behind are still there now, but who knows what will stay. Will our camps become farms? The jungle turned to rice fields? It appears this is what happened to some of the French camp sites after their expedition passed through in 1971. One of the farms we passed on our second day, where we were served manioc, bred (a spinach like leaf vegetable) and given peanuts, could have been their 1st camp.
"Finding the ant" remains in the back of my head as a placeholder for some sort of distant goal. Somewhere to head for, while concentrating on all that happens along the way. This feeling is definitely a remnant from my overall experience during this expedition.
The biodiversity goal during the expedition was to:
- collect the ant
- collect lots of other ants along the way
Back in the lab:
- extract DNA
- publish results
- use knowledge for conservation
Our Dissemination Lab goal (or what I want to call "electro-diversity" goal - more about this in a future post) was to:
- be there (and keep up)
- build there
- bring back stuff
The "being there" part was not something I anticipated listing as a goal, that simply being in a new environment would be so incredibly challenging and inspiring. As Andy so nicely put it in two of his journal entries transcribed bellow:
"I'm in the jungle and EVERYTHING IS HARD TO DO" (Final Day in Cloud Camp)
"The jungle is a ridiculously inspiring place to work" (02-25-2015, Up to Cloud Forest Base Camp)
The "building there" part also came more laden with insight than I'd imagined. Making things is simply such a fitting way to explore a new environment. As a process it works similar to a lens through which you can look at things and see them differently. For example I was looking for a good material to make a speaker membrane from - all of a sudden everything I look at becomes a potential material for moving air. I touch, handle and look for things that have ideal properties for amplifying vibrating and moving air. One leaf in particular (still trying to find what plant it was from >> reddit.com/r/whatsthisplant/comments/303raf/anyideawhatplantthisleafisfromfound_in/) worked especially well as a coiled membrane and resonant body.
The "bringing stuff back" part entailed what I had expected it would, that we would build stuff and document it to share with the Internet. But besides project documentation we brought back so much more we want to share. If only for entertainment sake, we definitely want to convey the adventurous aspects of the expedition. What we learned by setting up our JungleLab, then realizing we had enough gear with us to easily spend some weeks camped out and making stuff, is high on our list of things to document and publish. All the great exchanges between Andy and myself about why we do what we do... All these things we've brought back, we are currently digesting and slowly sharing in different ways. Here are some project tutorials that are already up online:
Ultra-Lightweight Tyvek Backpacking Belt >> instructables.com/id/Ultra-Lightweight-Tyvek-Backpacking-Belt
Jungle Speakers >> instructables.com/id/Jungle-Speakers
VinPro Camera Head Mount >> instructables.com/id/VinePro-Camera-Head-Mount
Fiber-Optic Jungle Insect Traffic Taster >> instructables.com/id/Fiber-Optic-Jungle-Insect-Traffic-Taster
One of our evening activities was to draw up individual maps of our trek up to the first base-camp. Then we passed our maps around and explained them to each other. I loved seeing everybody's different drawing styles and from these hand-drawn maps I've compiled a map of our entire route - from Manantanina to the summit and back. Enjoy!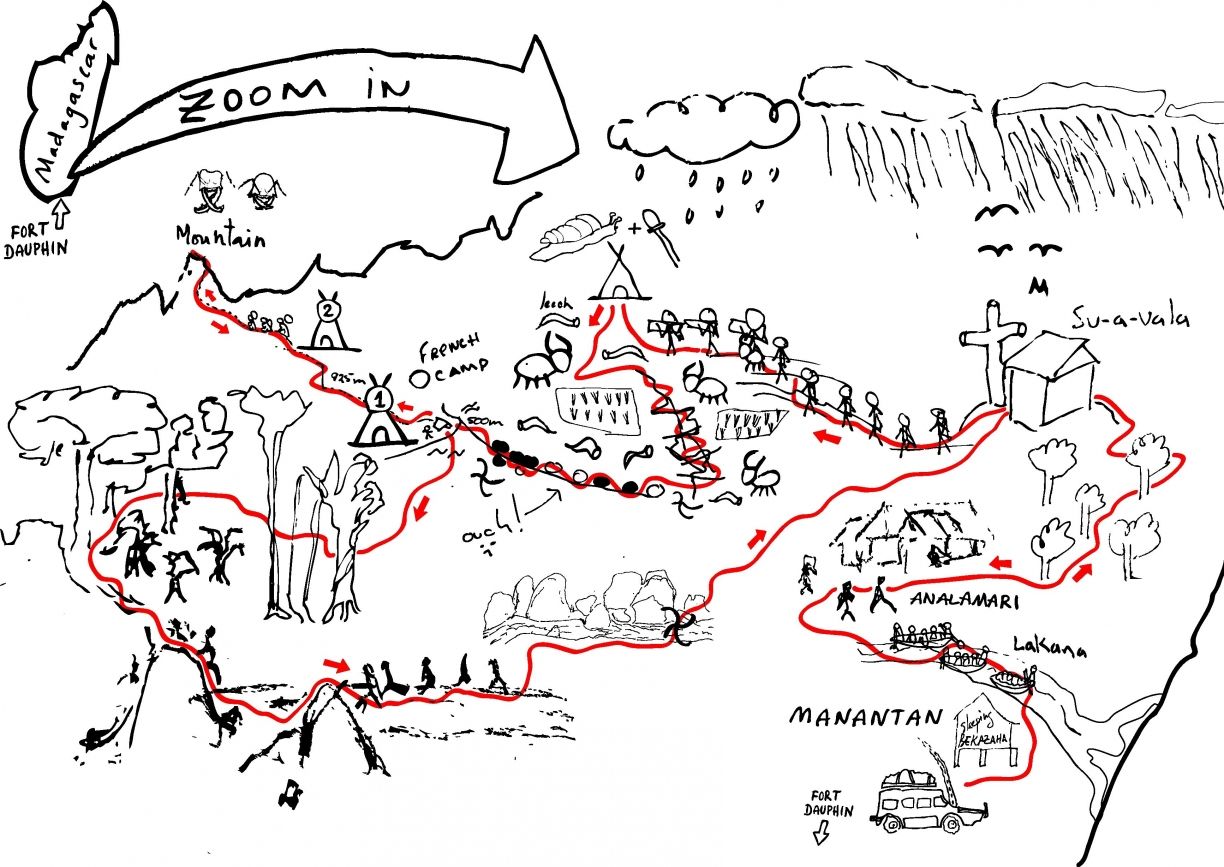 Before we went into the jungle, Brian had told us about the Malagasy's extreme love for honey. Lucky for us, we were able to participate in a genuine "Honey Party!"
Death March (Part 2)
Made it! We left at 5am and walked ALL DAY. We covered what had taken us 4 days, and got through it in one crazy day.
Made it at 1am, ate a meal, and passed out at 3am. A full 24 hour day.
After that crazy march, we got up at 7AM, packed up and started the long drive to Ft. Dauphin.
From our drive-in, the 100km took us 10 hours with river crossings and quick repairs. But we had more problems this time.
The battery doesn't work AT ALL. So we had to push it starting. This seemed ok, until we realized that if the car stalled at all in the long trip of mud and rivers that we had to drive through, we'd be totally screwed.
Brian is an incredible driver. I don't understand how the car can b SO sideways at times and not tip over. On top of the battery, other problems started happening. Weird grinding noises and things caught underneath that started sounding worse and worse.
We fixed and shoved the truck out of really hairy predicaments all day, but now, just 17 km away, on a nice flat road, the transmission goes out.
So badly destroyed that the car cannot even roll or be towed. Brian says for 15 years he has driven this beast, and this is the first time it has actually, all-the-way failed on him.
It's 10pm on a dark, quiet road. Our flight is at 6am. Eating papaya now, figuring out what to do. :)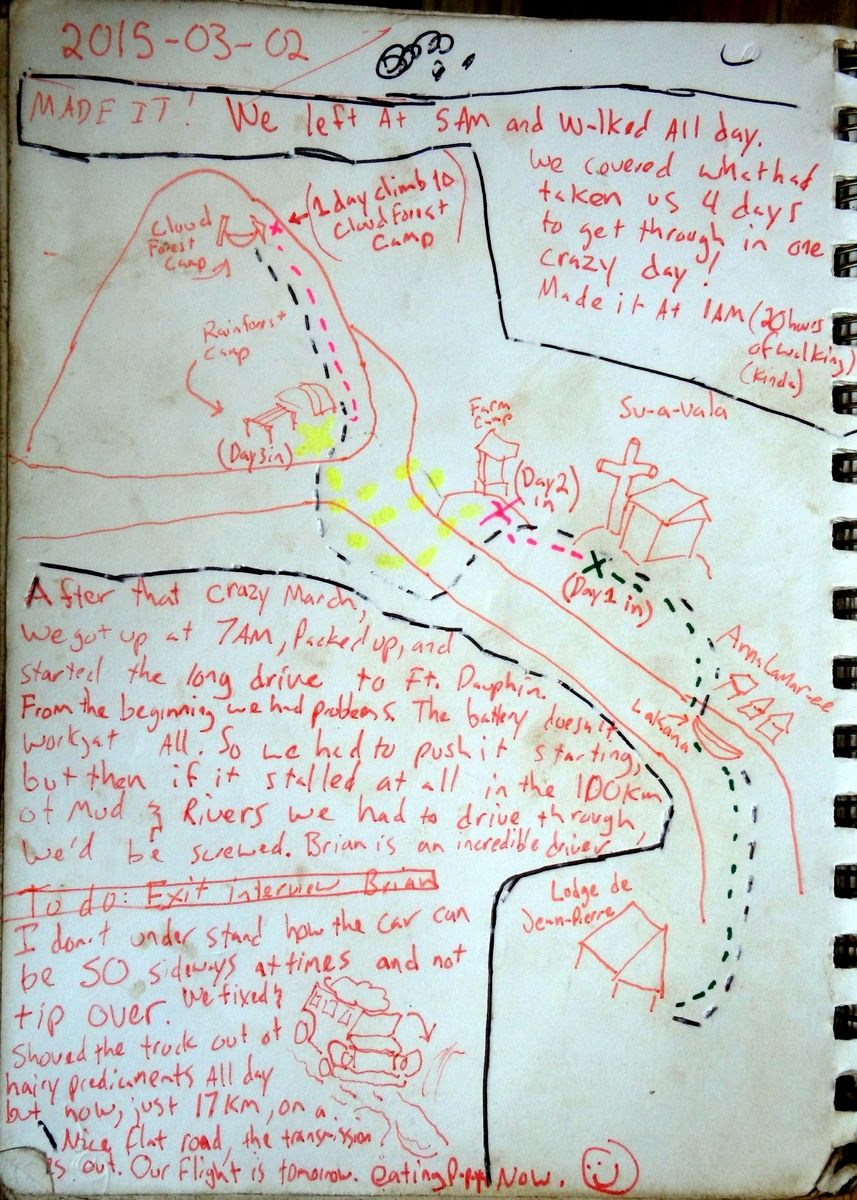 The Death March
Been a bit scared of this day for a while. Brian always seemed cheerful about it, "It's amazing! You take four days to get out here, but then you just walk the whole thing back in one day" - "also there's no more food, so you HAVE to make it back!"
Get up at 3AM to take down camp, eat, and leave at 5AM. I shove as much bland rice into me as possible. The Chef, Berlin, also has a little sack of sugar I start eating mouthfuls of: I am camel-ing up whatever nutrients i can before our 12+ hour hike into the unknown new path back.
Walking down a mountain in the dark is super difficult.
Also WALKING is a wrong verb. We moreso do a controlled fall for 3 hours. Make it to the 540m raincamp and barely give it enough respect. Just march through. Brian is CRAZY fast at this. Hannah and I keep getting lost, and have to look for clues. Tiny ridiculous clues in the terrain. Like disturbed patches of moss to track where everyone is. This is crazy.
When we get to deforested areas, we start to move fast, but get tired-er, hotter, and thirstier. We find guava growing along the path and hannah feeds me some which saves me and prevents the trail-crazies.
I stumble along for hours behind a woman carrying a baby and ton of vegetables to go to the market. She's amazing. She uses our porters (one guy named "James Bond") to carry her baby across rapids for her.
These malagasy have such smart feet. My feet feel stupid and crippled locked in their shoe-prisons.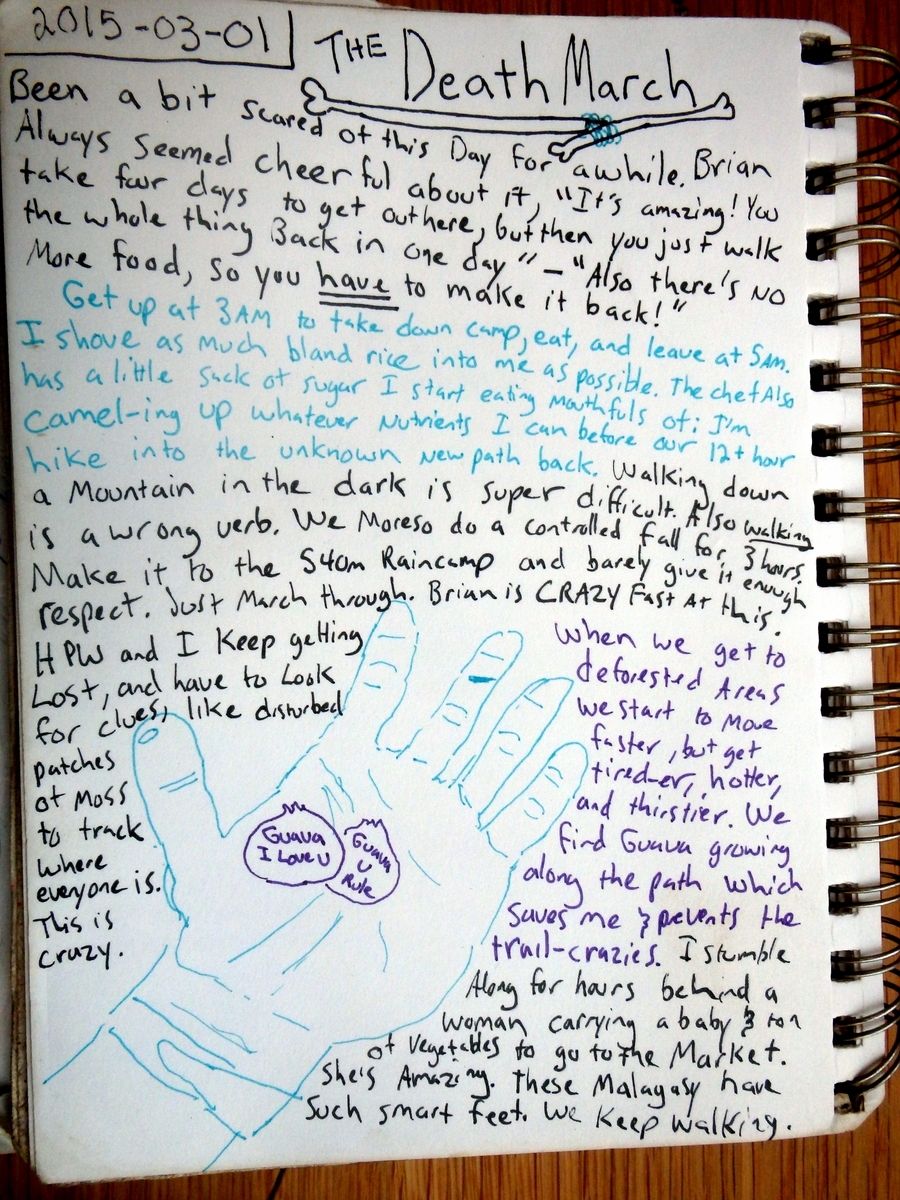 Final Day in Cloud Camp
Didn't find the ant.
Looked everywhere at the summit, but no - show. Brian is anxious. After so many years, we are here, but no ant. Against his own judgement, he decides to lead a SECOND expedition up to the top to hunt for that ant once more. It's gonna be crazy because he'll have to pack everything in camp today as well when he gets back from the top, AND then be ready to leave at 3 AM for the long walk home.
While he is gone, Hannah and I try to finish up and document beaucoup de notre projets. I become a tiny bit frustrate because I realized that before, I kinda thought I had the excuse that the reason that some of my project electroniques looked terrible was because I'm in the jungle and EVERYTHING IS HARD TO DO.
But now Hannah is here and her hands turn vines and wires into beautiful objects. She has those smart, strong hands of a real craftsperson. Meanwhile, I cobble together some fun projects with my less-honed aesthetic. I turn leaves into an electro-tongue display. And I make the worst robot ever from mushrooms and a linear actuator. It's so stupid looking, hobbling over the floor.
(Illustration includes drawing of terrible mushroom bot and hannah's leech disco-dancefloor).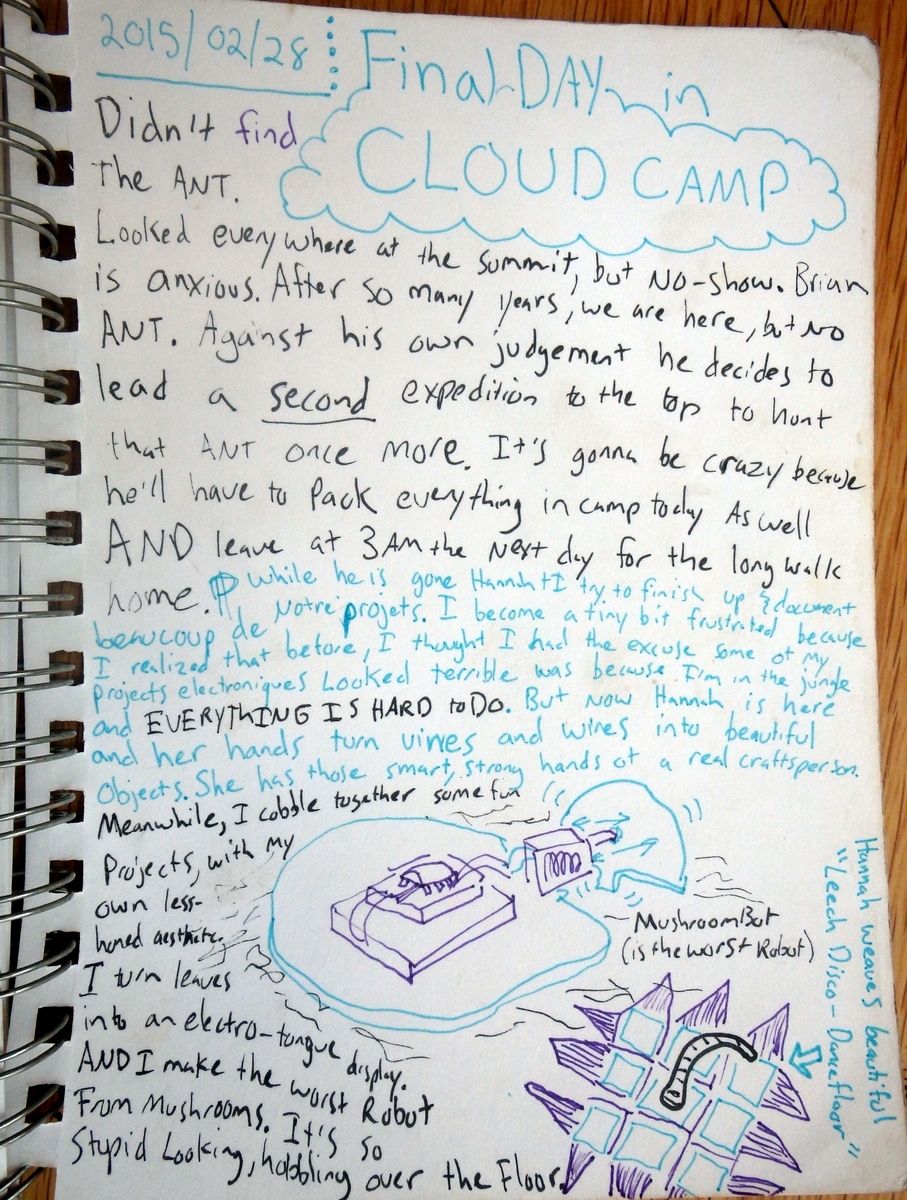 The Summit
This basecamp up in the clouds only has 3 Days. Day 1 we had to rest and set up camp. Day 3 we had to pack and prepare. So before we even realized it, we suddenly knew that today, Day 2, would have to be our chance to summit, and find that mystery ant.
We shove as much food as we can into us at 5AM and head up into the unknown. There are parts where we are crawling up waterfalls and snaking around chasms. mostly it becomes a long enjoyable walk through a radidly changing landscape as our guides chop a minimal path through the jungle. At no point are we ever sure our path will actually bring us to the summit, and not just a dead-end ridge. The jungle gives way to a psychedilically shifting new types of forest. Suddenly everything is spongy and teal. Then it is all burnt. Then grasslands. We see bizarre new forms of plants.
We get close in elevation but panic sets in as our guides detect HONEY. We almost lose them but brian convinces them to summit! We get to the top. It looks like the alps. So strange but maybe hannah feels as home! We hunt for that ant!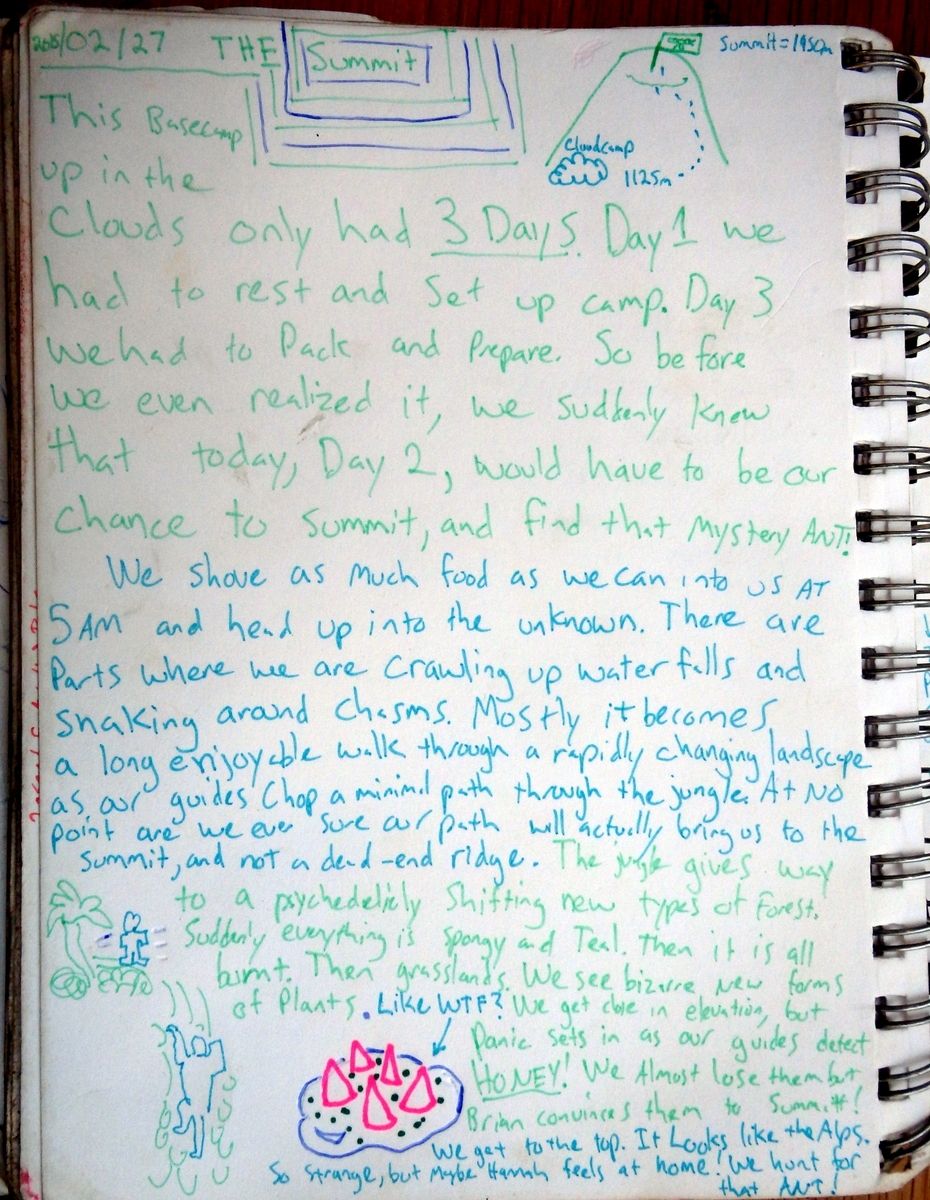 02-25-2015
Up to Cloud Forest Base Camp
Felt great this morning (sickness mostly gone). Saddened to leave our amazing lower base camp. As Hannah said we could have stayed at this luxurious camp we built for weeks building all sorts of things. The jungle is a ridiculously inspiring place to work. The biggest challenge is to not be overwhelmed by the possibilities.
I think Hannah and I have been tackling all these challenges excellently together. The project, (sharing research, building electronics, designing mobile labs, surveying) is already huge, but we have been helping eachother, watching out for eachother, and tossing ideas around together.
Such a luxury having her with us.
We walked, or really climbed, with backpacks straight up for 4 hours to the cloud forest camp. One porter carried a full live pig all the way up. They slaughtered and BBQ'd it up here last night. I had never seen such a thing first hand.
Only 3 days left to build and explore.
*Submitted by Brian
Transposed by Erika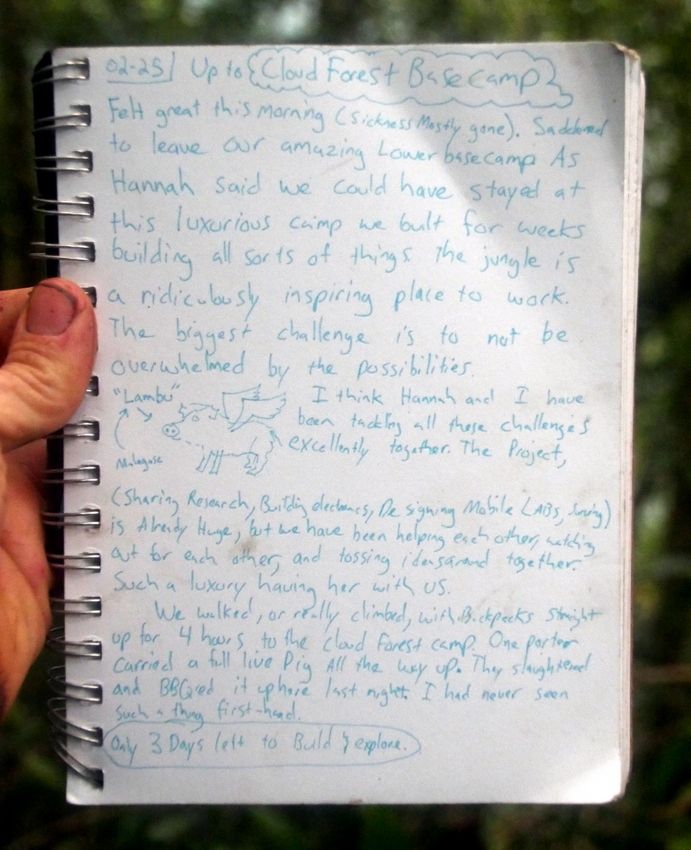 2015-02-24
Got sick maybe I shouldn't have eaten the cold 9 day old meat. Whups. Slept a long time. Frustrating to not be able to do anything. Everyone was very nice to me. Fever broke in the night, now just ache-y.
As I am lying here, it occurred to me that many of you might not know about one of the biggest goals on this mission:
The Unknown Ant on the Mountain:
So, some bad ass french guys were the last people here (even the locals don't go here) in the 1970's. They were studying the forest and also just randomly collecting stuff. They happened to bring back an ant that no one had ever seen before! We are trying to find it! Unfortunately, it lives on the TOP of the mountain, also nobody knows how to get there!
Submitted by Brian
*Transposed by Erika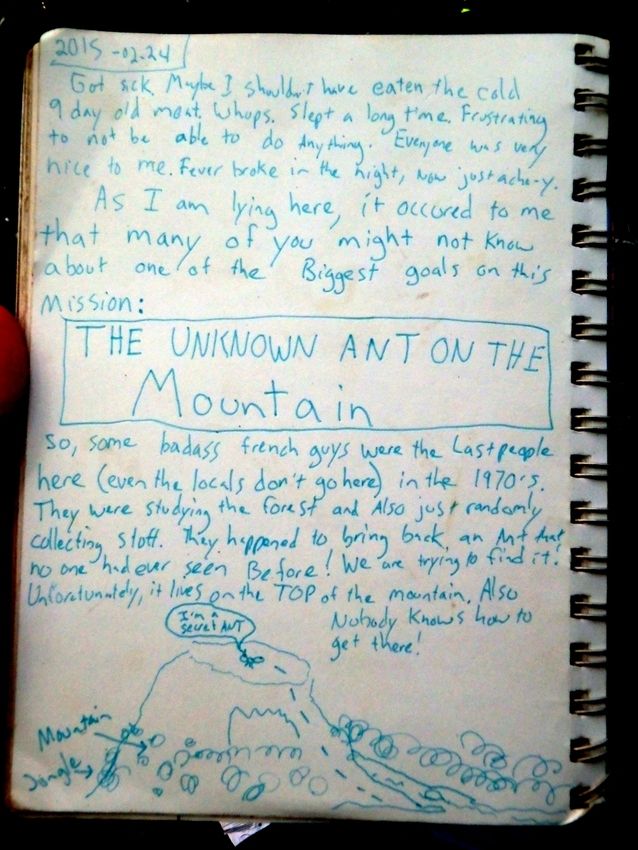 Notes from the field, this time with pictograms!!
*Submitted by Brian, Transposed by Erika
2015-02-22
Another Fantastic and productie day in the camp. Felt like this had been the day we relaxed the most, looking back, we tackled all sorts of difficult problems.
First, it was sunny for the first real time. We went down to the river and managed to clear a long backlog of journal entries. Accidentlally dropped an SD card into the river, but i think it was at least 50% baked up (Lucky I had done that!) We brought our 5 day old muddy clothes down to the river today and swam about this magical place. Hannah and I then jammed on design projects for the day on boulders above the rapids.
Project 1 was to try out rope-based aerial photography. One of the chets or guides made a kickass bow and arrow for eel hunting. We are going to try to use it to shoot the rope over, but then decided to just use a rock :)
Project 2 was about how to make a sensor triggered by ants. We tried sanding down the edges of fiber optics and wrapping these around trees. Showed some success...continued
Continued... working with Brian and Hannah is fantastic. Brian is the craziest most extreme ? I met, and he still makes time for all my side activities. Hannah is always gung ho and has a sharp wit and creative mind that's going to make most projects.......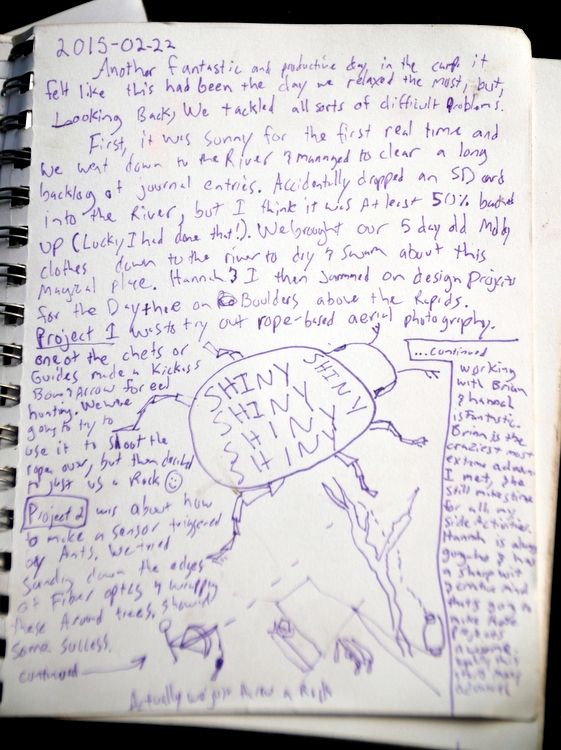 Day 4:
We had just 3km to go to make it to base camp. It took us the entire day. Crossed burnt rice fields on slippery logs. The river was even harder. Giant boulders and stormy rapids made for magnificent videos. But a slippery wet climb. We stop only 200 meters from camp. Our target. Set up camp.
Build workspace.
Prep for 4 days of Activity
transposed by me, Erika. I'm open to other explorer's interpretations of this leaf message. Post below if you read it differently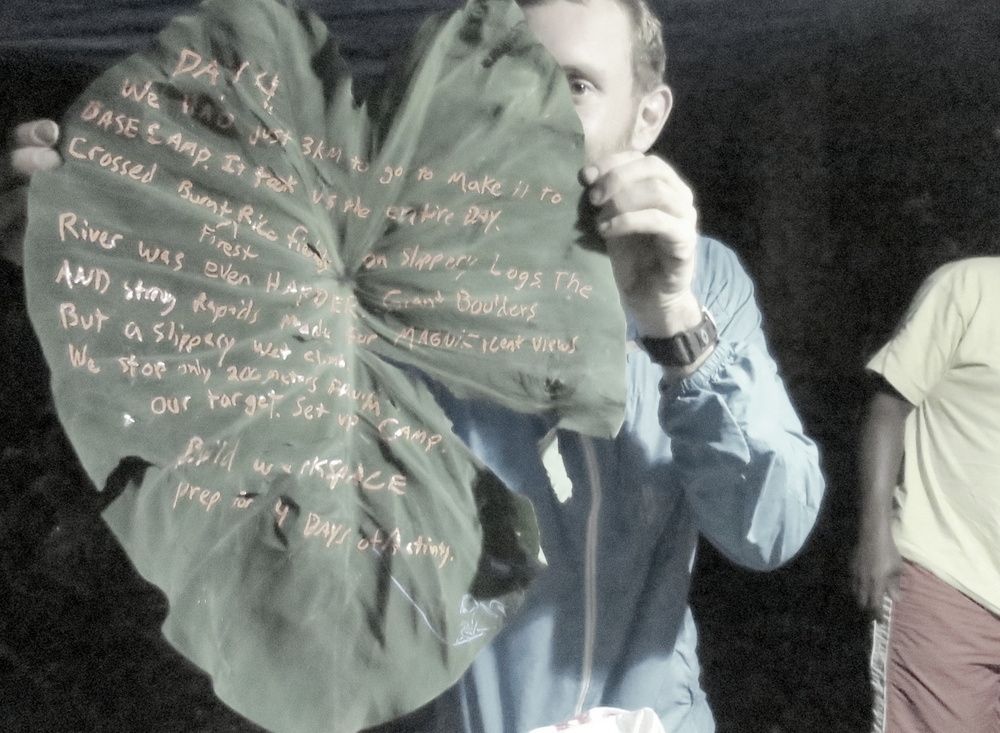 Day 2 continued:
In Suavala the porters stop and won't continue, so we set up for the night and begin new discussion the possible porters from this village. These discussions last several hours, but we do come to an agreement and plan to set off at 5 am the next morning.
In Madagascar things happen early, and after lunch one cant' really expect to get much done.
Day 3:
We set off and make a good start following a path that leads through further villages. All these villages and farmed land was not here when the French expedition passed through. In 1971 it was all still rain forest!
Crawling along burnt tree trunks, through rice fields, attacked by leeches. After only about 11 km the porters stop at a farm and we can't persuade them to continue on the final 4 km to where the French set up their 4th camp be the river, at the base of the mountain. Thus we setup camp to stay the night on the farm. Scarcity of trees makes it hard for Andy and Hannah to find places to hang their hammock tents.
Discover a cave with bats and Andy experiments on a large snail crawling up his leg to see what colors of LED light it might have a reaction to. No noticeable reactions to any, even IR and UV.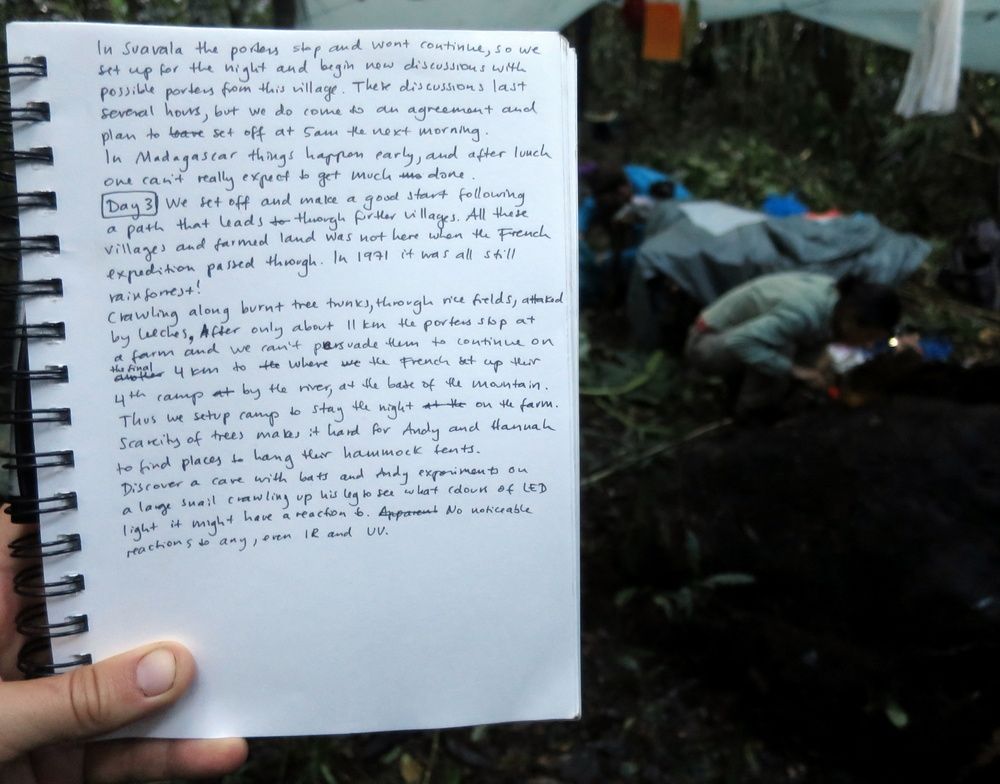 This just in! Field Journals from the Team, transposed here:
Day 1:
The expedition begins! We finally successfully pick Andy from the airport in Fort Dauphin. Rush to mechanic to have missing break parts mounted that Andy brought with him from Tana. Quickly to hotel to pack and set off for 120 km drive to Manantan. Five ferry crossing we need to make before dark. Bad luck catching ferries on our side but luck with all the road and car troubles we ran into. Which include bumping and scraping underside on bridges that crack as we cross them, pushing car out of deep sandy water, pumping oil filter day and managing not to tip over. Finally arrive long after dark and eat bread with sardines for dinner.
Day 2:
No more car. We take three la kana (boats hollowed from single tree trunks) upstream as far as we can go. This takes about 3 hours. The river is beautiful and in the distance we catch fist glimpse of Anoysian range- where we are headed. Our destination starts to feel real and the face that we don't know how to get there maybe even more so.
We leave the boats in Analamiar and discussions with locals begin to hire porters who will help carry all our stuff (equipment, gear, food) to our base camps (s). These discussions take time, during which we find out that somebody's father remembers the French expedition that passed through in 1971! We get to talk to this persona and ask him if he remember the route they took and where they set up camp. He unfortunately says it was too long ago to remember. We set off on foot with about 16 porters and only make them until the next village Suarala.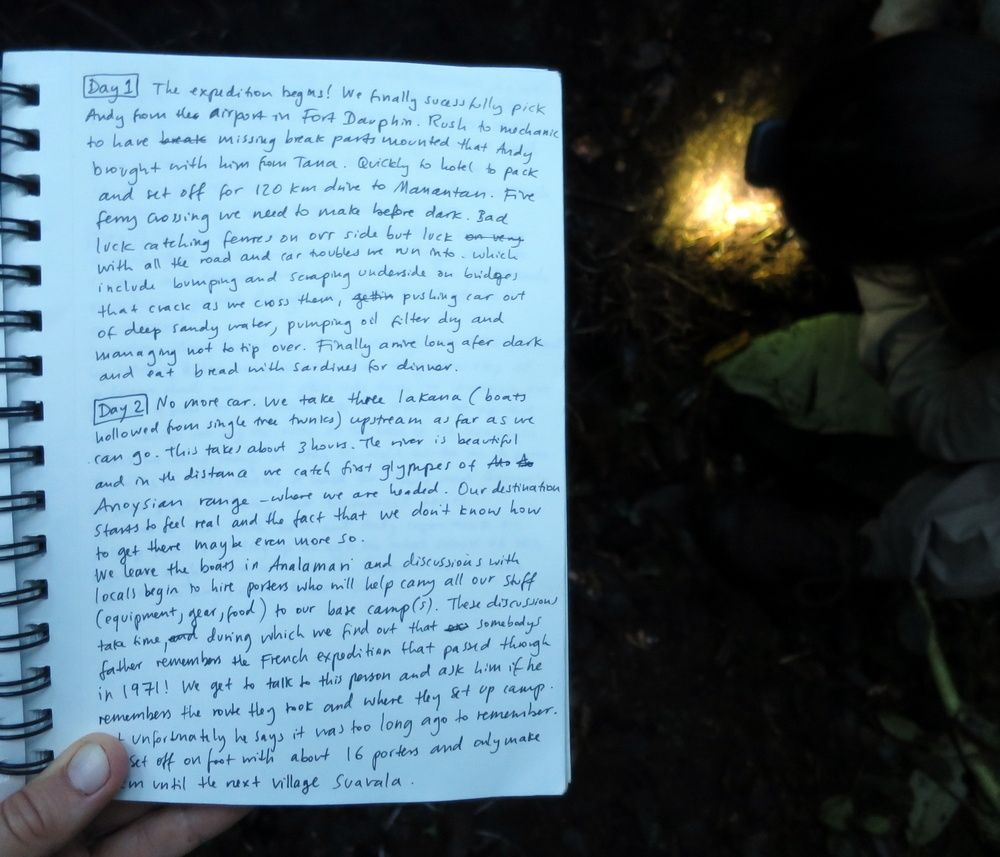 The Dissemination Lab is a experimental initiative to discover new methods for sharing field research using digital technology. We will be developing and testing an assortment of new ways that we can connect people around the world with biological fieldwork.
The first instantiation of this project will take place in Madagascar from Feb 1 - March 30 2015, Contribute your ideas for fun, weird, or engaging new forms of outreach that you would like to see us try out.
Submit your ideas here
We are looking to target new ways of connecting people around the world with our
Animals - The creatures we are studying
Environment - The amazing ecosystem we work in
Practices - The how and why of what we do