Perpetual Planet Extreme Expedition: Everest 2019
Latest update July 17, 2019
Started on April 7, 2019
National Geographic, in partnership with Tribhuvan University and Rolex, is undertaking an expedition on Mount Everest, where an interdisciplinary team aims to better understand the effects of climate change.
Funded by:
Follow
There are fourteen mountains in the world that are more than 8,000 meters above sea-level, also known as the "eight-thousanders," but Mount Everest is in a class by itself. As the highest peak on Earth, climbing Everest is for many the ultimate test of fortitude and endurance. But when it comes to actually making the summit of Mount Everest, it isn't simply a matter of having the right gear and being physically and mentally prepared, like many outdoor activities, it all comes down to the weather.
There is a narrow weather window for climbing Mt. Everest every year and climbers flock to the mountain in larger and larger droves to take advantage of this short opening. Once on the mountain, predicting when to ascent becomes a dicier guessing game based on when the weather seems most favorable. The result of more and more people attempting to climb each year, all of them trying to seize upon the few openings of good days to summit, is dangerously crowded lines at 8,000 meters.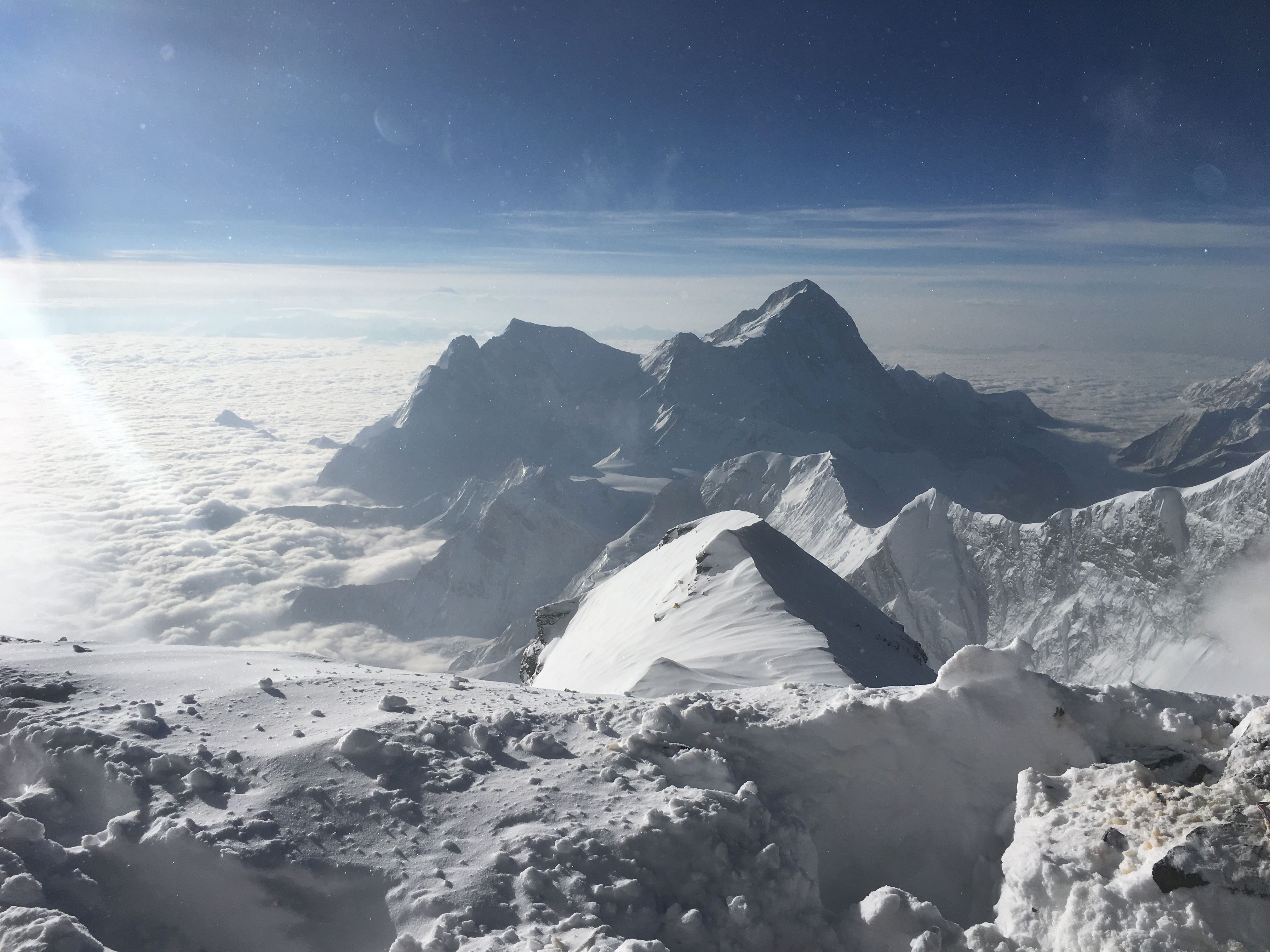 A view of the mountain Makalu from the Balcony. Photograph by Baker Perry
As our team made their way toward their final objective — installing the highest operating weather station in the world more than 8,000 meters above sea level — they were struck by the gravity of the situation just above them and reminded that this achievement would not only bolster scientific research on the mountain, but could also help climbers attempting to make it to the summit in the future.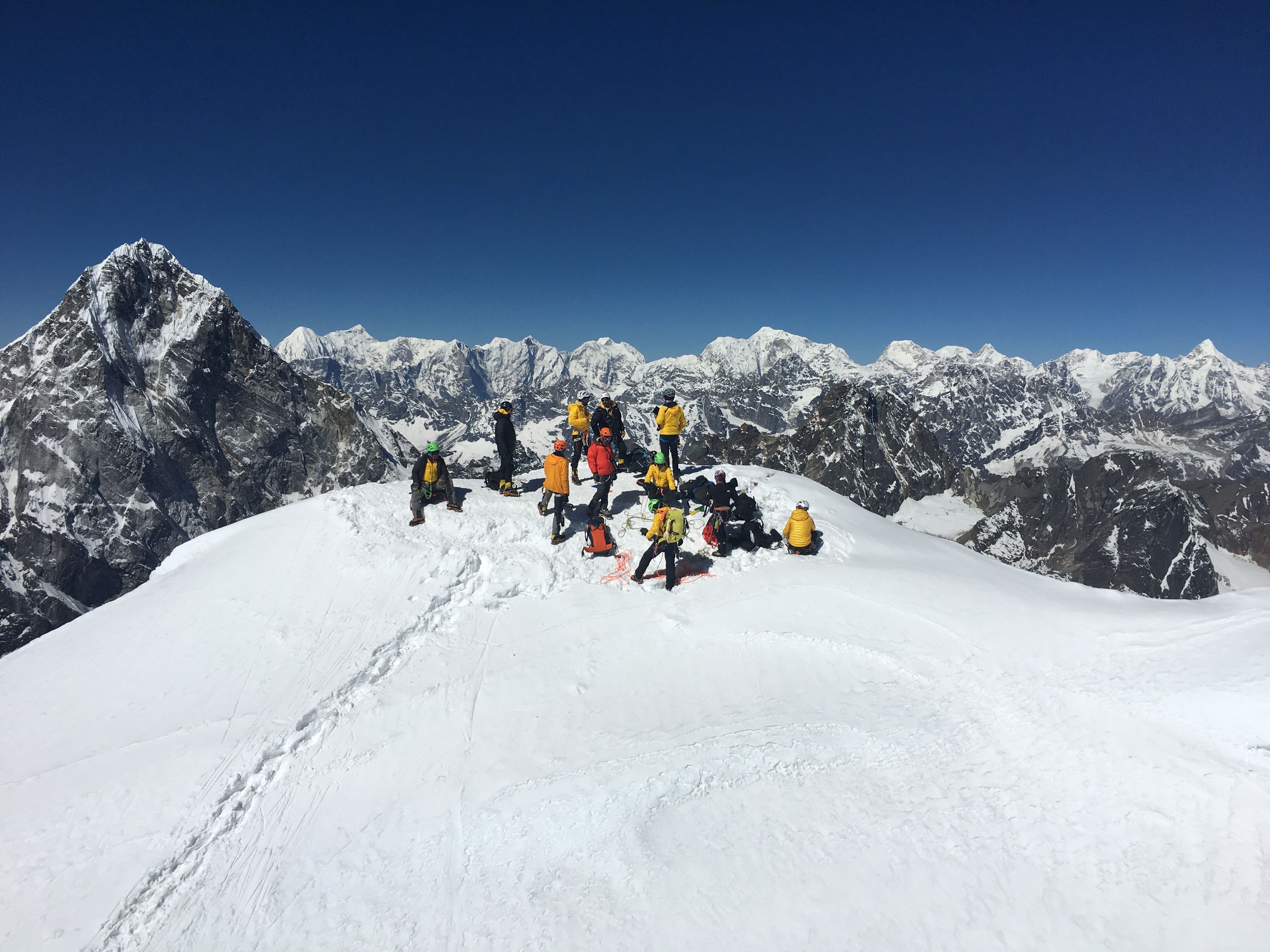 Expedition team members resting on Lobuche East false summit. Photograph by Baker Perry
"The weather stations we put up there and the monitoring helps with proven forecasts, helps us understand what's going on, [and] helps make the mountain a bit safer," said Baker Perry one of the team leads who installed the weather stations.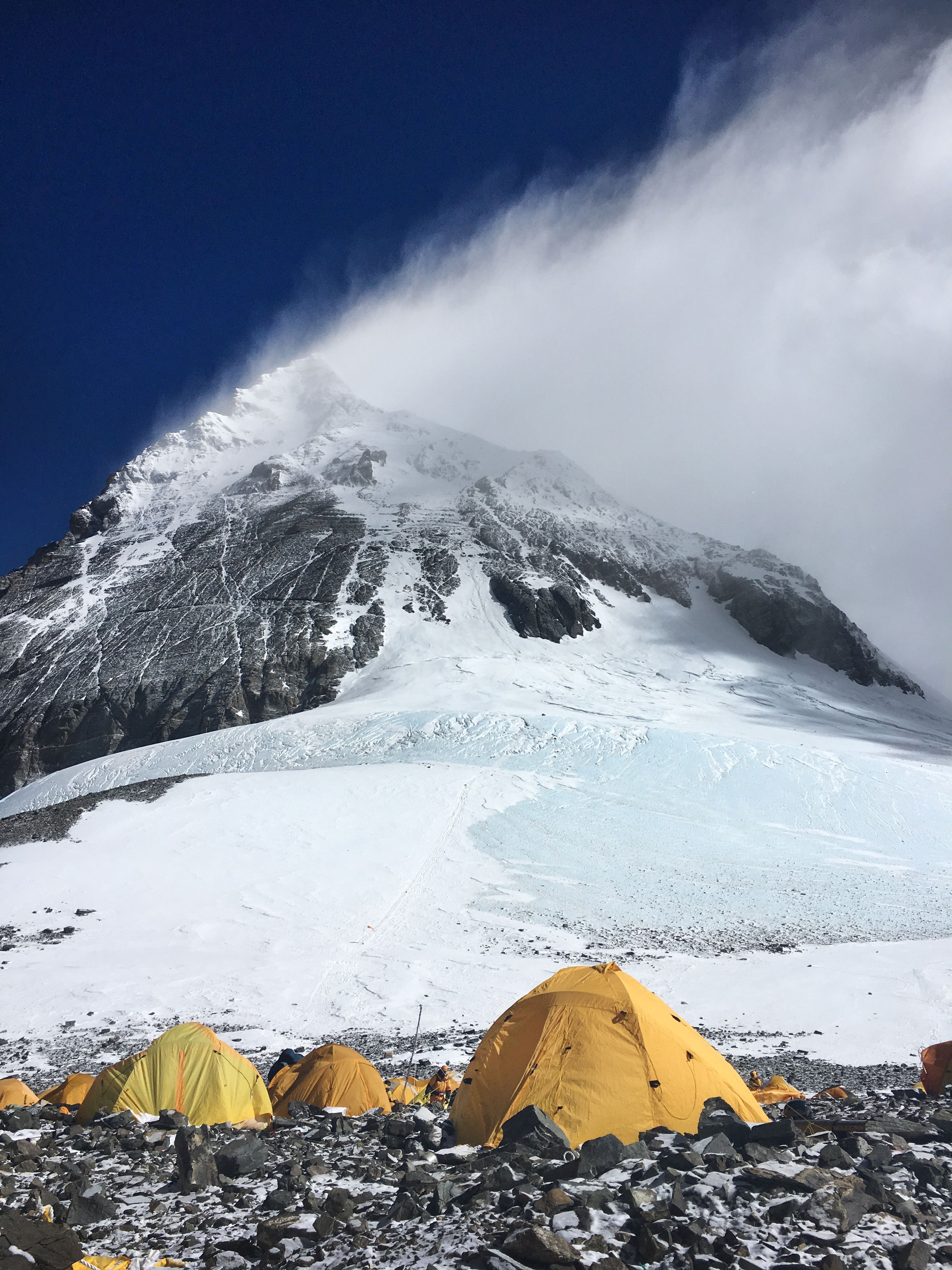 South Summit and Balcony from South Col. Photograph by Baker Perry
Getting both the South Col station (the second highest operating station on Earth at 7,945 meters) and the Balcony station up and running was a risky undertaking for our small, but mighty crew. After days of nearly round-the-clock work prepping for the climb, calibrating and hauling equipment, doing trial runs and sleeping three men to a tent (each of them six feet tall and up) their energy was running low for the most grueling drive of the trip.
"We only had two hours of sleep before going [to the Balcony site after South Col]. The time that would've been spent recovering, relaxing, was often actually spent preparing the weather stations," said Tom Matthews, the other team lead installing the weather stations.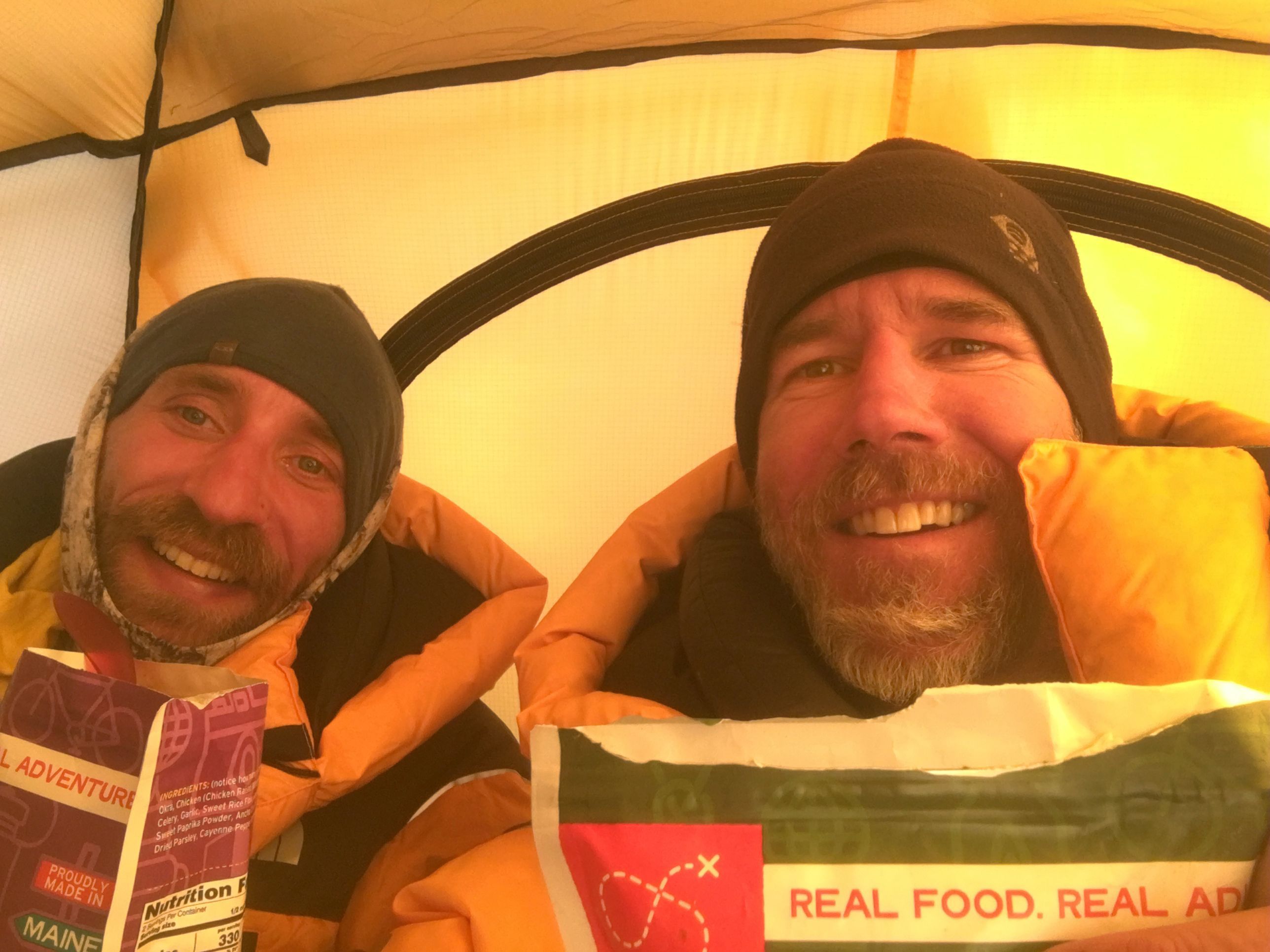 Baker Perry and Tom Matthews inside their tent at Camp 4. Photograph by Baker Perry
"The weather station construction on its own is overwhelmingly demanding physically. But having to do something all the time, like getting out of the tent to put your boots back on when all you want to do is lay down and have a nap is as much mentally tiring as it is physically." We've all known the sinking feeling of having to get out of a nice warm bed in the morning after too little sleep, but imagine doing that near the peak of the world's tallest mountain!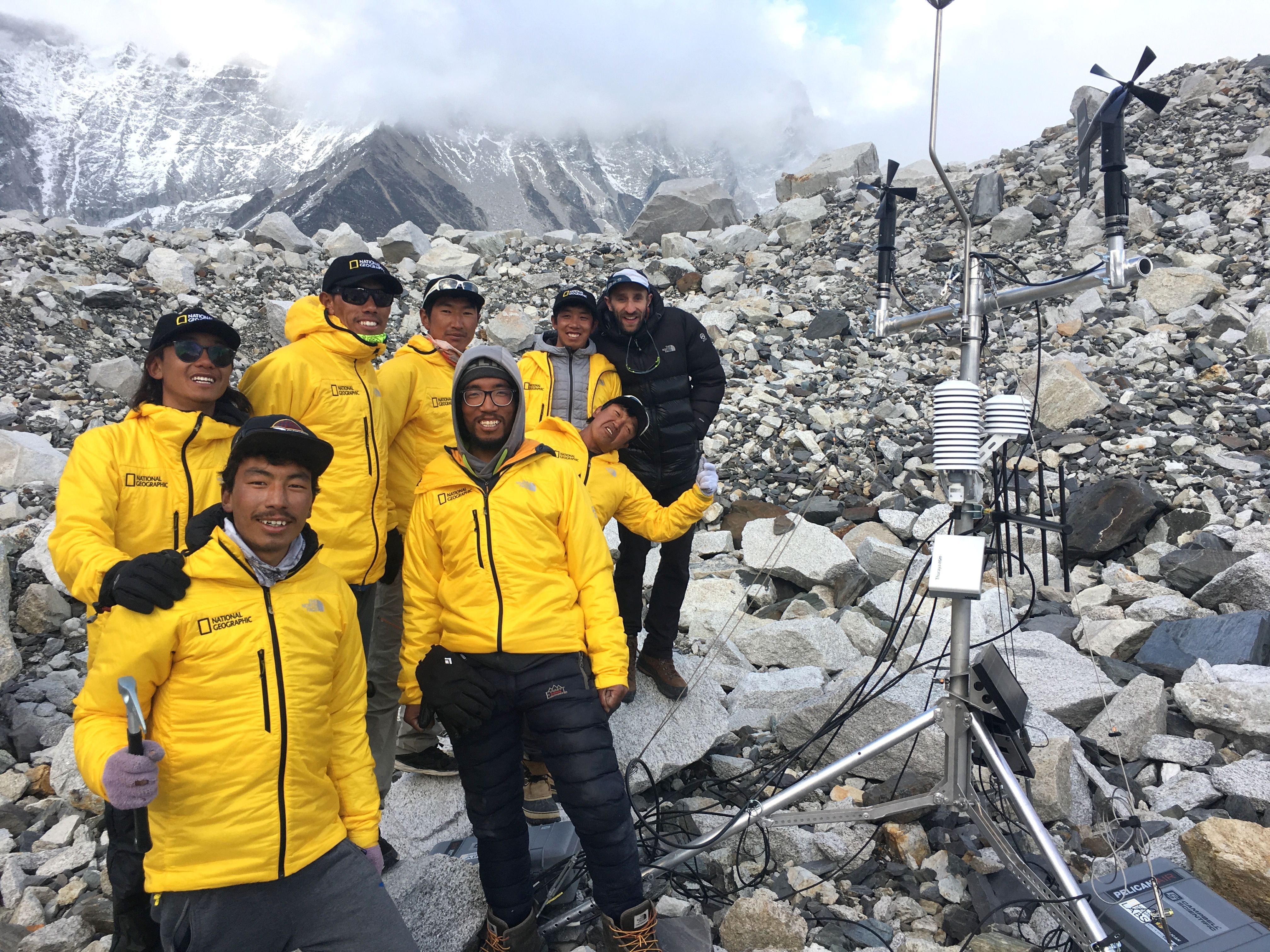 Tom Matthews and local Sherpas after a test deployment of Balcony automated weather station. Photograph by Baker Perry
It's no wonder the team experienced some...technical difficulties. It could have been the delirium from lack of sleep or lack of oxygen or bad luck, but whatever the cause, Tom, Baker, and the team of Sherpas with them had to contend with some unexpected situations.
After making their way to the Balcony site (which took twice as long as expected because of the crowding on the mountain), Baker and Tom experienced what the team now refers to as "Wind Sensor-gate."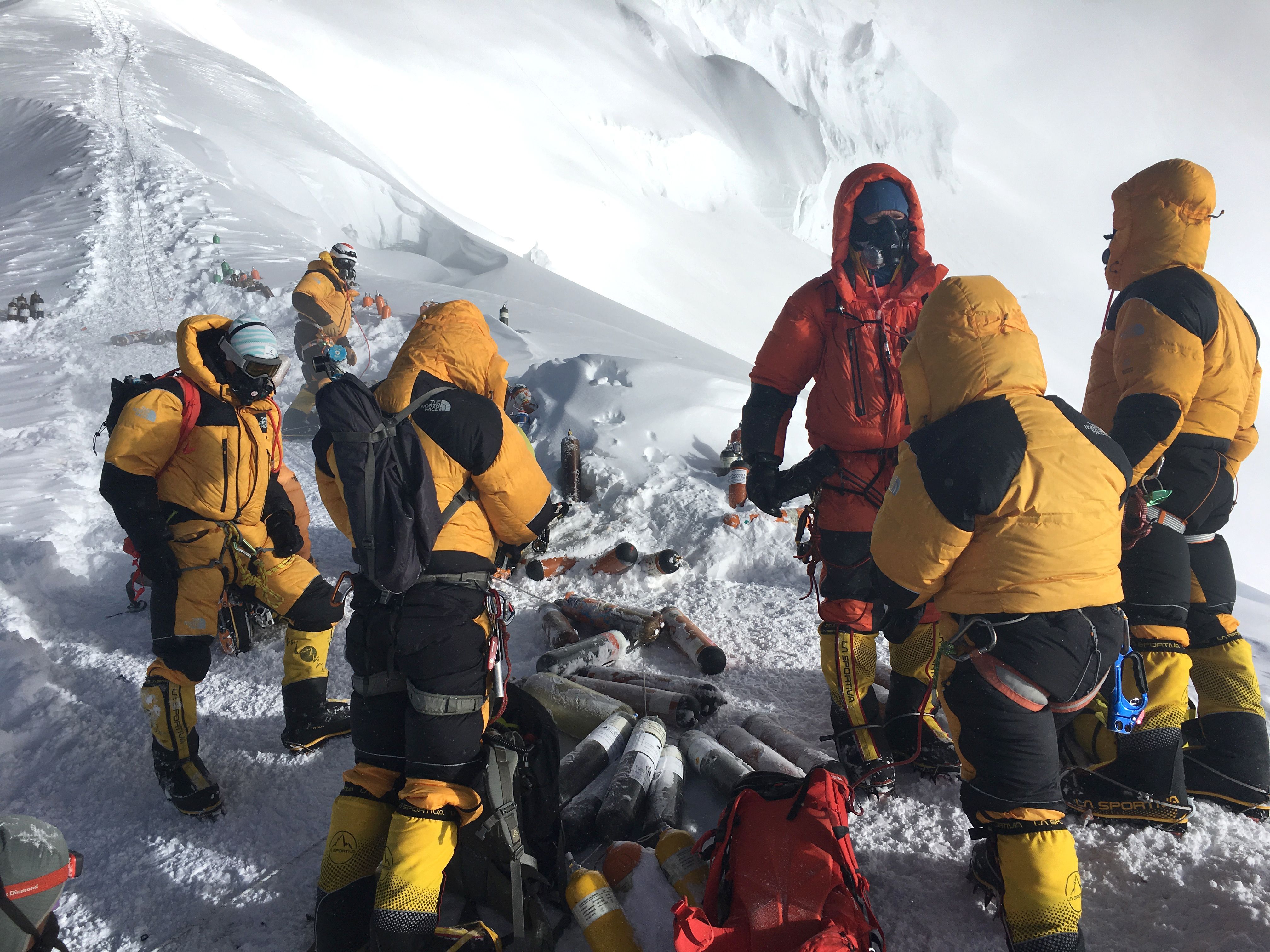 Packing up after installing the Balcony automated weather station. Photograph by Baker Perry
They had forgotten a critical pipe for the weather station down at Camp 4. Unfortunately, everyone was wearing windblocking baklavas and were unable to hear each others' reactions, which we can only assume were very calm and polite words of encouragement. Thankfully, before they broke out a game of rock, paper, scissors to see who had to go back and get it, Baker MacGyvered up a solution.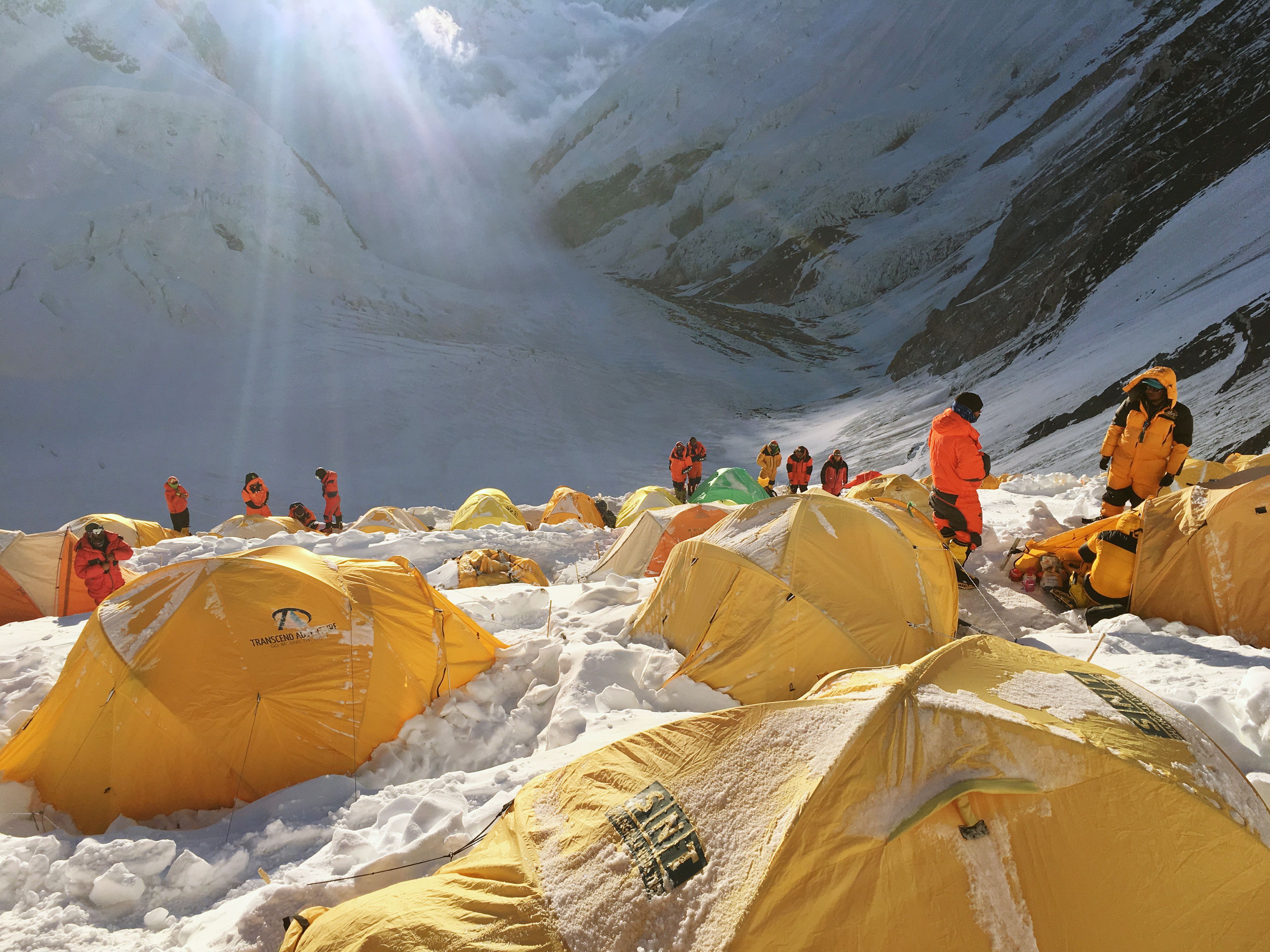 Climbers and tents at Camp 4 in the South Col. Photograph by Baker Perry
"Baker took apart a shovel to do the job," Tom said. It may not seem like the most mind-blowing revelation, but thinking on your feet at nearly 8,500 meters, on little sleep, with little oxygen, seven hours in to a 15-16 hour climb, in the freezing cold — it's pretty miraculous. And of course, like all unlikely MacGyver schemes, it worked like a charm!
In total, with the help of Panuru, their lead Sherpa, the team put up five weather stations on Mount Everest, which are highlighted in a piece by Freddie Wilkinson for National Geographic. The stations will provide crucial data to help researchers better understand this important water tower and inform climate change mitigation strategies.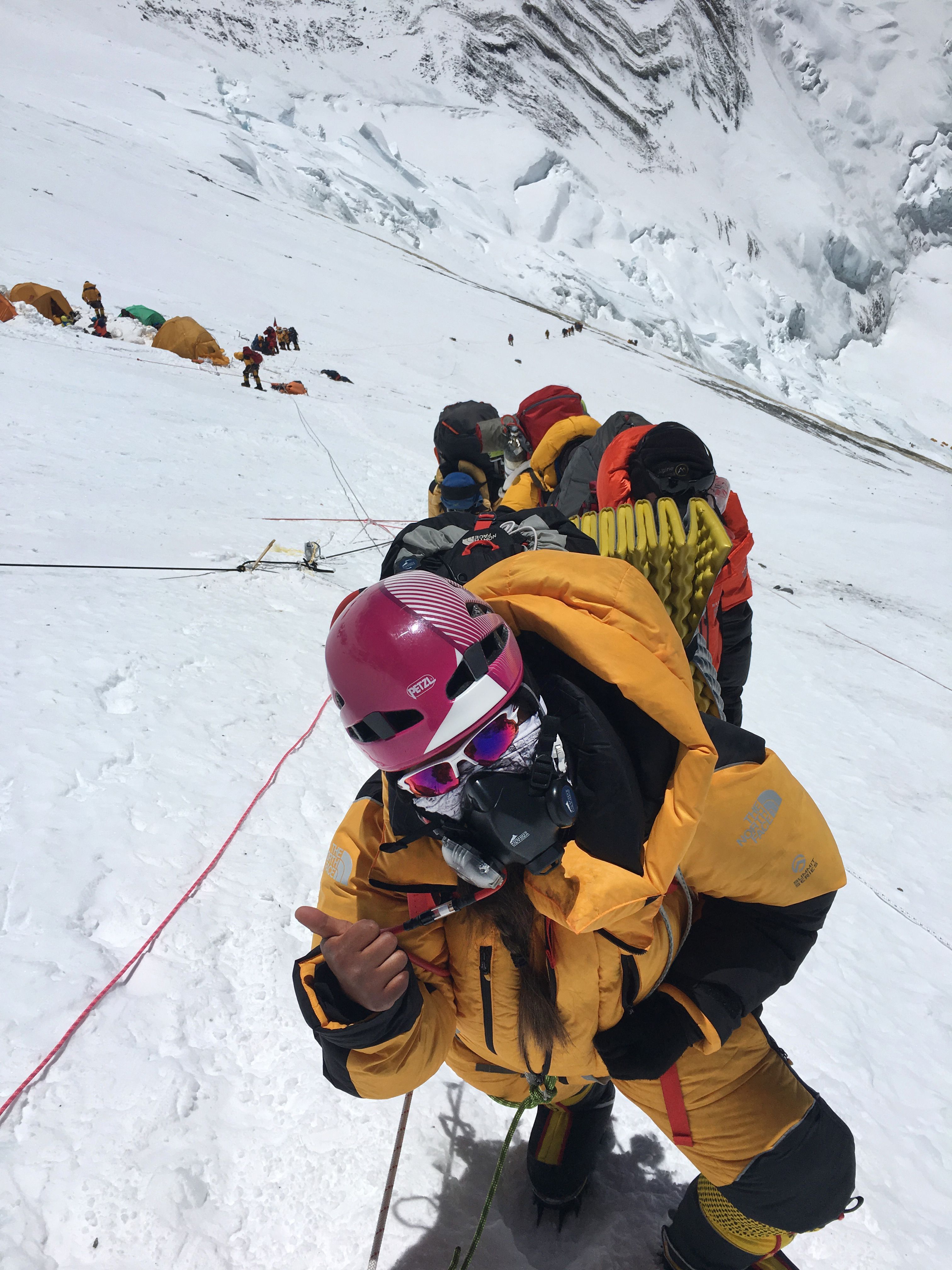 Dawa Yangzum Sherpa on the upper Lhotse Face. Photograph by Baker Perry
"There's been an enormous scientific gulf for a long time because of logistical challenges of installing instruments at above 5,000 meters. So, to have a weather station at the South Col is a tremendous success. Beyond that, nothing has ever been measured above 8,000 meters [...] So to have anything in there is a tremendous thing. It's a really, really important scientific contribution. And the longer it stands the truer and bigger that statement becomes." Tom said.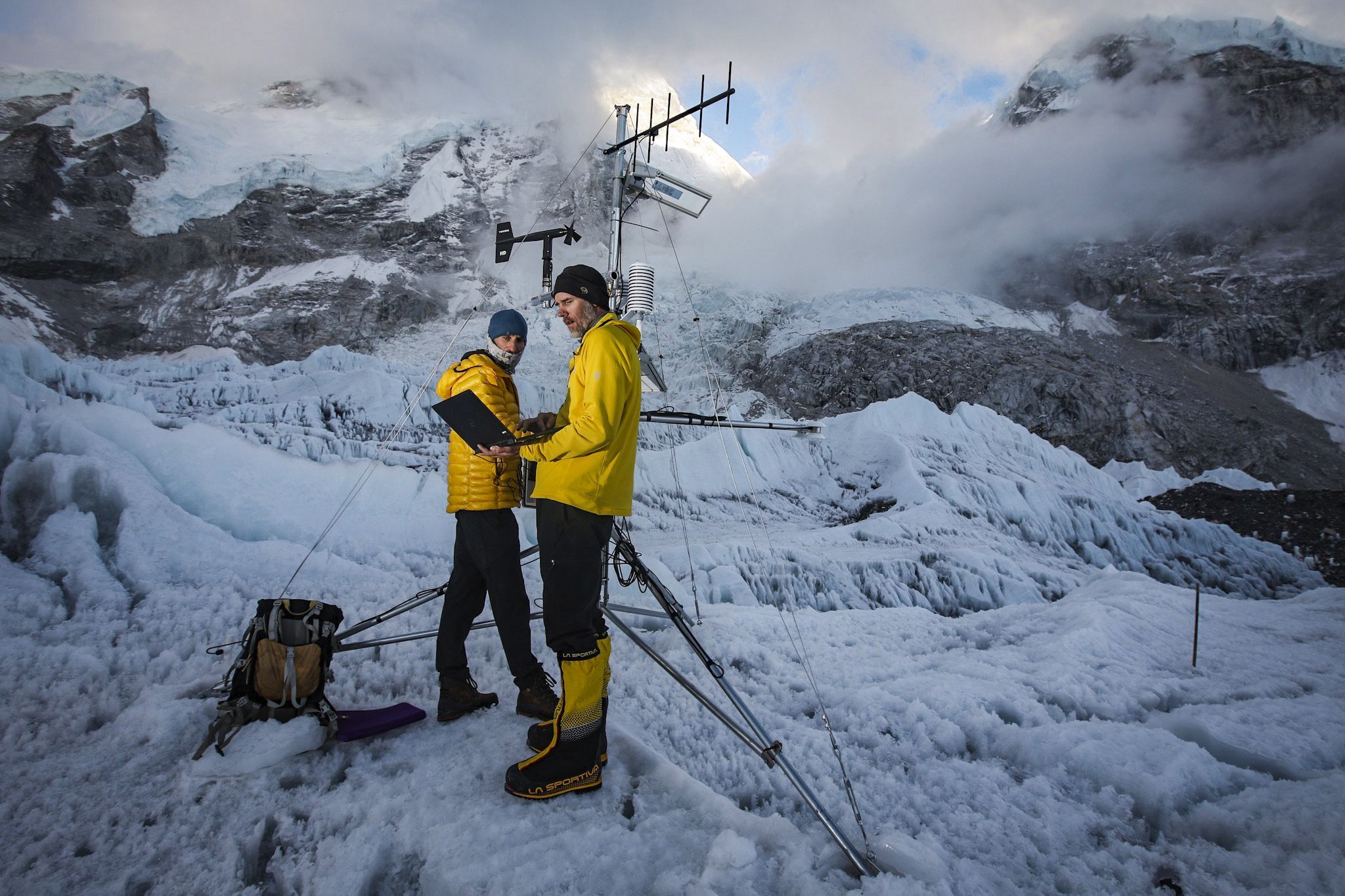 Tom Matthews and Baker Perry work on the automated weather station at Everest Base Camp. Photograph by Freddie Wilkinson
Slices of Life from Base Camp
Crammed in layers of clothing, huddled in a small tent, for some people it feels like a long and ongoing illness as you battle restless sleep, intermittent waves of chills and throbbing headaches from lack of oxygen. It's just another day living and working in the extreme environment at Everest's base camp.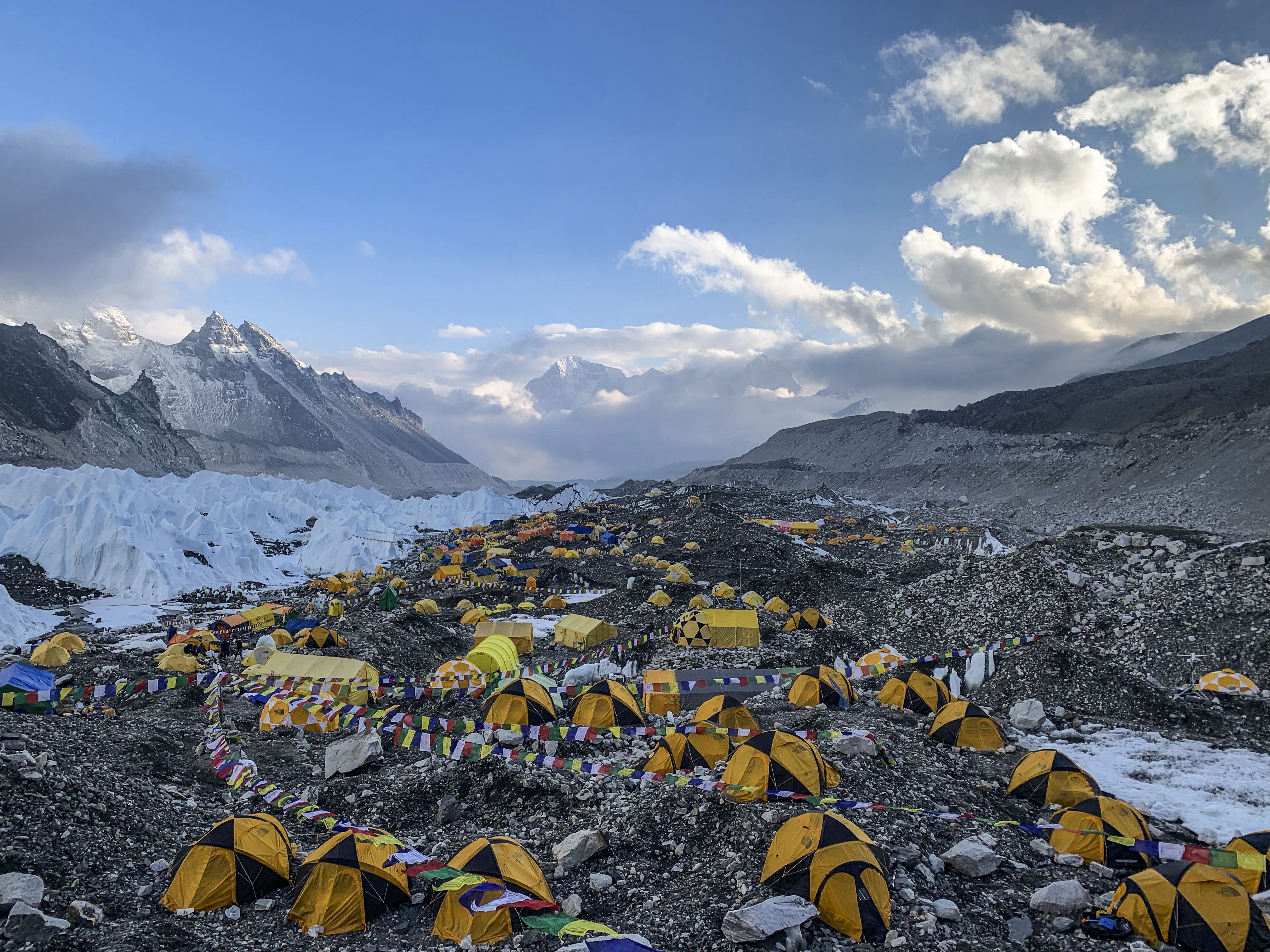 An aerial view of National Geographic tents at Everest Base Camp. Photograph by Alex Tait
Base camp is a seasonal city. Trekking support companies begin staking out their camps each year as early as February and the majority of tents are set up by early April. At the end of the climbing season, the base camp "city" disappears in just a few days in early June.
Feeding an Expedition Team
Food brings expedition teams together at meal times, and provides some semblance of normalcy and community at more than 5,000 meters above sea level.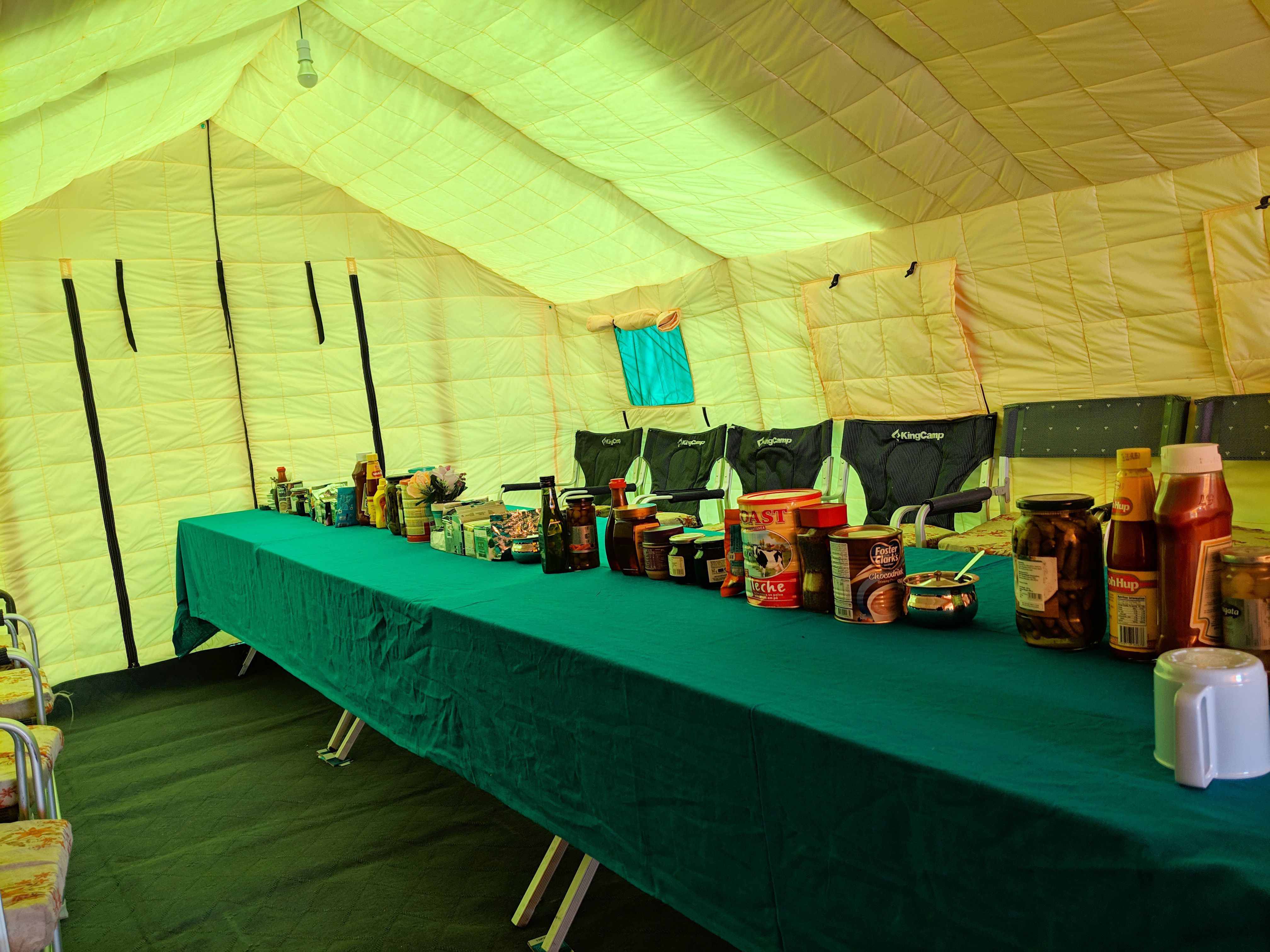 Condiments sit on tables in the dining tent at base camp. Photograph by Sandra Elvin
Our team, like many other on the mountain, came together for breakfast, lunch, and dinner in the communal dining tent.
There, the team's wonderful head cook, Tula, would prepare everything from pancakes and eggs, to spaghetti and pork chops, as well as "Sherpa stew", a hearty and spicy dish that includes potato, vegetables, and sometimes meat.
Wild Weather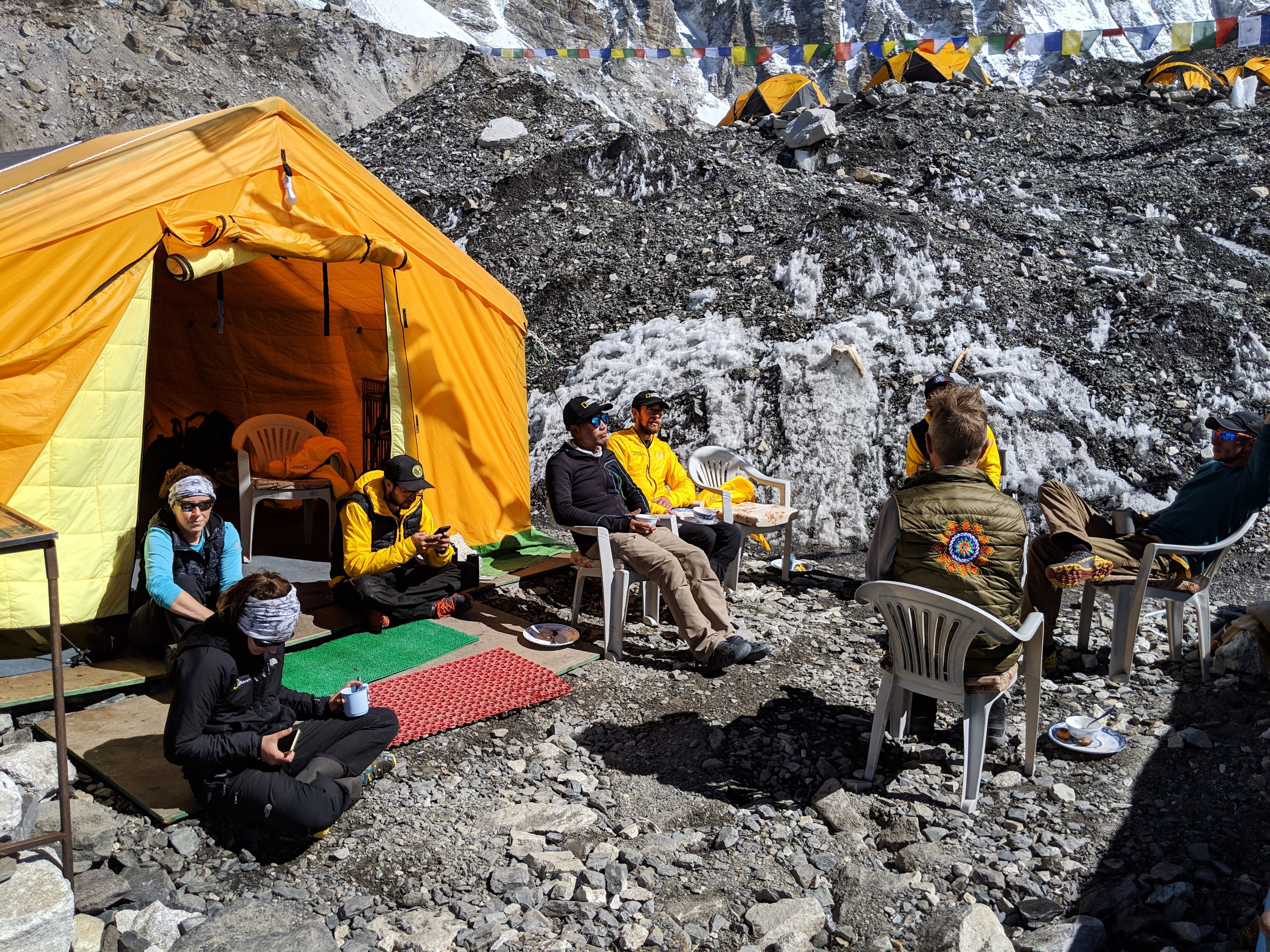 After breakfast, the team enjoys a warm sunny morning while discussing plans for the day. Photograph by Sandra Elvin
The weather in base camp can be unpredictable. While nighttime temperatures were below freezing, mornings tended to be sunny and warm. At such high elevation, the sun's radiation felt more intense, making temperatures spike throughout the day. If you found yourself inside your tent at midday, you would be sweltering. Baker Perry, one of the members of our Meteorology Team measured temperatures in different areas of base camp, and he reported that daytime temperatures inside the tents reached up to 50 degrees celsius (that's roughly 122 degrees Fahrenheit)! That's equivalent to some of the hottest temperatures registered in the Sahara Desert. Baker explained that temperatures in the tents rise this much because there is not that much protection against the exposure of solar radiation at this altitude.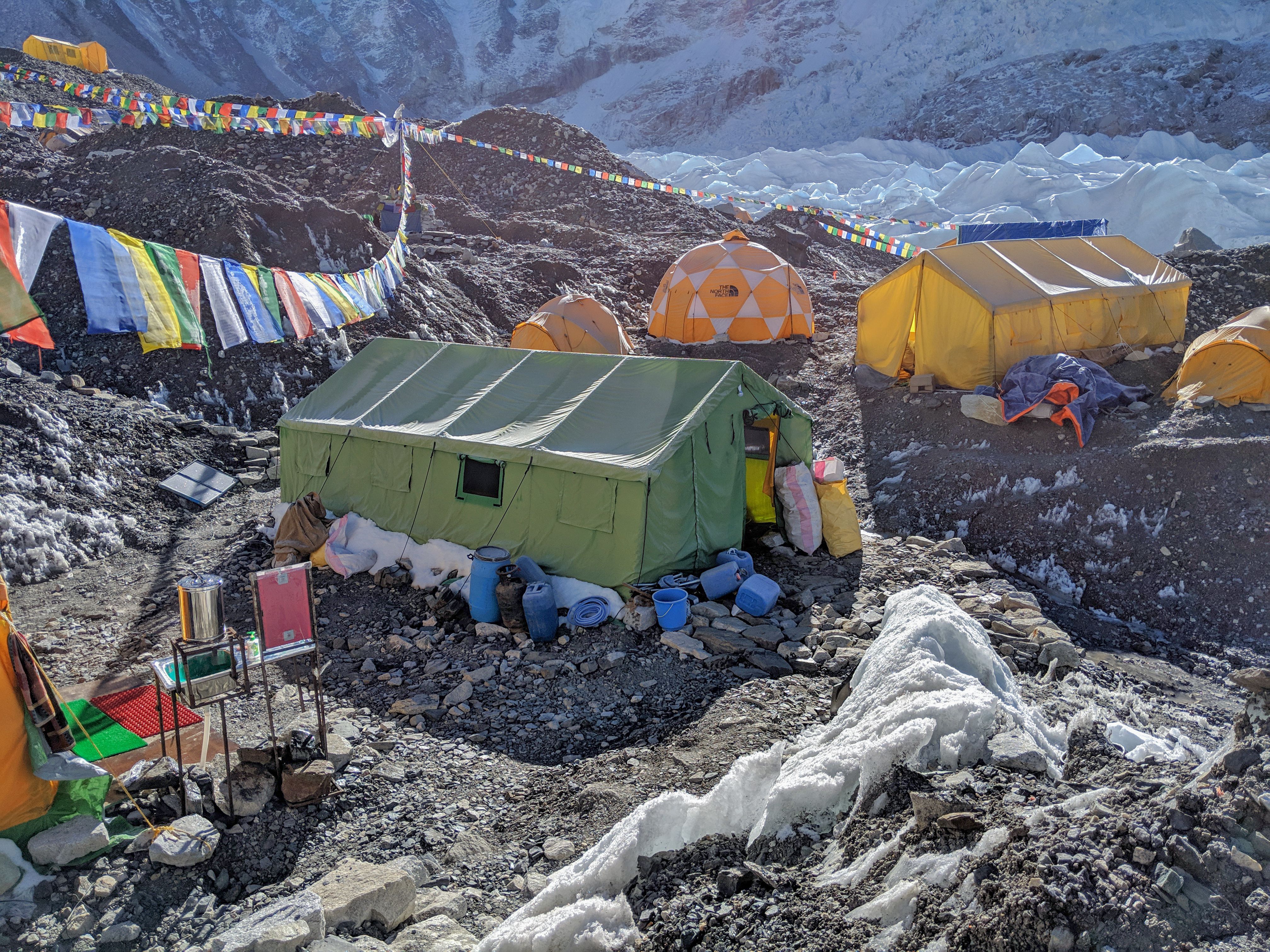 Various team tents are needed to support the expedition: kitchen tent for the team (green), one of three media tents (orange and white), and Sherpa kitchen tent (yellow). Photograph by Sandra Elvin
While heat was sometimes an issue during the day, there were also weeks where the team experienced high snowfall that would accumulate in and around their tents, and faced cold weather in the afternoon and into the night.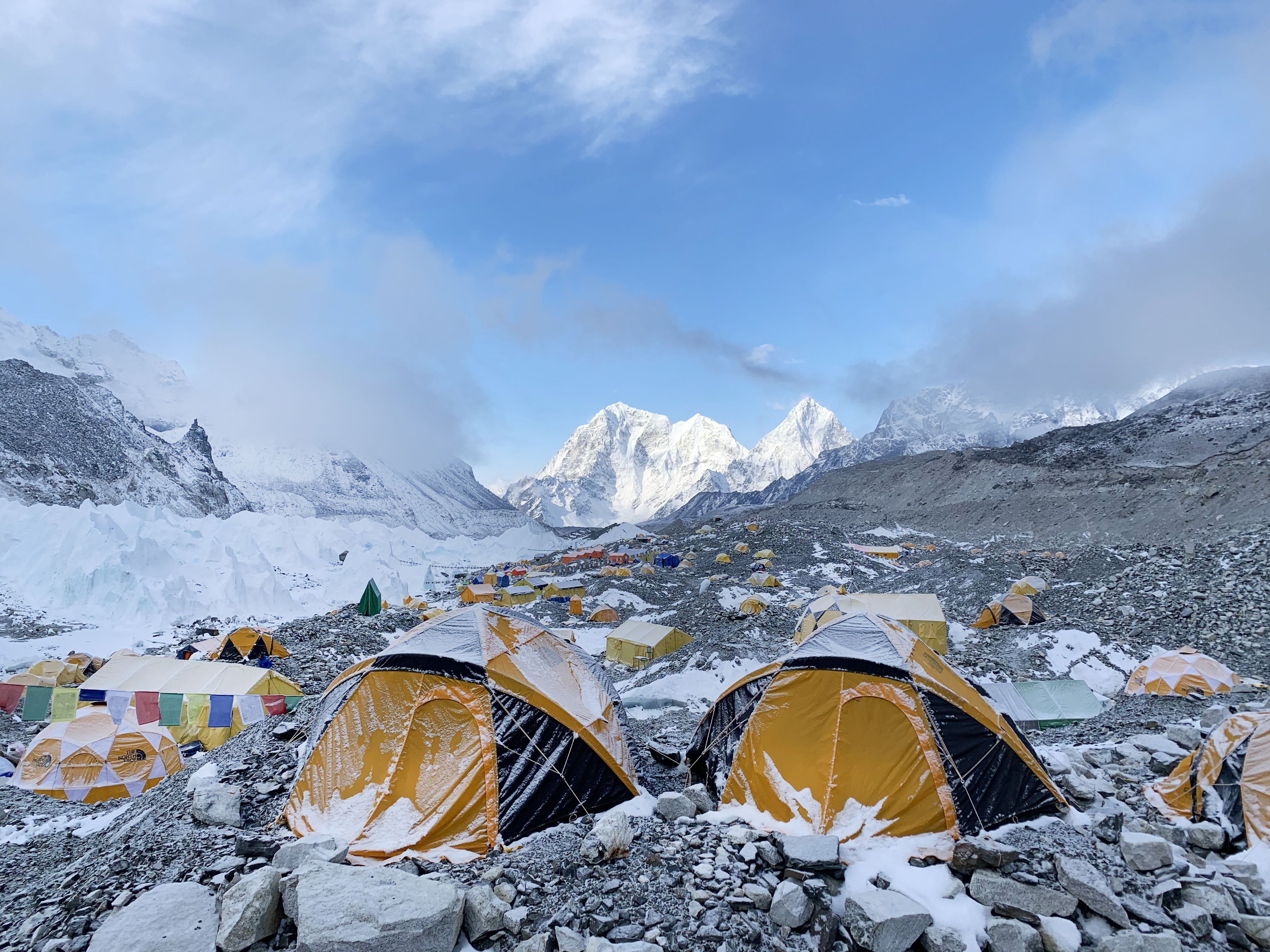 A view from Alex Tait's tent door after snowfall at basecamp. Photograph by Alex Tait
Hygiene was of the utmost importance, especially with the illnesses that had been going around, but is also extremely difficult in remote areas. There was a small tent for approximating showering. Tyler explained: "All you need to do is ask for a bucket of scalding hot water from the kitchen staff and you can get a pretty good scrub on. Once a week seems to be the average."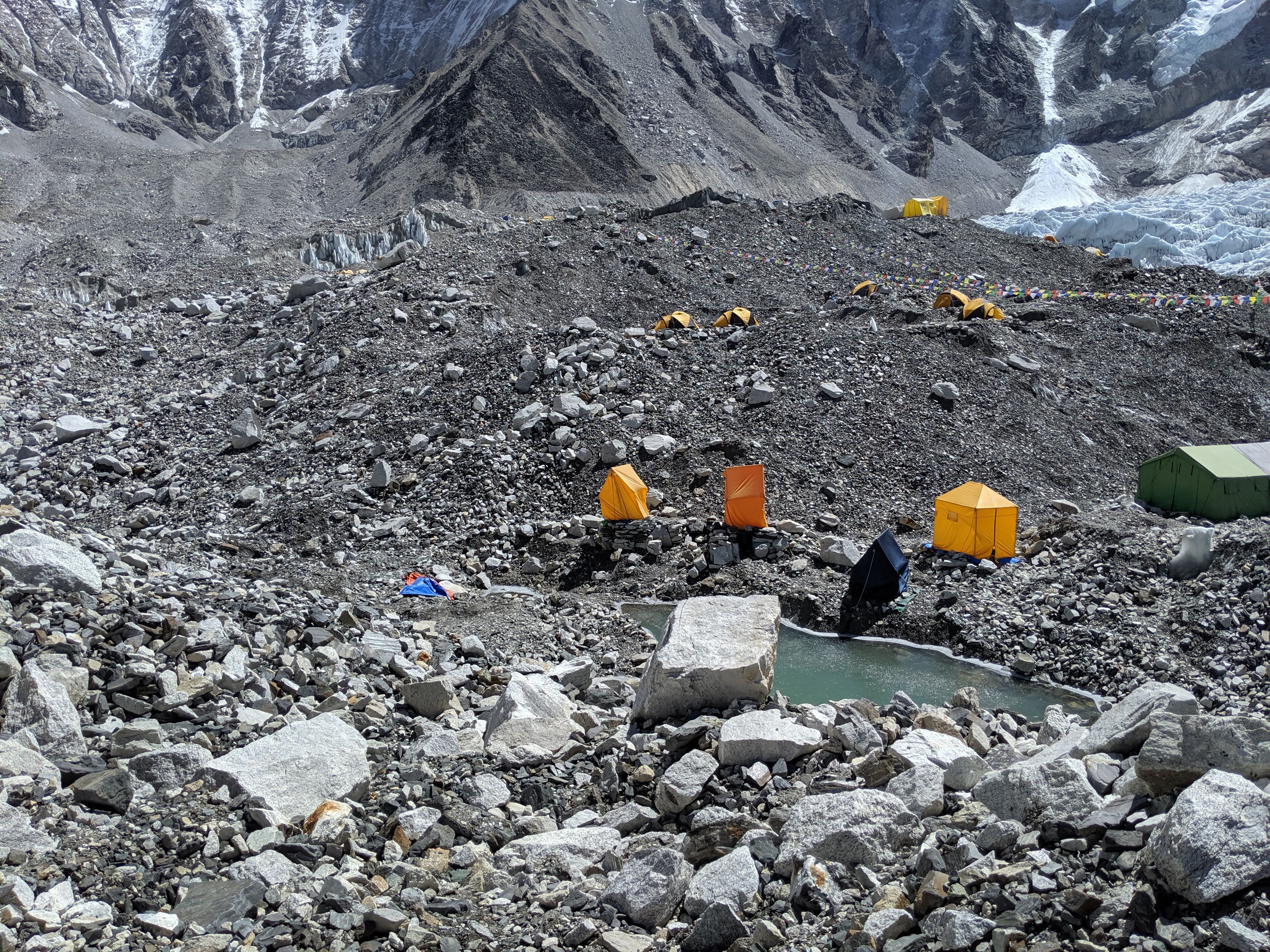 This photo shows the bathroom tents (center yellow, orange, and dark blue tents) and the shower tent (yellow, on the right). Photograph by Sandra Elvin
In addition to hygiene issues, Tyler said he suffered from sunburns, chapped lips, cold sores, chapped hands, as well as headaches and feeling physically over-exerted – which can happen from the simplest of activities, like walking up the small hill to your tent or walking to the toilet.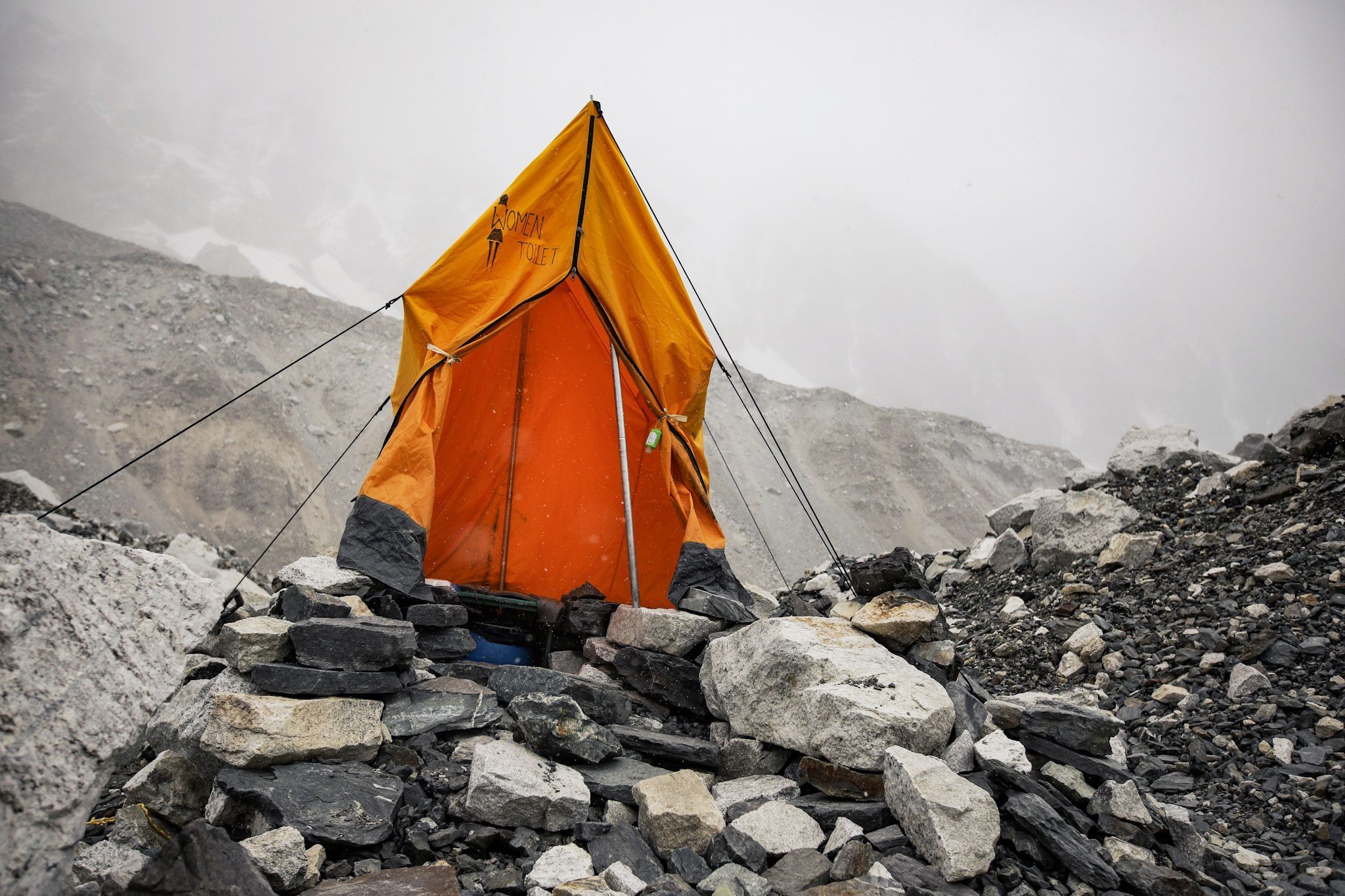 A bathroom tent at Everest Base Camp. Photograph by Freddie Wilkinson
I asked Tyler about his overall experience living at base camp and working with the expedition team. He succinctly told me: "I began to feel like the people on this expedition were the real experiments." Living and breathing experiments changing in the extremes of Mount Everest.
As Sir Edmund Hillary said: "It is not the mountain we conquer, but ourselves."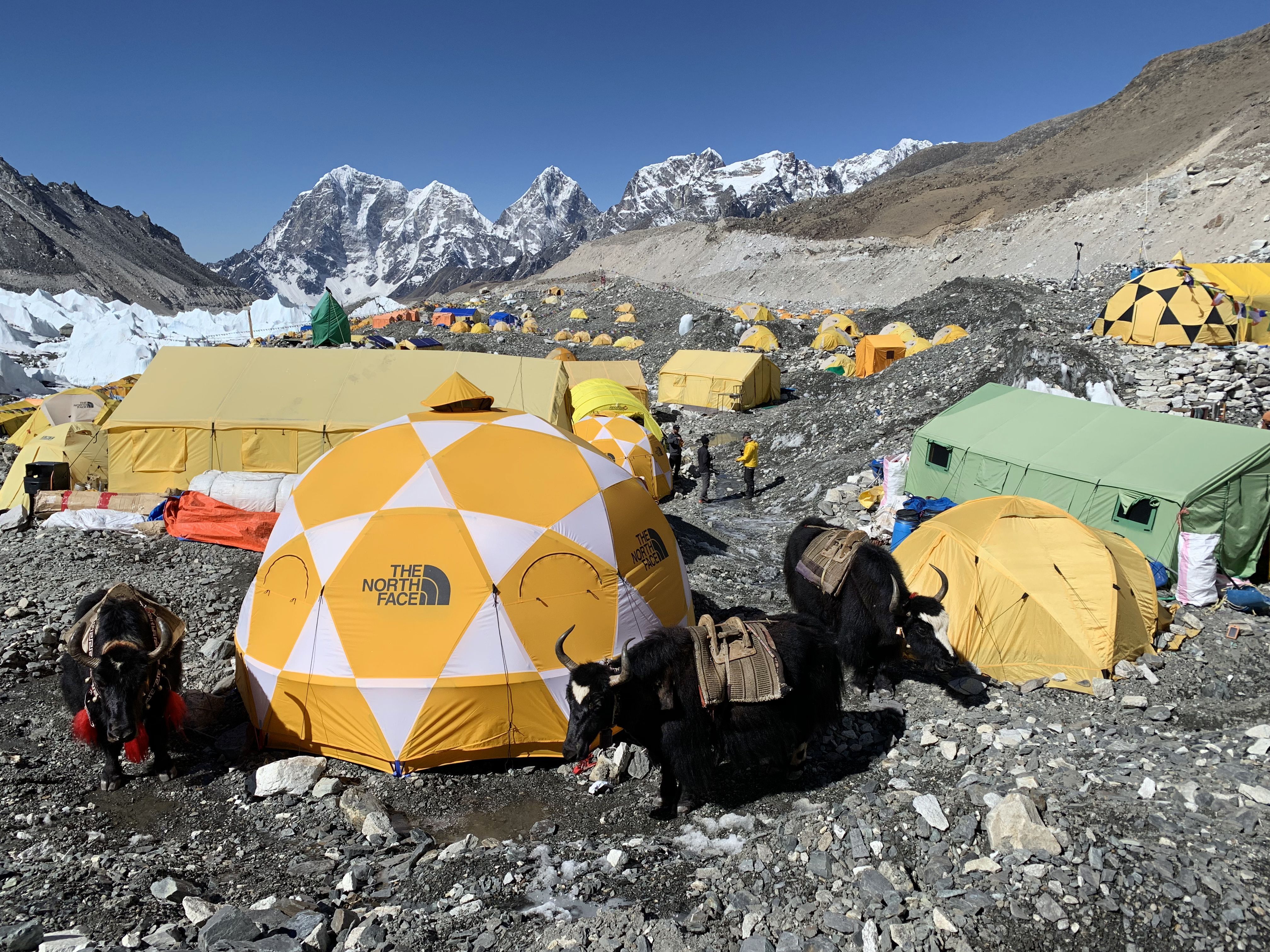 These yaks from Phortse delivered a load of supplies to the National Geographic camp at Everest Base Camp. Photograph by Alex Tait
Another Danger Looms on the Mountain
Think about the daily encounters or experiences you have that happen with enough regularity that they become a natural part of your life. Maybe you have the same bus driver on your way to work. Or say 'hi' to the same security guard every day at work.
If you were on Mount Everest, "normal" is the sound of daily avalanches at base camp.
The danger of avalanches is never far from the thoughts of the team members. I asked geographer Alex Tait what it's like hearing avalanches during the night:
"The avalanches at night were much more frightening because they were loud and you had no idea how big they were. These avalanches started with a soft crack or rumble and then built over several seconds into a very loud roar as the ice tumbled down and smashed into the rock below becoming a cloud of snow."
Alex captured the video you find below of an avalanche witnessed by the team from base camp. He described it to me as: "A very large ice block let loose from the ice cliff hanging above the large rock face on Nuptse (the third highest peak on the Everest massif). Nuptse dominates the view from base camp. Because of the amount of ice falling and the size of the snow cloud produced when it crashed on the rocks below, this one had us much more concerned, we really were wondering if this one would reach our camp because the earlier ones felt safely distant, though still scary to hear and see."
While avalanches were frequent this year, no casualties were reported as a result. In previous years, however, some avalanches had deadly consequences. In 2015, when a 7.8 magnitude earthquake struck Nepal, an avalanche tore through the Khumbu Ice Fall, killing 18 people.
Thankfully the avalanche in Alex's video did not cause any harm, but it does serve as a powerful reminder of how dangerous Mount Everest can be and the range of natural phenomena that exist at one of Earth's extreme environments.
Yakety-yak about Yaks!
An ever-present sight around Mount Everest is the iconic yak. Yaks are spotted all around the Tibetan plateau as well as throughout other areas in Mongolia and Russia. Domesticated yaks can help carry loads of up to 150 pounds.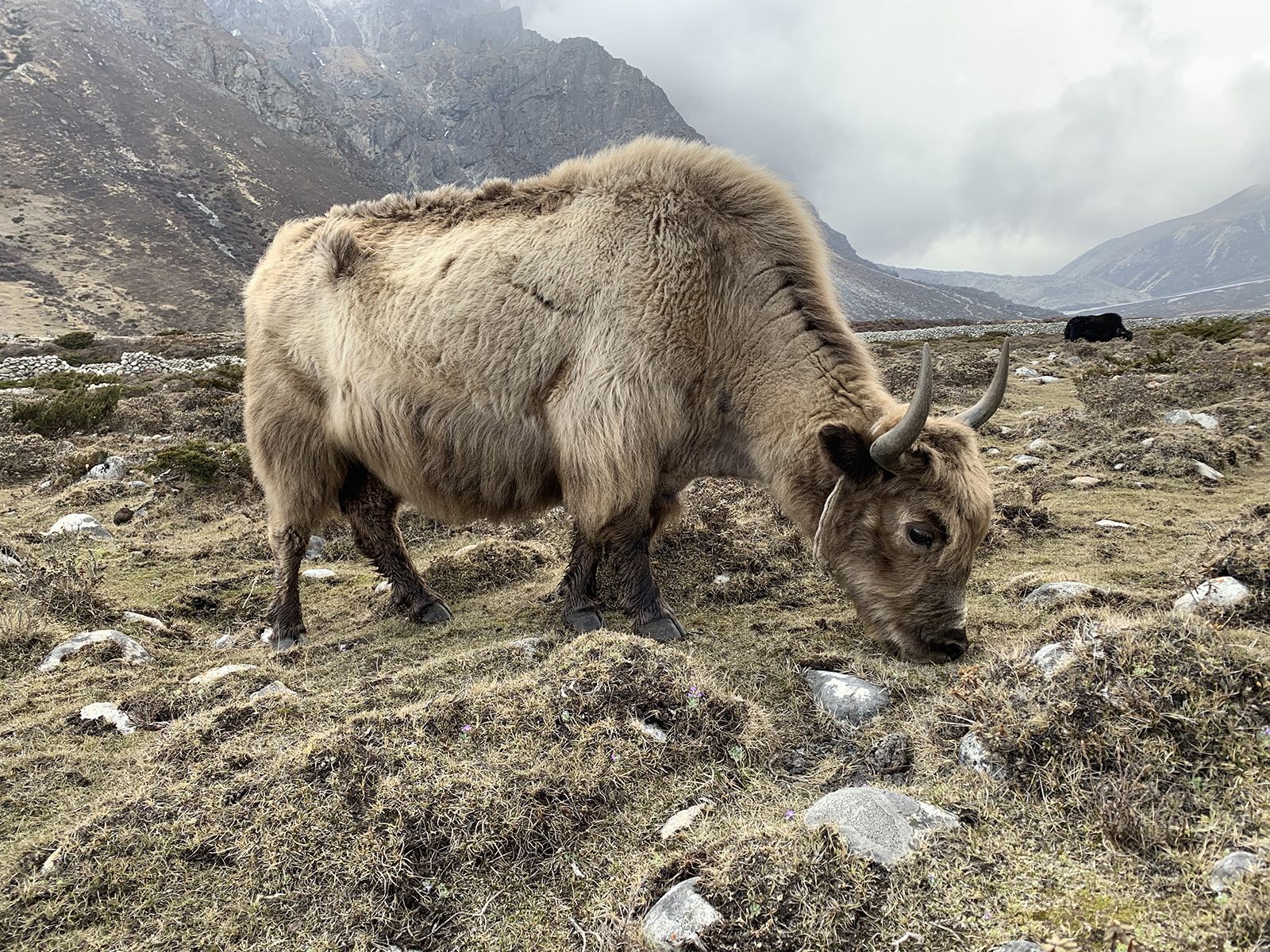 Photograph by Alex Tait
While Alex Tait, The Geographer of National Geographic, was recuperating from bronchitis in the town of Pheriche, he took this video of a female yak and her calf strolling alongside a creek.
Because of their resilience to the harsh weather characteristic of the Himalayan Mountain Range, as well as their increased lung capacity – three times that of their bovine cousins, cows – they have survived and thrived for thousands of years around these high altitude environments.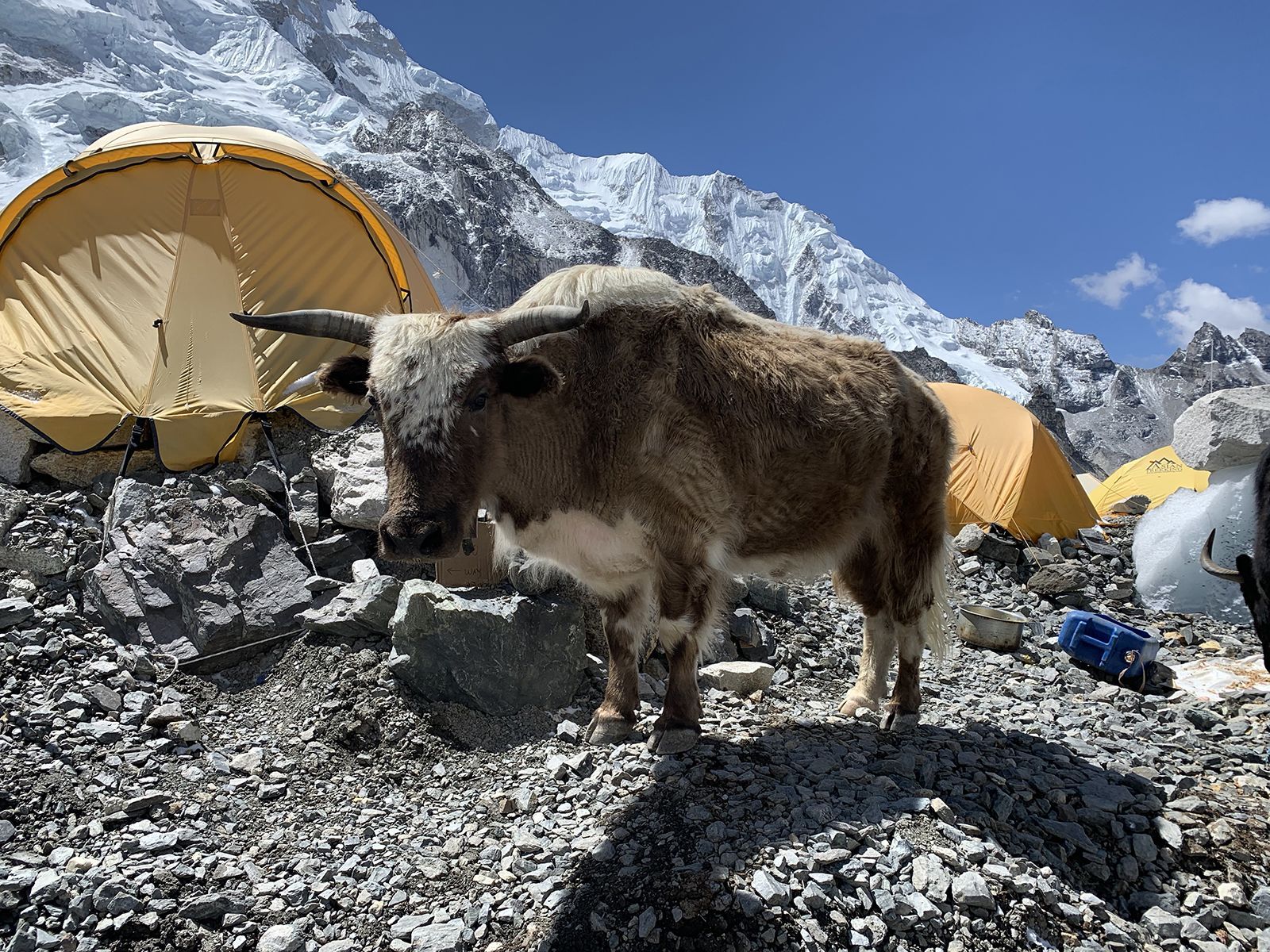 Photograph by Alex Tait
Yaks are known to interbreed with cows, creating yows and caks, or if you want to go there: yakows. Male hybrids are also known as dzo, while females are known as dzomo, in Tibetan.
If you happen to end up at Mount Everest one day, you will undoubtedly share your trek with one of these yaks – also known as "boats of the plateau."
Arrival at Base Camp and Settling In - April 17th
As one of the first teams to settle into their temporary home at base camp, our team was greeted with a calm, but snowy scene. They braved their first storm and woke up to a serene campsite blanketed in a fresh layer of snow. "It is easy to lose oneself standing still and looking all around, one view equally spectacular to the next," Sandra, our expedition director, said.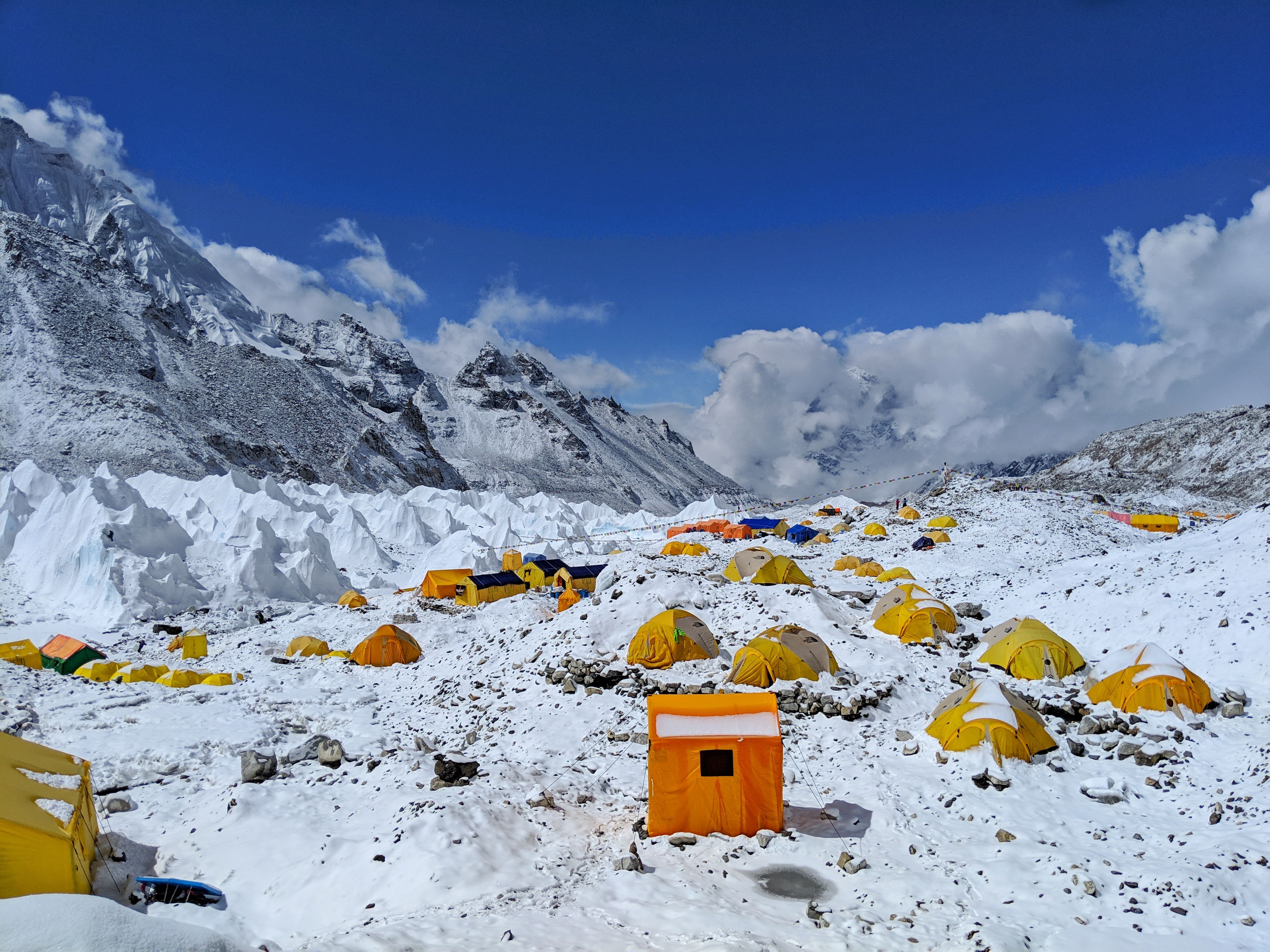 Photograph by Sandra Elvin
It was the sound of birds that broke the calm silence and, in true scientific form, the team identified the species of chirping birds with the help of a book owned by team member Tenzing Chogyal Sherpa's father.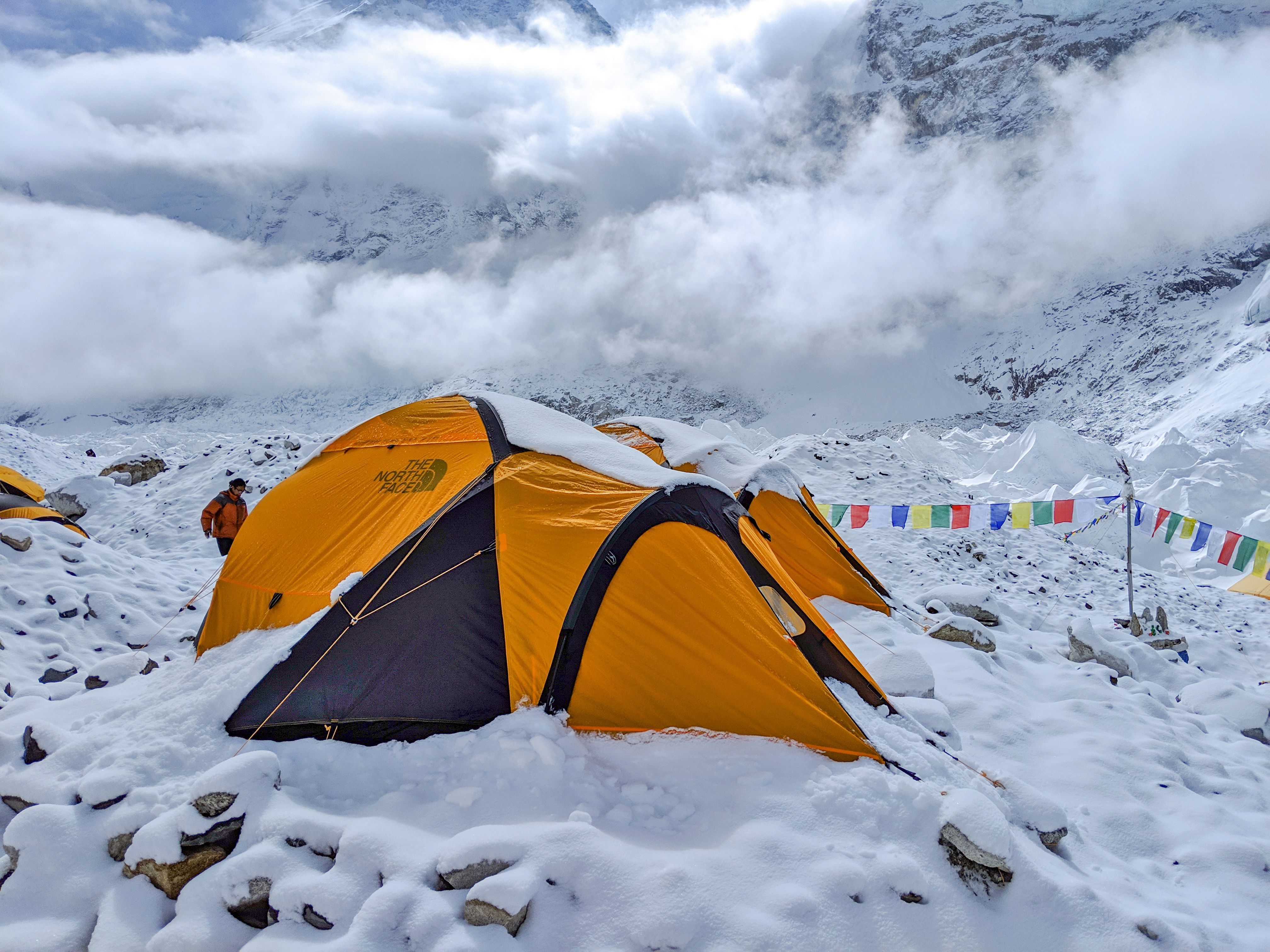 Photograph by Sandra Elvin
The energy at base camp picked up as porters started arriving with the bags and cases of other team members. "Their strength, resilience, and focus is remarkable," Sandra said. Other teams were also starting to arrive and trekkers and climbers practiced ascending and descending techniques on the seracs (ridges of glacial ice) nearby.
Can You Hear Me Now?
But the team soon came face-to-face with the challenges of life at 5,300m as they struggled to accomplish what would seem to be mundane tasks at sea level.
In addition to the physical exertion of life at base camp, the team faced technical challenges. As you can probably imagine, you are not going to get full bars on your cell phone or a good WiFi signal on Mount Everest — sorry, uploading those selfies are going to have to wait. The satellite phones weren't much better at finding a signal and even when they did, their batteries died very quickly. Luckily, the team was able to squeak out communications to each other via handheld radios that look more like kids toys than high-tech gadgets suited for a technologically advanced scientific expedition (though they did work surprisingly well).
As for communicating with headquarters in D.C., Sandra had to be a bit more creative … and acrobatic. "It seems like a person needed to hop on one foot, jump around, stand crooked, hold the phone as high as possible, or do any other silly move to access that one tiny bar of cell coverage," Sandra said.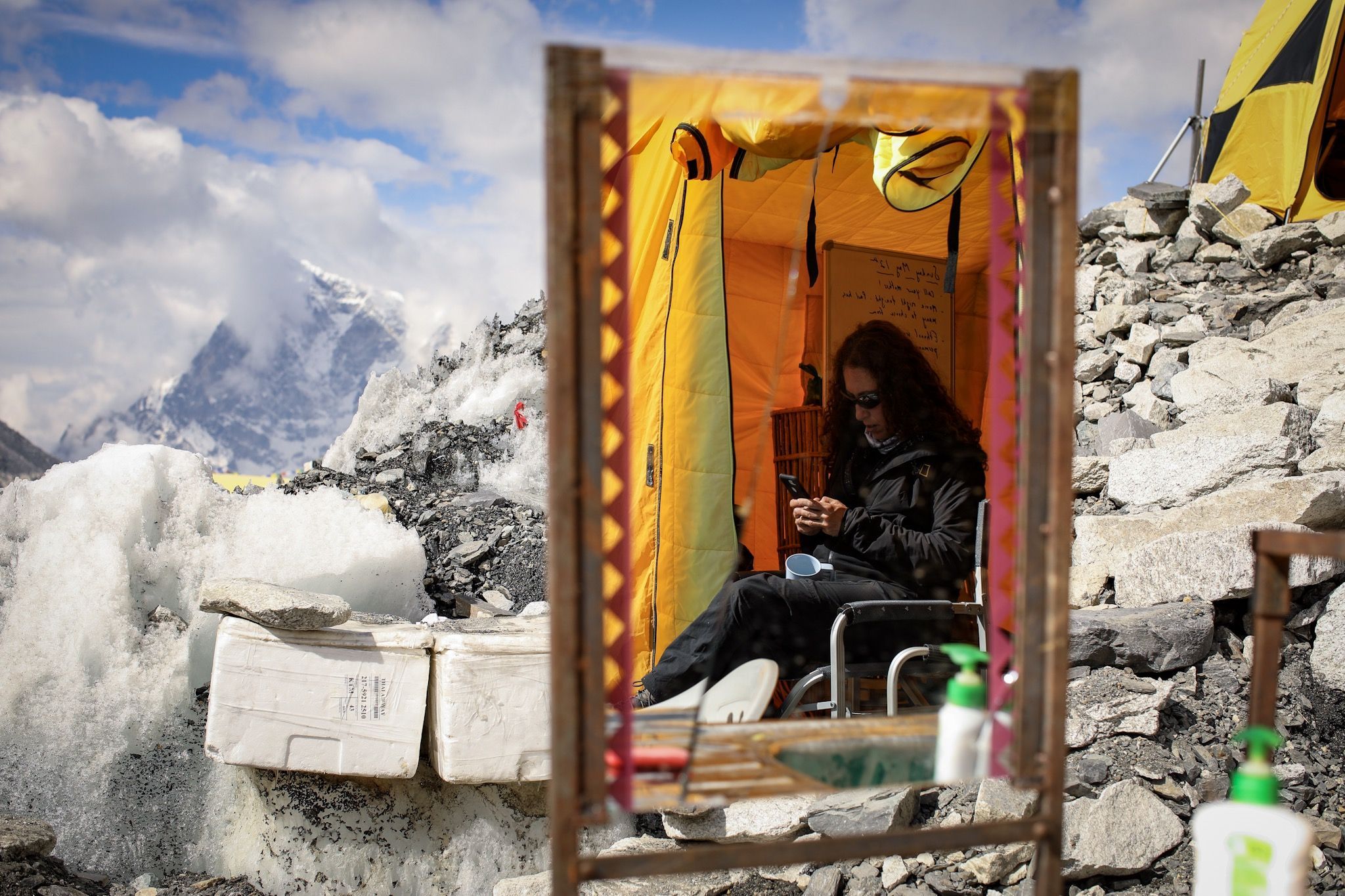 Sandra Elvin sitting at the door of the communications tent to get good WiFi signal while checking in with the team members who are working away from base camp. Photograph by Freddie Wilkinson
Feeling Peaked on the Peak
Connectivity issues aside, the team faced another massive obstacle: the flu. The flu is awful to deal with under normal circumstances, but imagine being 18,000 feet up a mountain having limited supplies, sleeping in a tent, and struggling to breathe because of the lack of oxygen in the air. That is what twelve key members of the science and media expedition teams, as well as several of the Sherpa and support team, had to deal with this season, as what many referred to as a pandemic swept through basecamp this season.
So what do you do when you get the flu at 18,000 feet? Tyler, and Sandra, and anyone well enough to do so, had to keep working — in the midst of back-to-back snowstorms. Those who were too sick to continue travelled down the mountain to recuperate.
The likely culprit behind this flu outbreak? Tea.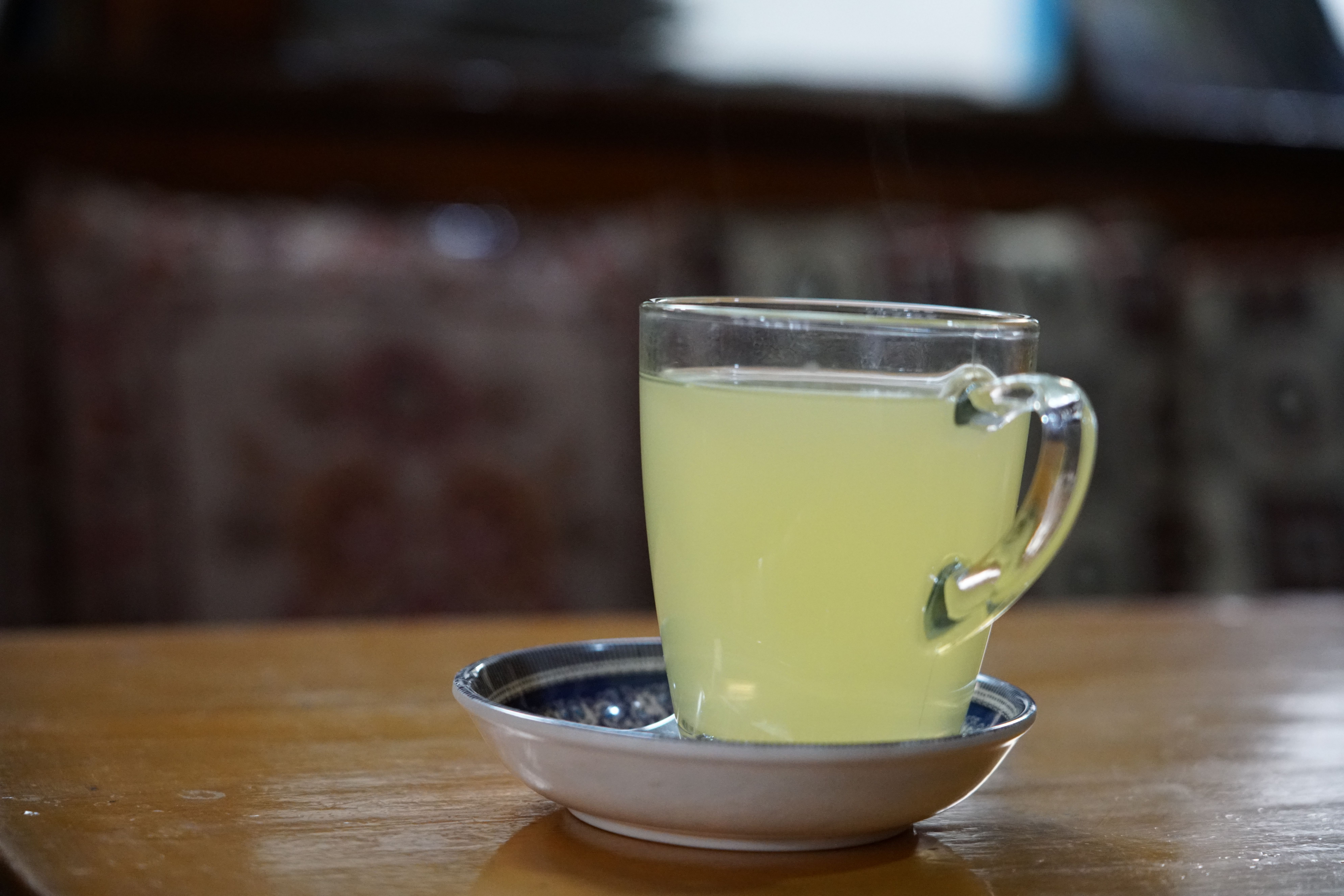 Photograph by Sandra Elvin
Yes, you read that right: tea. Well, not the drink itself, but the places where it's drunk. As Freddie Wilkinson has reported for National Geographic, "Nepal's trekking lodges or teahouses, as they are sometimes referred, seem tailor-made for transmitting the virus."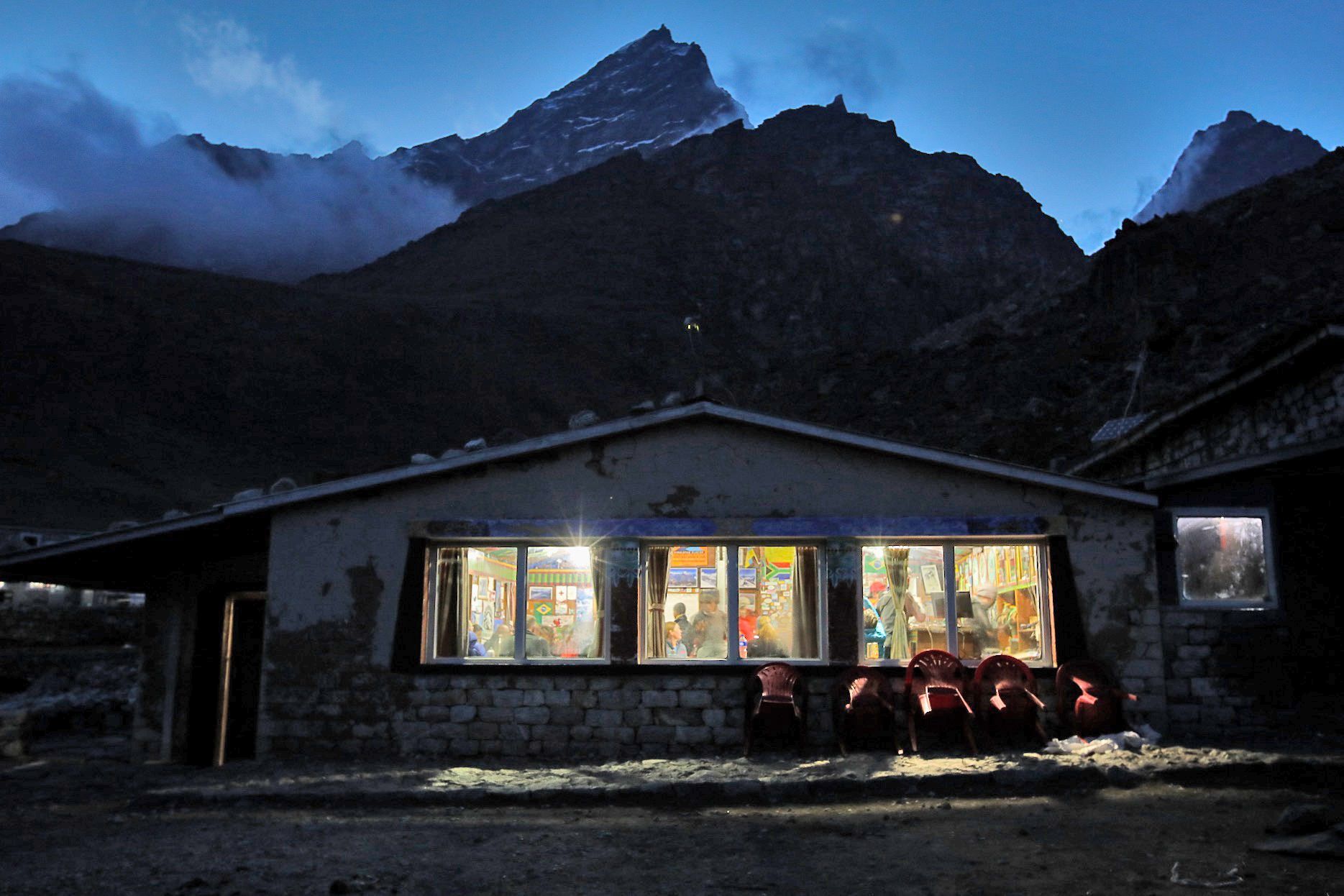 Photograph by Freddie Wilkinson
These teahouses are perfect incubators for viruses to spread and transmit the flu: confined spaces crowded with guests converging from all over the world, leaving behind bacteria, germs, and everything in between.
Humankind has trekked to, scaled, and summited Everest before. What drives us to push our limits to the extreme? Exploration? The desire to prove we can go further?
For our intrepid team, this expedition is all about understanding how can we continue saving ourselves from ourselves; we are going to these extremes, in order to learn how we can preserve our interconnected world for generations to come.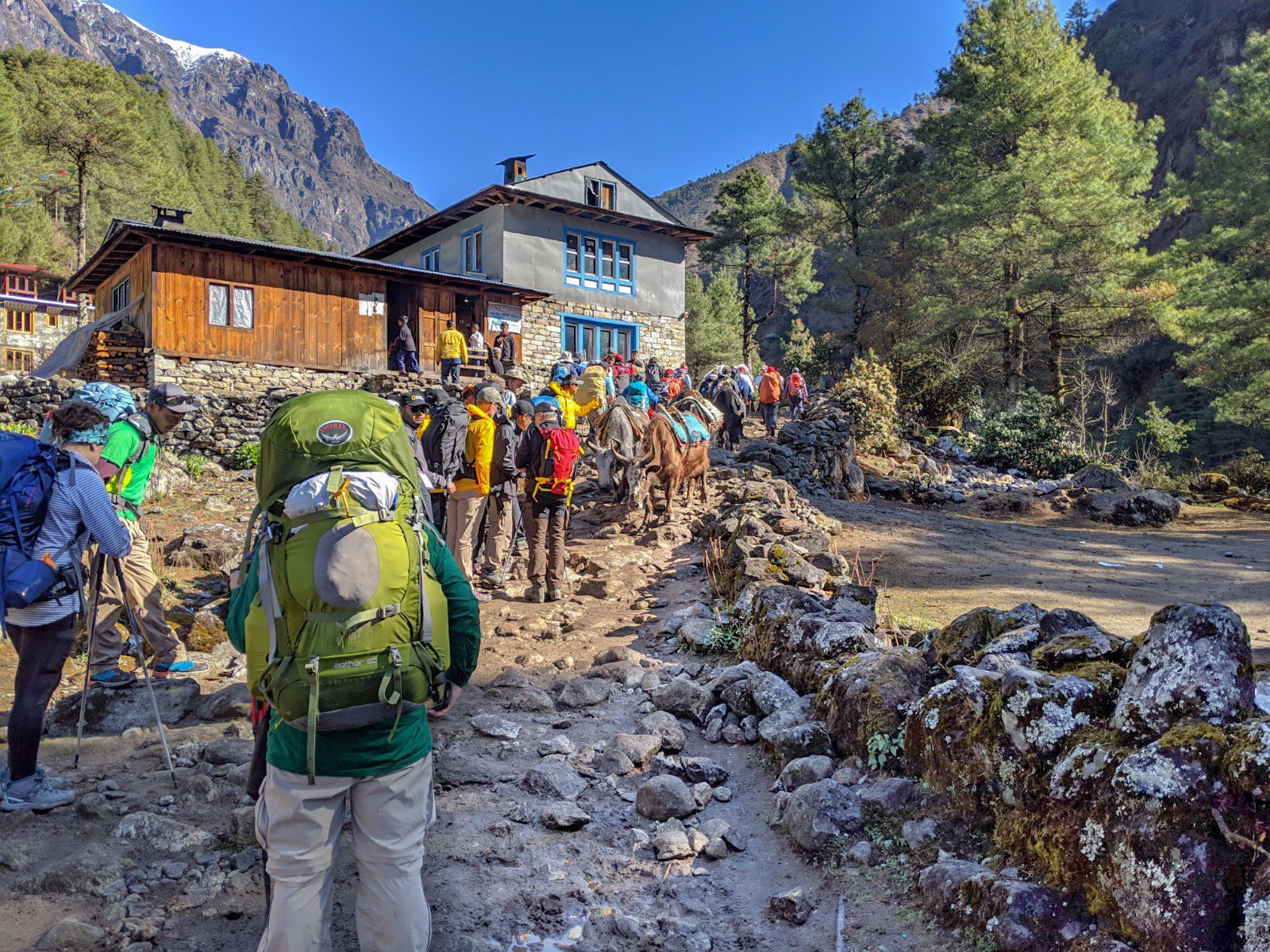 Photograph by Sandra Elvin
The momentous climb began with an eventful trek to base camp – that takes between 7-14 days – where beautiful sights and unexpected encounters happen…
Sandra, and her guide Man, started their day on April 12th heading straight up a steep hill on an acclimatization hike next to the town of Dingboche. If you have ever been in high altitudes, you might know how important acclimatization is to being healthy and avoiding such illnesses as acute mountain sickness.
After their acclimatization hike, they headed to team member Tenzing Chogyal Sherpa's family's French bakery in Dingboche. But before they headed there, the team met Tenzing's mom at Tyangboche, where she runs a lodge. They had some coffee and apple pie, and Tenzing's mom offered the team ceremonial scarves called "Khadas," which Sherpa people normally offer for good luck and a safe journey.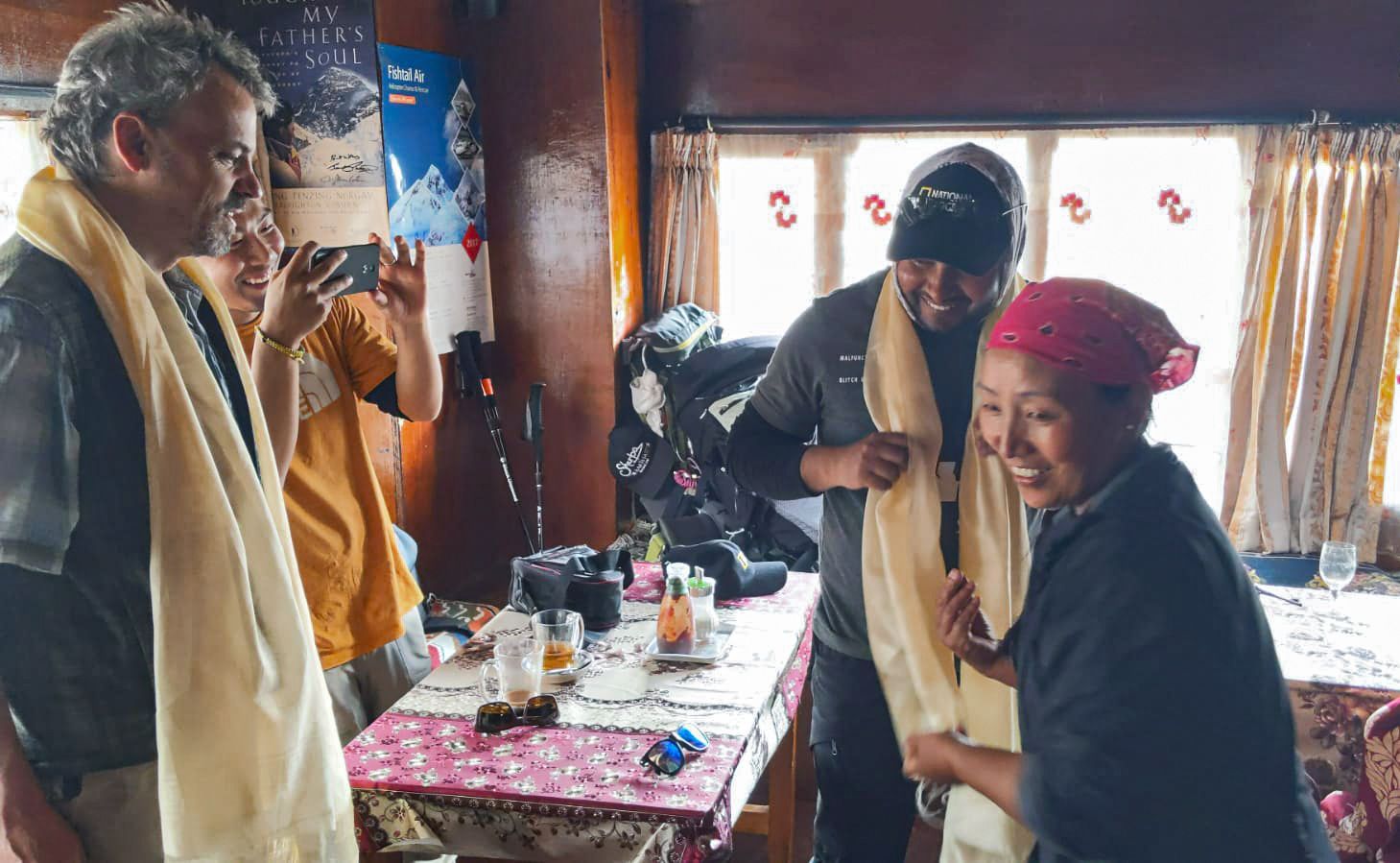 Photograph by Sandra Elvin
Tenzing Chogyal Sherpa is a nepalese scientist and the grandson of Kanchha Sherpa, who is the last surviving member of the 1953 Hillary-Norgay expedition that completed the first confirmed summit of Mount Everest's peak on May 29, 1953.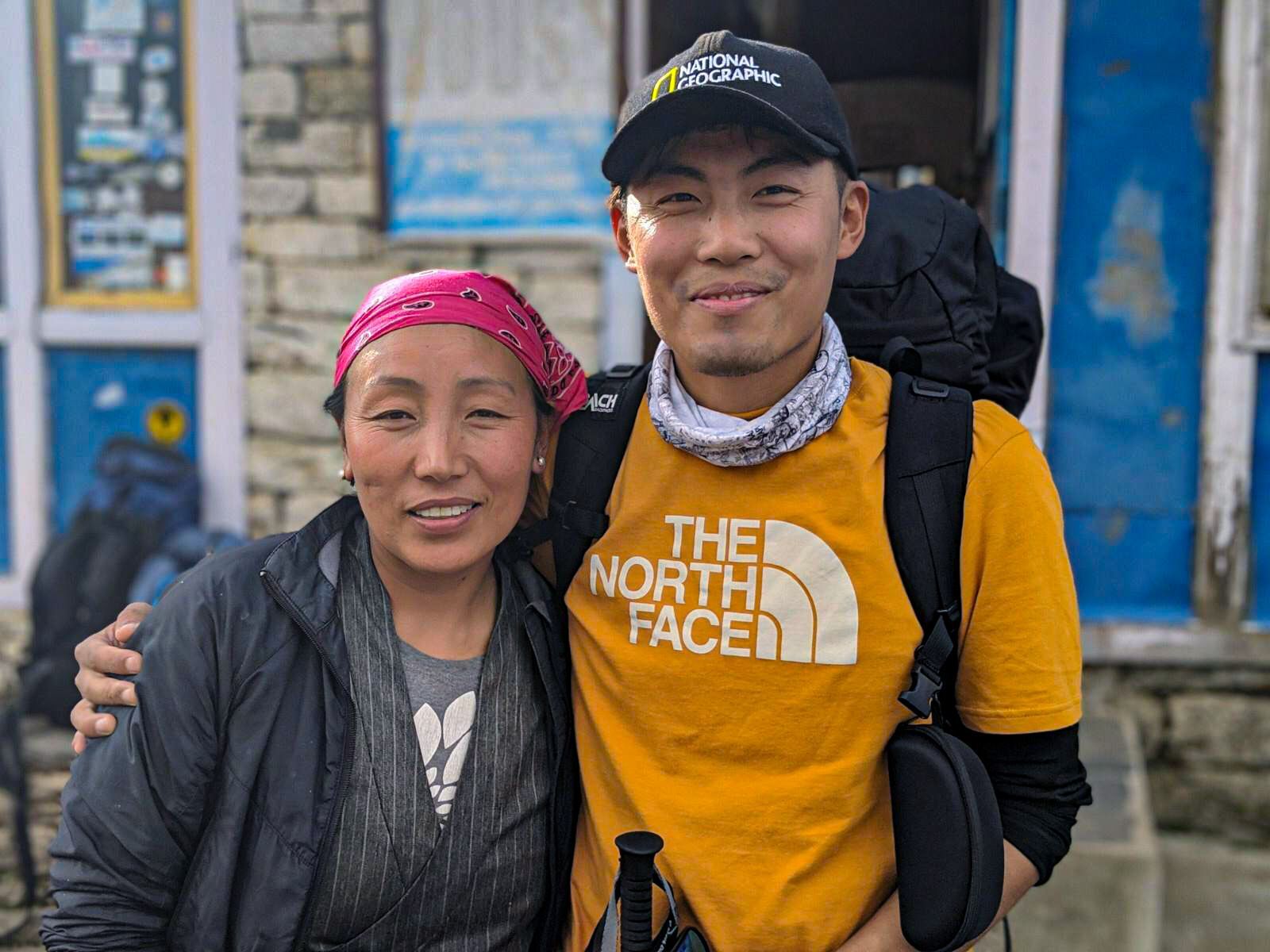 Tenzing and his mom. Photograph by Sandra Elvin
Among the delicious cakes and pastries Tenzing's family sells at their french bakery in Dingboche, they also have local books. Sandra purchases two copies of The Visitor's Guide to Mammals of the Sagarmatha National Park and Buffer Zone, which will be helpful to see fantastic images and descriptions of the local wildlife. At the French bakery, and as a nice entertainment addition to people's afternoons, Tenzing's family shows movies. The movie of the day was Meru, featuring Conrad Anker and directed by Jimmy Chin.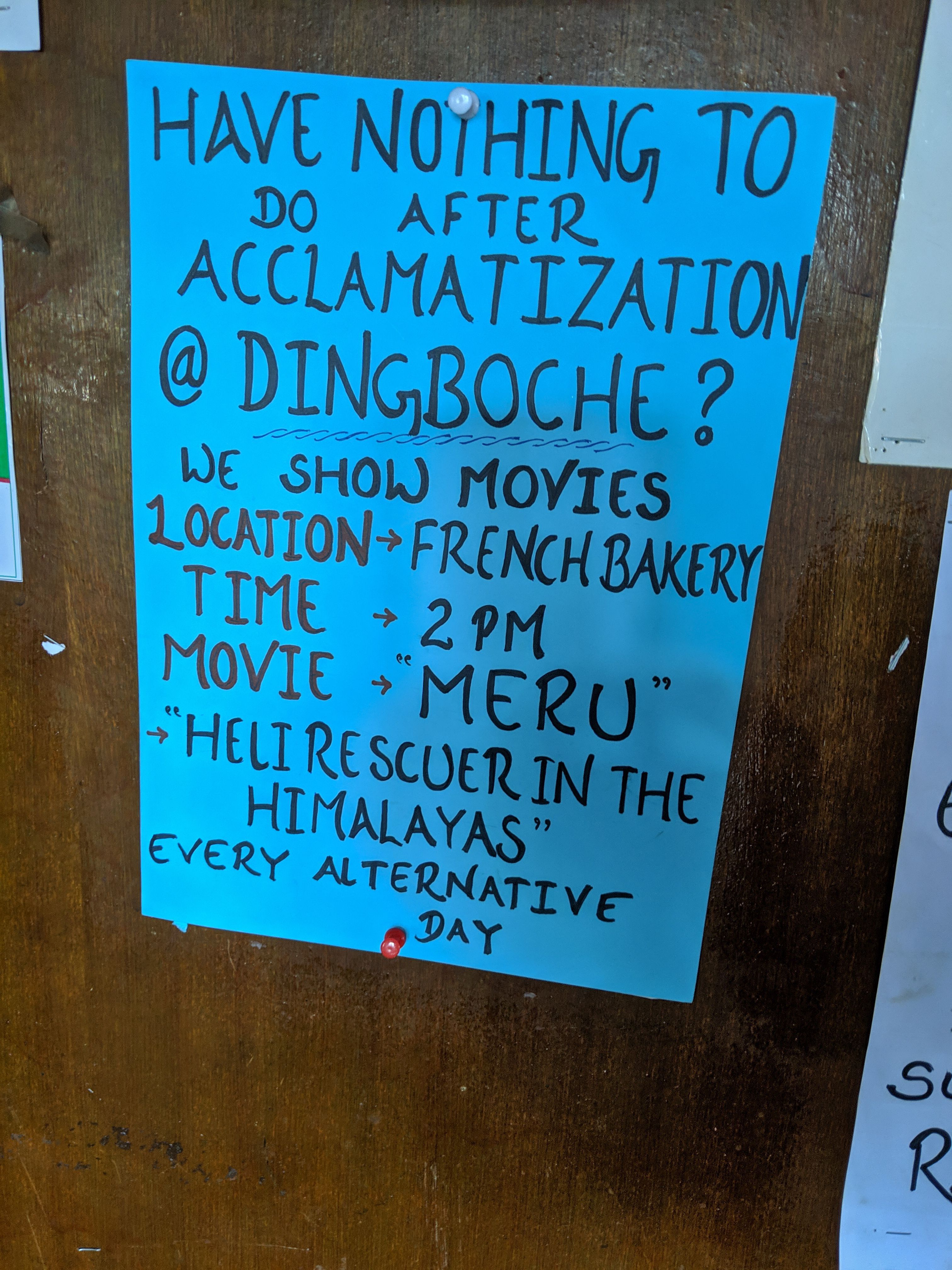 Photograph by Sandra Elvin
In another town – Phortse – on that same day, Tyler visited a monastery and some team members spent time with its Llama. For other team members in Phortse, a hike up to Lori Peak was part of their training.
On April 13th, other team members began their trek leaving Phortse to go to the town of Dingboche and stopped for a break in Pangboche.
More acclimatization hikes to the town of Chuhkung were in store for team members, like for Sandra and her guide, Man. After walking uphill for about two hours they arrived at a teahouse there. They ended up drinking and enjoying four cups of tea each in the basking sun and enjoyed the view of the Chuhkung ridge and neighboring peaks.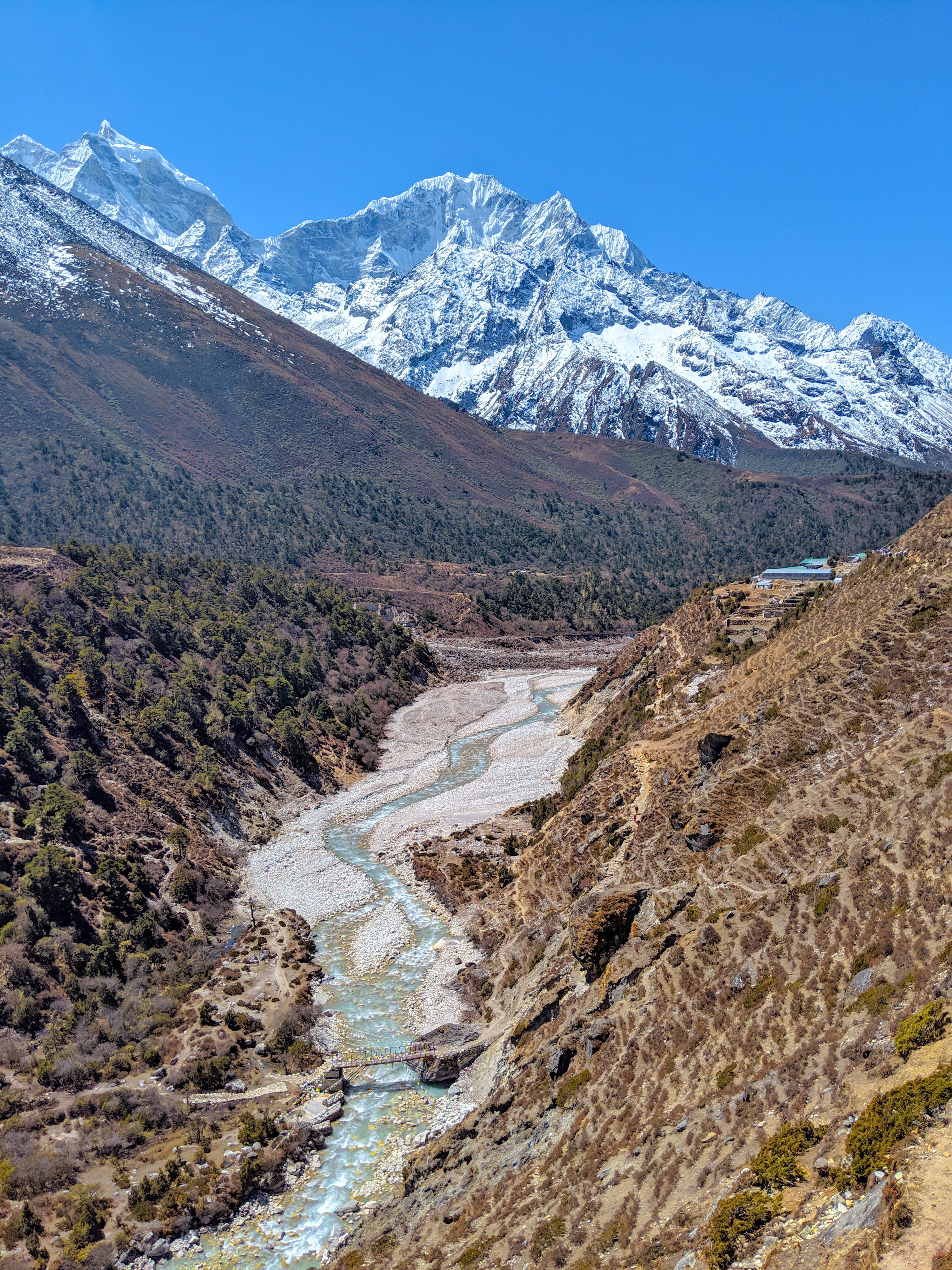 Photograph by Sandra Elvin
After their fourth cup of tea, they noticed clouds rolling in very quickly and the temperature dropping considerably. They quickly gathered their things and decided to head down as soon as possible, one following the other with the fog that had gathered, barely seeing each other a few steps apart. They make it down to Dingboche in just an hour and were relieved at the warmer temperatures and a delicious lunch waiting for them at the lodge. Later in the day, more of the team arrived in Dingboche and Sandra was happy to have the presence of a larger team again, even if it's just for one night. "We have an incredible team of local Nepali people with us and we could not accomplish any of our intended works without their assistance and guidance," she was keen to emphasize to me.
The morning of April 14th, Sandra's team departs Dingboche for Pyramid Lodge to continue their trek towards base camp and where they will be met by two members of the biology team, Tracie and Anton Seimon. This was "a tough trek that starts with a steep incline, a flat passage, and another very steep incline to our lunch place in Dughla," Sandra said.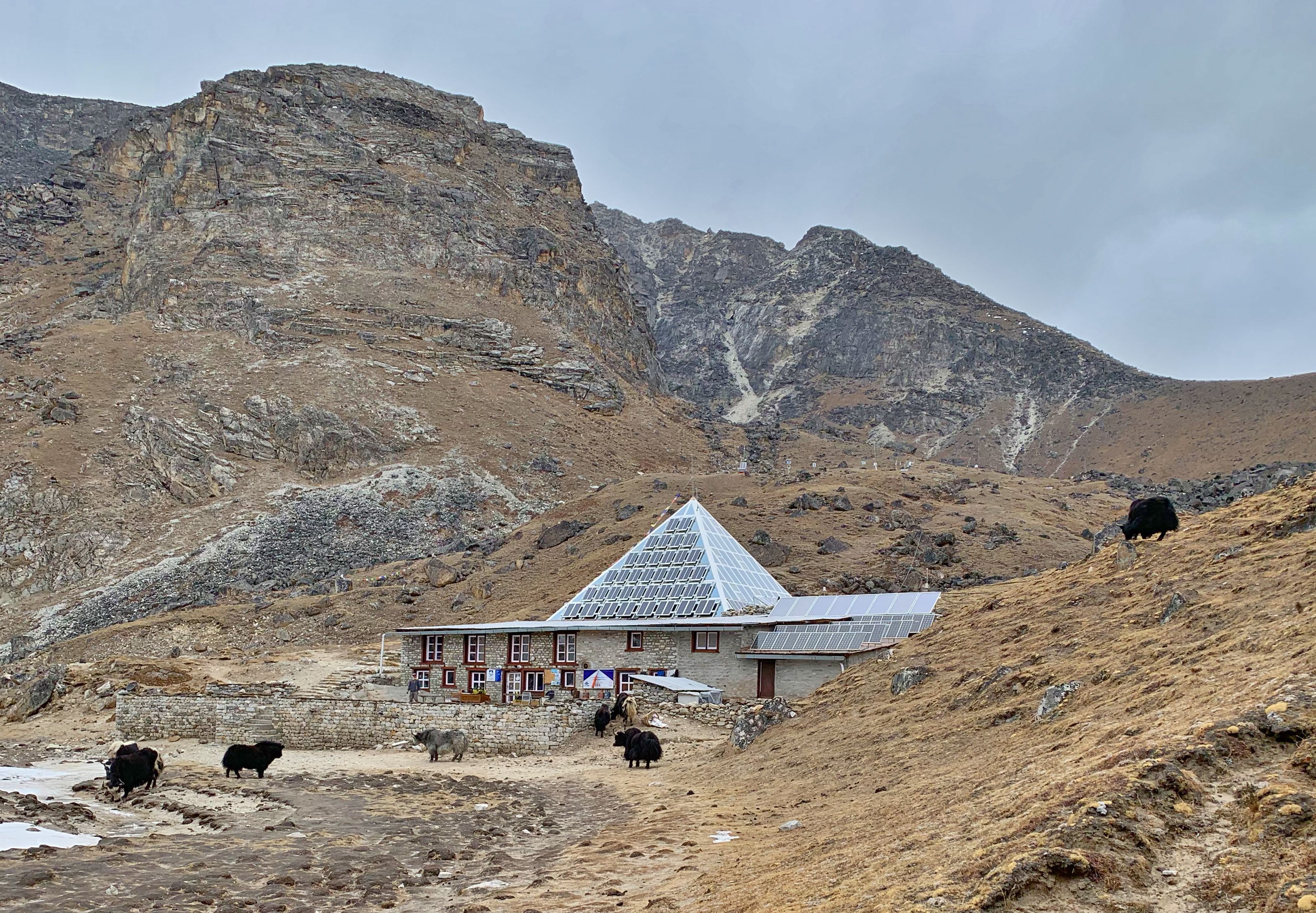 Turns out their lunch place is owned and run by another one of Tenzing's aunts (Tenzing from Namche). They arrived at the very crowded lunch spot and Sandra heard Tenzing and his aunt speak in Sherpa. Tenzing's aunt graciously allowed them to sit at a table usually reserved for locals, and they ate heartily, knowing that they had a 1.5 hour steep hike ahead of them after this meal, with switchbacks and straight climbs.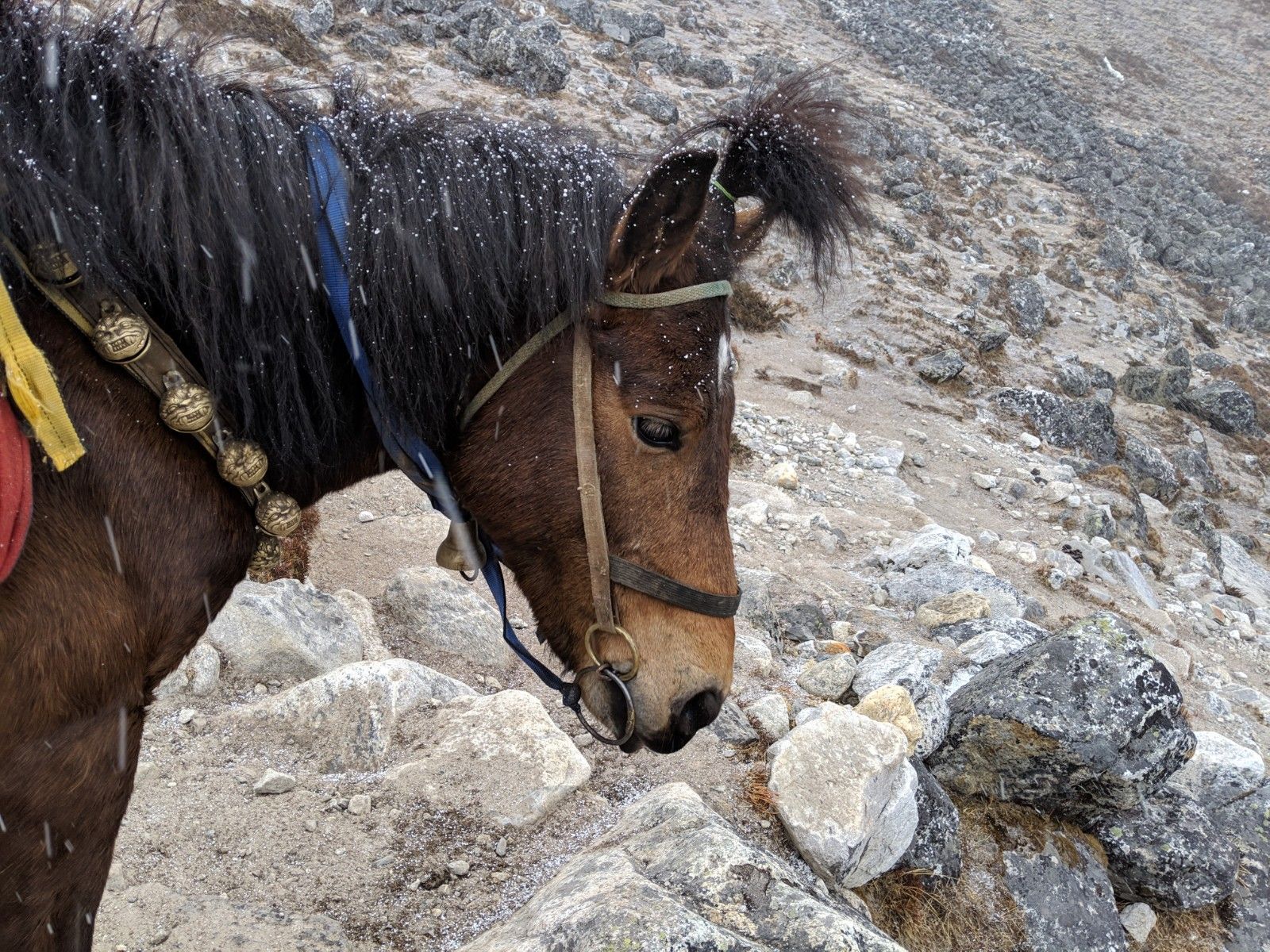 Photograph by Sandra Elvin
Then came the aforementioned hike, where the team shared the trail with other trekkers, yaks, horses, and porters going both ways. At that altitude one might want to stop to catch one's breath every so often, but Sandra tells me that it is also too cold to stop for more than a few minutes, and because one wants to go "as slowly as humanly possible to avoid headaches but also as fast as possible to avoid getting cold." A limbo of balanced walking.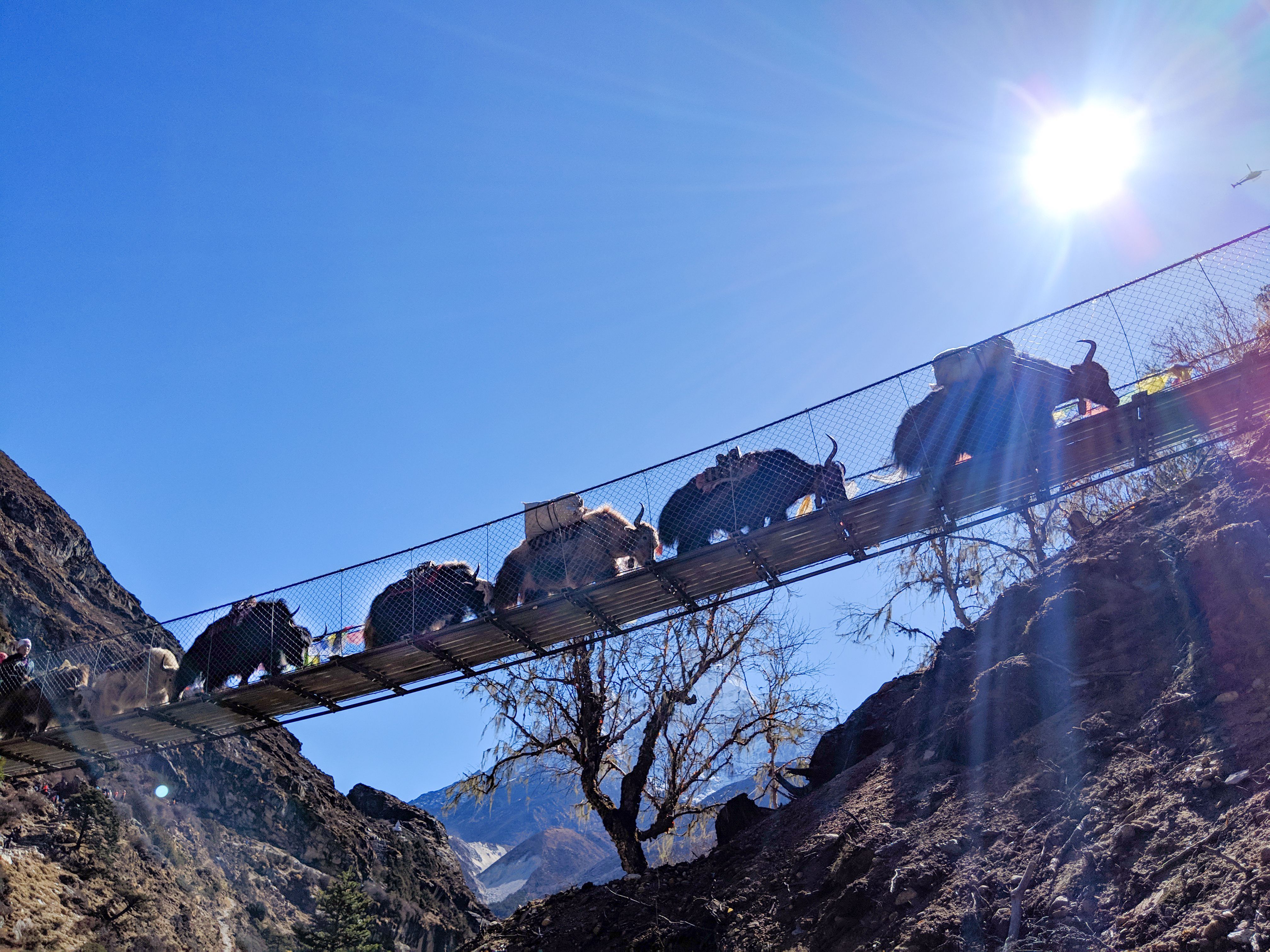 Photograph by Sandra Elvin
And while Sandra and her team were advancing on their hike, a snowstorm came through and they all turned white with snow on their heads and backpacks.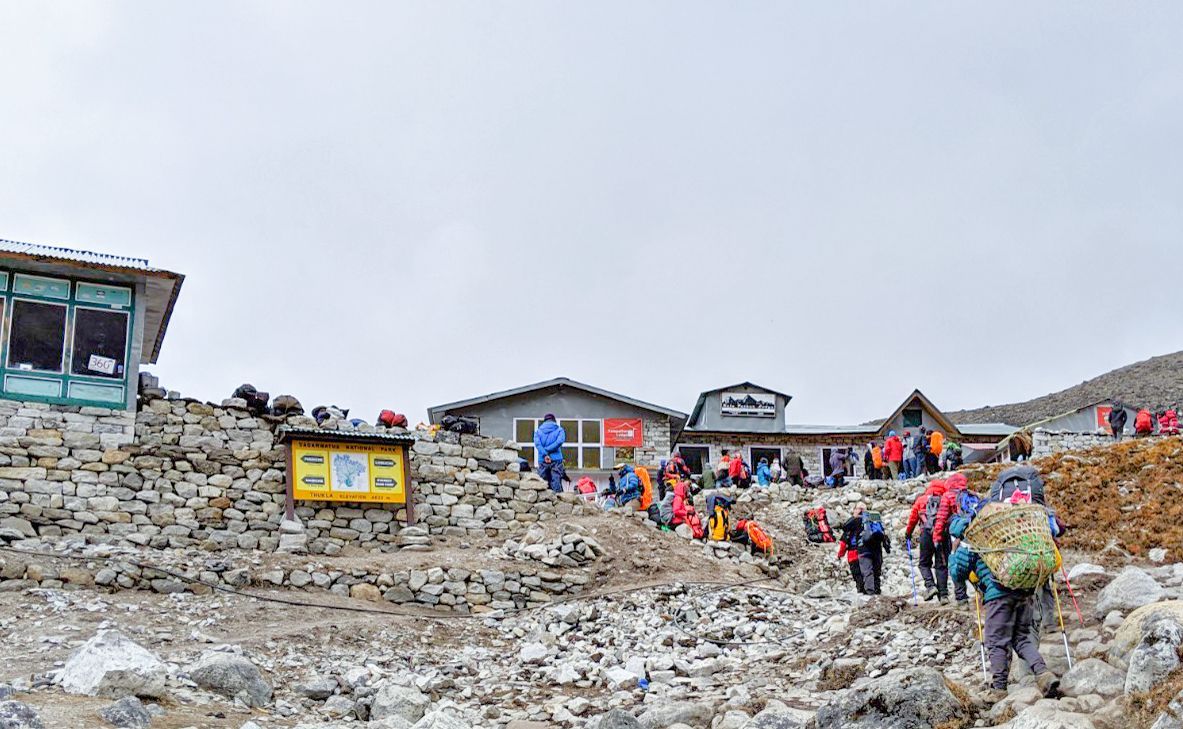 Photograph by Sandra Elvin
Along the final part of the trek, they began to hear the loud, unmistakable sounds of avalanches.
And while they are a fair distance away from the team, these avalanches stir awe in them nonetheless. An avalanche sounds like a faraway boom that creeps in from the distance and to see such a sight is equally parts sublime and terrifying.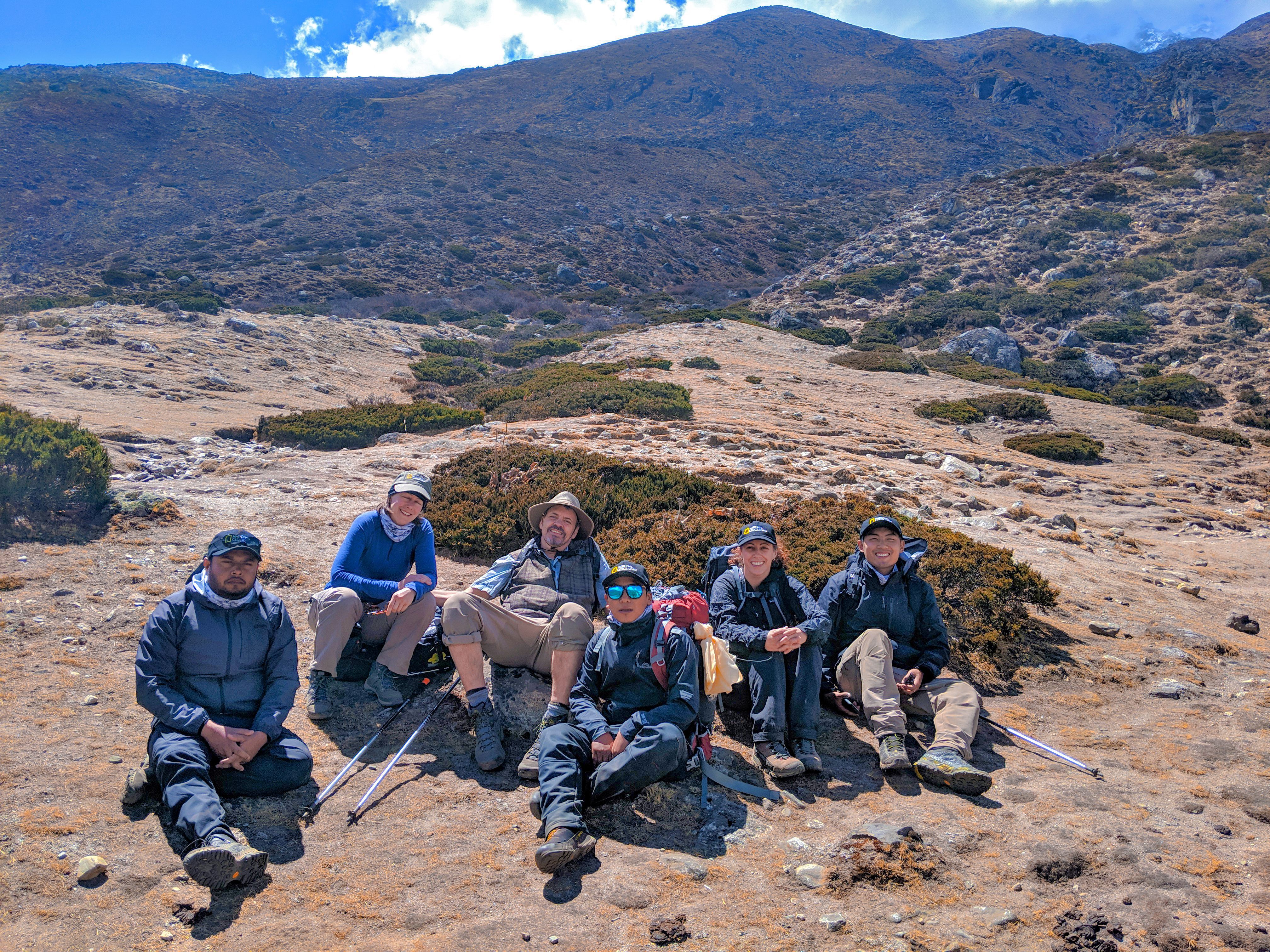 Courtesy of Sandra Elvin
Sandra and team then arrived at the lodge and saw Tracie and Anton from the biology team right away and as was planned. They had encountered two people in Dzongla who had descended due to the effects of altitude. This served as a reminder to take things slowly, to look out for one another, and to be honest with these kinds of symptoms. The presumption of altitude, as a golden rule or pro-tip, comes here: If you feel sick, it's because of altitude unless proven otherwise.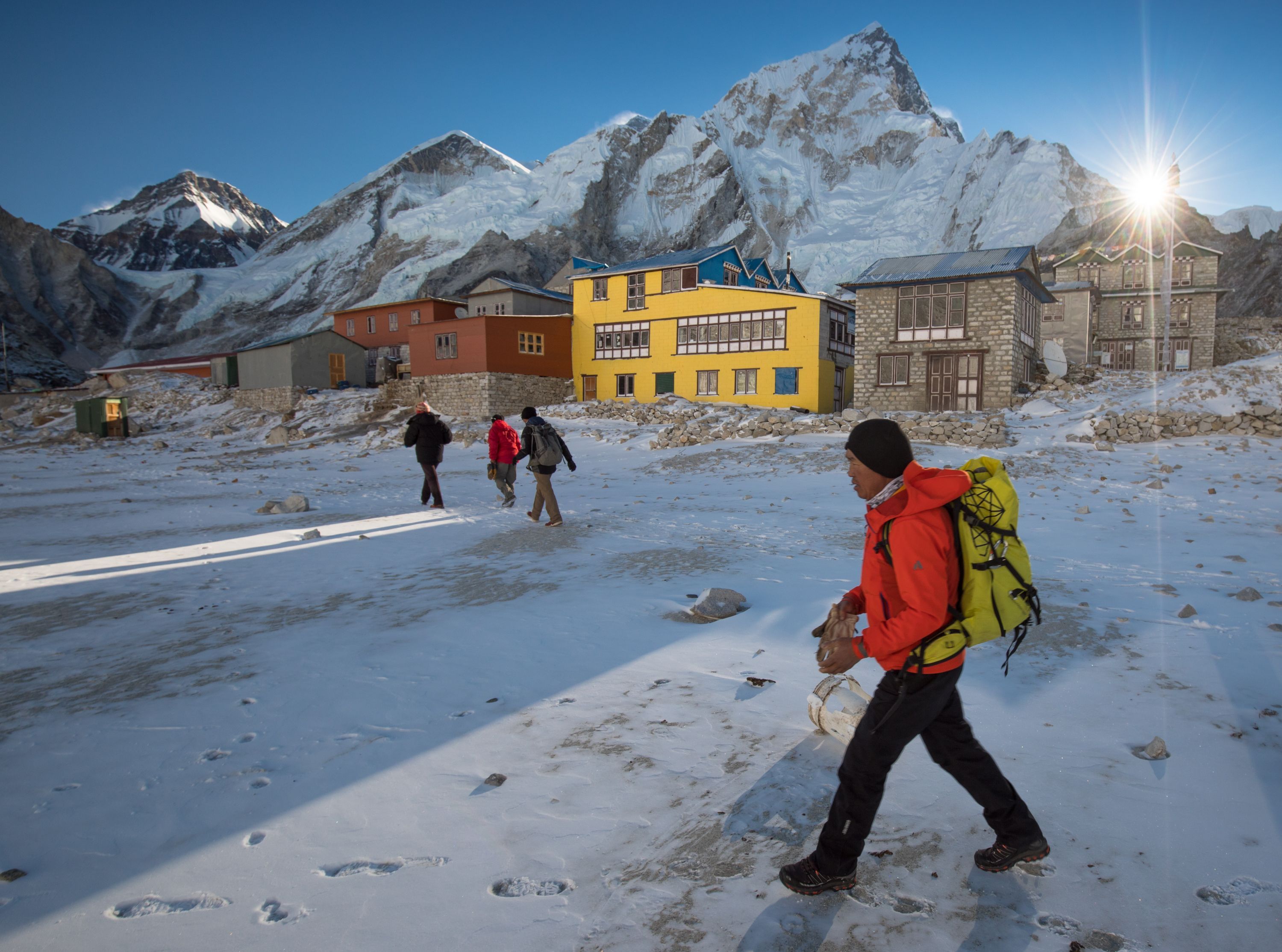 Photograph by Mariusz Potocki
The next day, on April 16th, two other groups linked up with Sandra and team in Pyramid Lodge and shared stories of their treks. The goal of the day is to reach base camp, and Sandra says that she is excited to reach "their home away from home."
After enjoying spectacular views and taking numerous selfies, the team approached their stop for lunch at Gorek Shep. Sandra remembers that some of her teammates had provided a weather forecast that indicated a snowstorm that would cover the floors with more than 10 centimeters of snow would arrive on April 17th – the day after they were to arrive at base camp. But looking up at the intense sun that day made this forecast hard to believe. Then again, "it was just the calm before the storm," as she said.
Trails to base camp were very crowded, which made the hike not as pleasant as it could have otherwise been. But it seems that every person that Sandra and her companions pass tell them that they are nearly there. Then again, when you are walking up Everest it is pretty hard to not be a skeptic of what the phrase "nearly there" really means. When Sandra finally arrived, she understands it to mean anywhere between 20 to 90 minutes. So it was still a bit of a trek! It took Sandra and a couple of the team members that she was with 9 days to reach base camp, including 2 days for acclimatization hikes.
As the team arrived, base camp was crowded, and it takes them a while to find the camp that the Sherpa team had set up nearly a month before. It is also really hard to know where their actual camp was, as most expeditions have similar North Face yellow and black 3-person tents peppered among the dining and toilet tents. In this sea of yellow tents, how does one find the National Geographic camp?
After walking a bit more they find it and are greeted by members of the Sherpa team, who then give Sandra a tour of tent city, and it seems that in the month that the camp was set up, a small lake formed in the center of the tents.
As the team settled into their tents, and after having gotten a sense of base camp, Sandra and the team are reunited with their bags and boxes.
And while the sun was out without any clouds impeding its shine that day, the forecasted storm did begin late evening, mixing the previously quiet sounds with the clangs and clashes of thunder and the rising roars coming from the mini avalanches next to base camp, making it harder and harder to tell the difference between one and the other.
Scaling Mount Everest is a daunting task that requires an extraordinary amount of advanced planning. Our team has been working for months: creating schedules, monitoring conditions, preparing for possible illness, and considering every eventuality. Despite the most careful planning on an expedition this ambitious there are always unexpected obstacles that happen in the field.
We have an amazing team of scientists, storytellers, and climbers on the mountain this year. Two of our colleagues that are normally based out of our National Geographic headquarters are part of the expedition and keep Washington D.C. up-to-date on what is happening in the field.
Dr. Sandra Elvin is National Geographic's Expeditions Director, stationed at Base Camp during the expedition.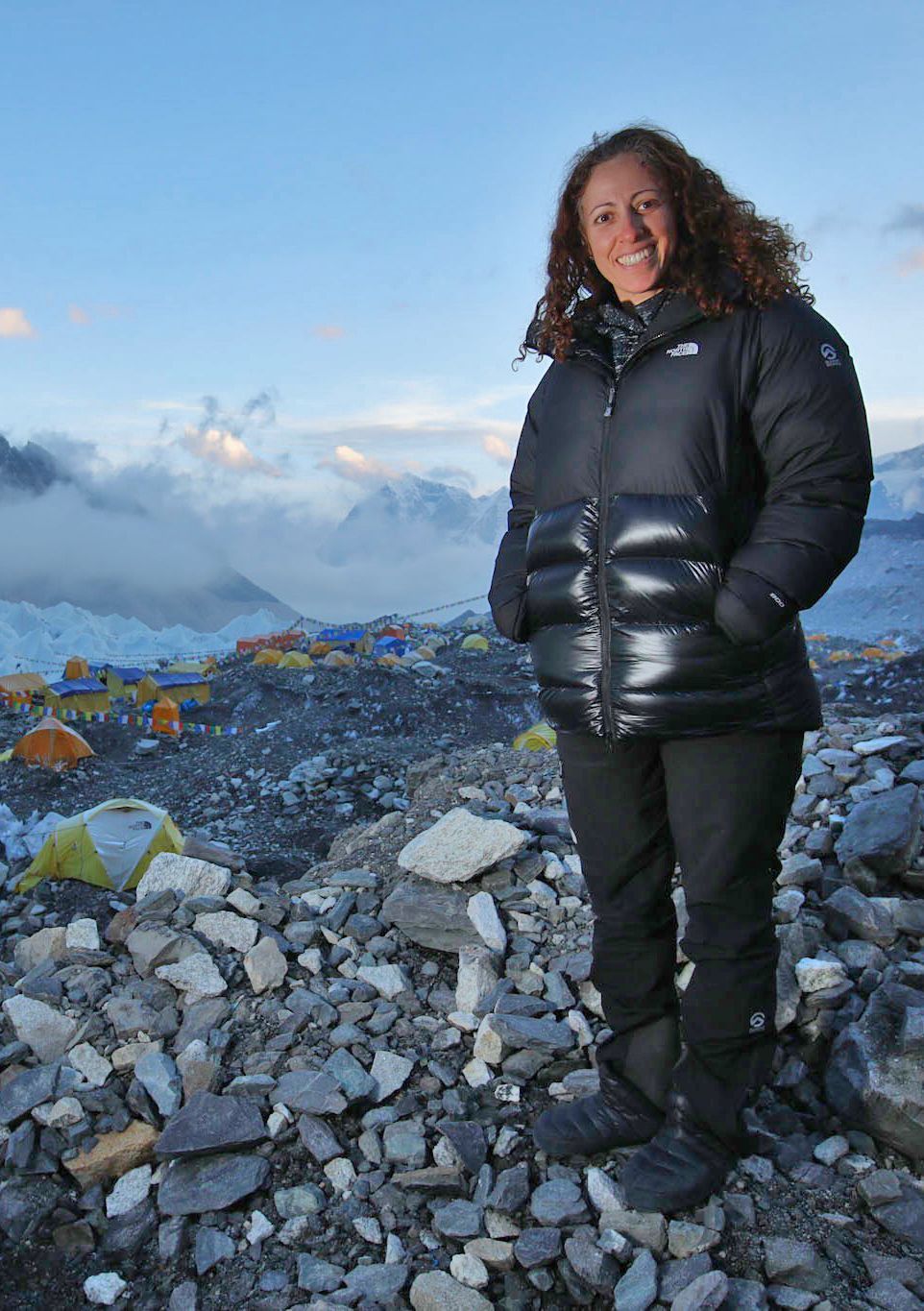 Photograph by Freddie Wilkinson
Tyler Dinley, is our National Geographic producer embedded in the Mount Everest team as our content scout and story chaser.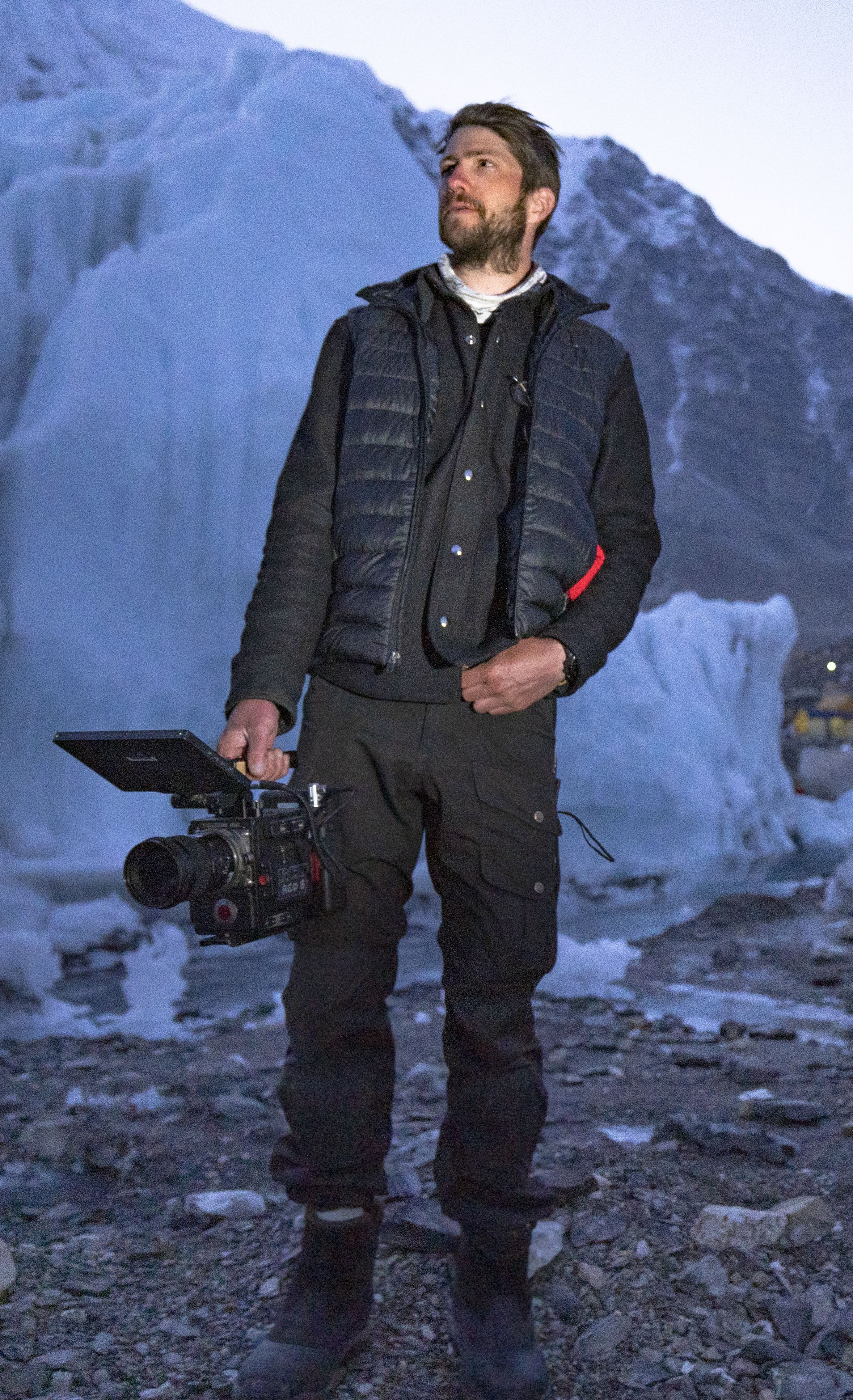 Photograph by Brittany Mumma
These two National Geographic staffers will be our main eyes and ears in the field.
In order to examine how climate change is affecting high alpine environments, our science team first needed to plan our research and expedition goals, and complete a baseline assessment of what is already known about this extreme environment.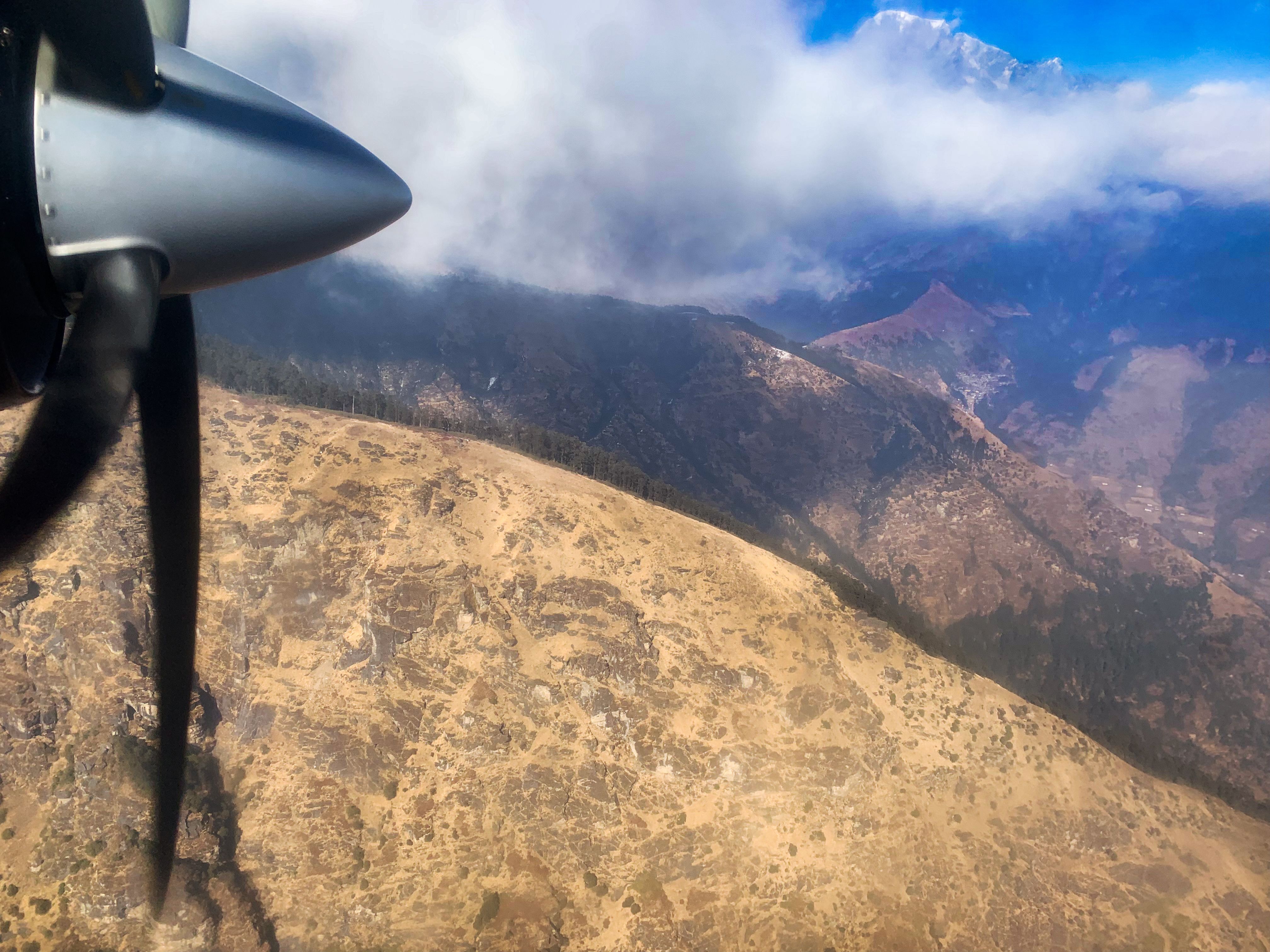 Photograph by Alex Tait
Next, we needed to put together an amazing team of brilliant researchers from around the world, and especially partners and experts from Nepal. In addition to their scientific preparations, the team spent many months doing cardiovascular training. How do you train to climb Everest? Try walking for miles on treadmills set to maximum incline with 20-30% of your body weight in a backpack. Then you graduate to 2-4 hour hikes on hilly terrain with backpacks weighing 30-40% of your body weight. Then comes lots of time on a stairmaster with 50 pound plus backpacks – all to increase your body's ability to function at lower oxygen levels.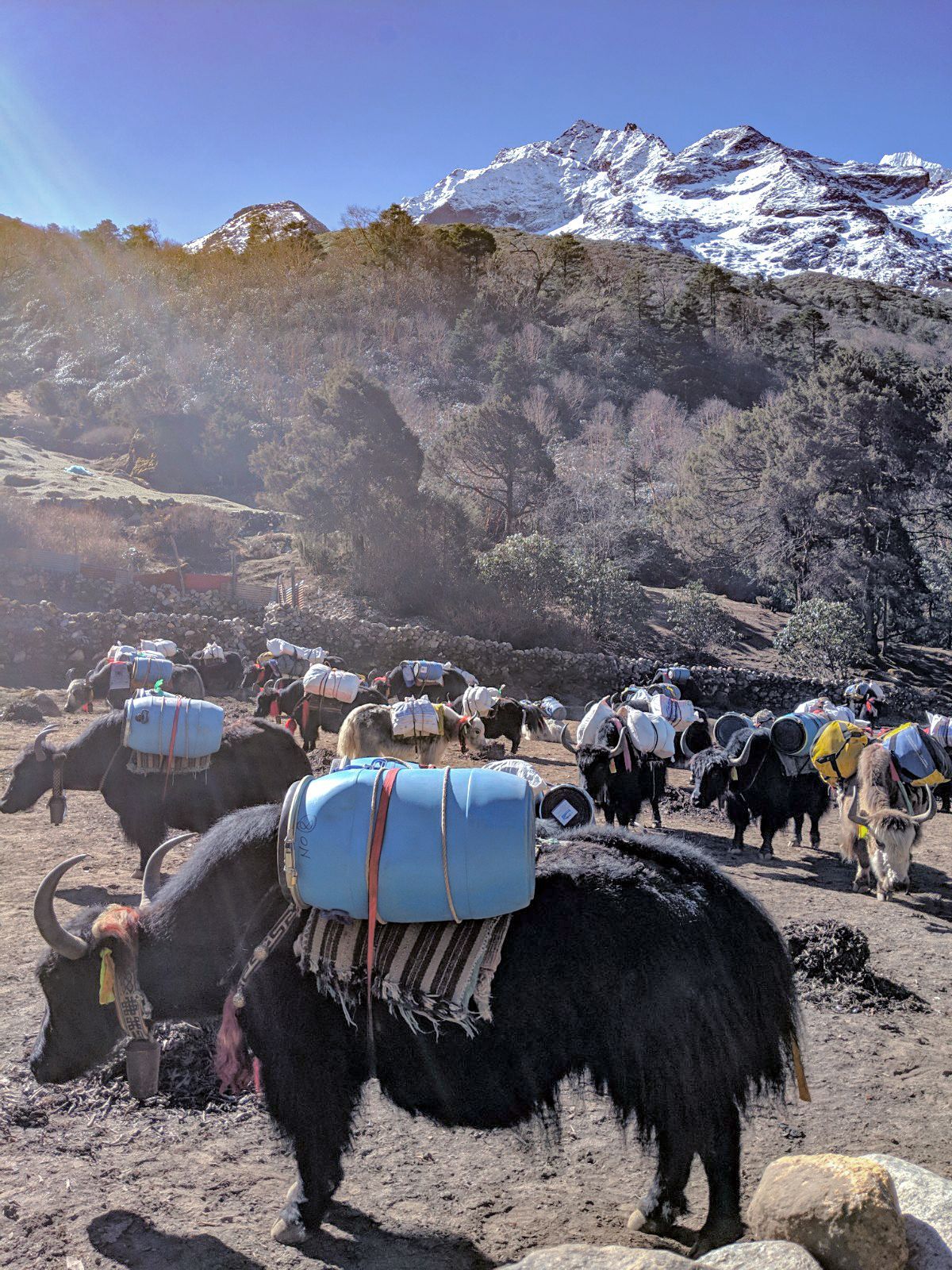 Photograph by Sandra Elvin
What really sets this expedition apart from other scientific expeditions that happen regularly around the world is the magnitude of the challenge that is climbing Mount Everest and the surveys and research that our interdisciplinary team is attempting to do. You really have to be well prepared for an expedition like this!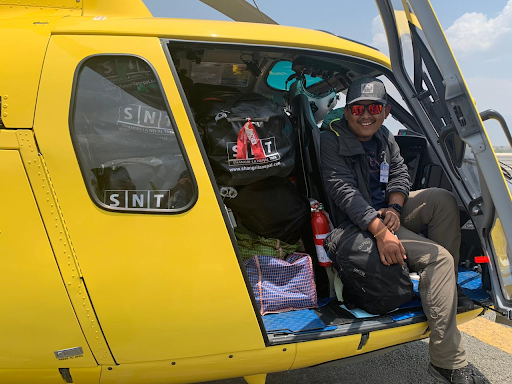 Captain K.P. Gouchan in a helicopter carrying some of the expedition's gear. Courtesy of Shangri-La Nepal Trek P Ltd. Photograph by Jiban Ghimire
Before the expedition, some scientific equipment and supplies that are not available in Nepal needed to be shipped there. To ship supplies and equipment internationally is a challenge that is best met, as Sandra emphasized to me, with "a good cargo agent," who understands the variety of considerations and goods that need to be shipped. For example, batteries to power cameras, and radios often fall under dangerous goods classifications. Some batteries had to be sourced from neighboring countries to Nepal, rather than from the U.S., due to shipping regulations.
While we might not be able to control everything or perfectly prepare for every possible scenario, this expedition is vital to establish a more informed outlook on our changing world and what our next steps should be in order to continue mitigating the effects of the climate crisis.
Life, chance, and external forces combined with human nature will always have an unseen role to play in this stage set on Everest.
From the highest peak, to the densest rainforest, to the deepest ocean, the National Geographic Society has been pushing the boundaries of exploration for more than 130 years.
National Geographic's Life at the Extremes initiative is sending scientists, explorers and cutting-edge technology into the planet's most extreme environments to better understand the state of Earth's life-support systems and what we can do to protect them.
What better place to start than at the top of the world?
Our first Perpetual Planet Extreme Expedition, in partnership with Tribhuvan University and supported by Rolex, is to Mount Everest, the world's tallest mountain, a landmark that both daunts and beckons people to its summit. The mountain straddles two nations: Nepal and China; its traditional name is Sagarmatha or Chomolungma.
In 1963, ten years after Edmund Hillary and Tenzing Norgay were part of the team that completed the first confirmed summit of Mount Everest, the National Geographic Society sponsored the first American team in its bid to reach Everest's summit. Along the way, the climbing team completed basic experiments on glaciology, solar radiation, and the effects of altitude on human health.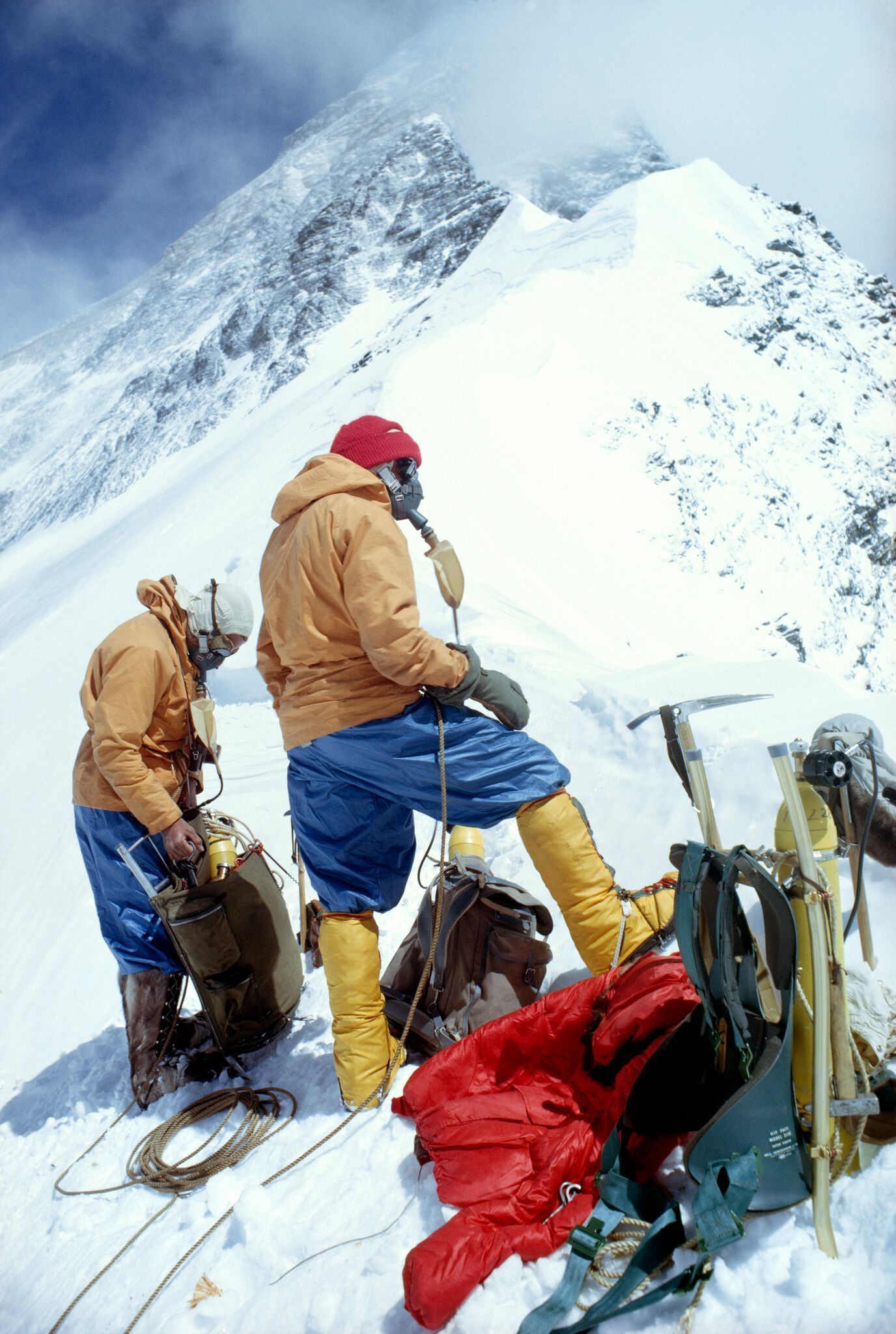 Members of the 1963 expedition to Everest. Photograph by Barry Bishop
This year's Perpetual Planet Extreme Expedition: Everest builds on the scientific legacy of those intrepid explorers and seeks to shed new light on Everest's secrets. The data collected from this expedition will be integrated with additional global data sets to form the basis of a new index tracking the health of Earth's water towers and furthering our understanding of high mountain systems.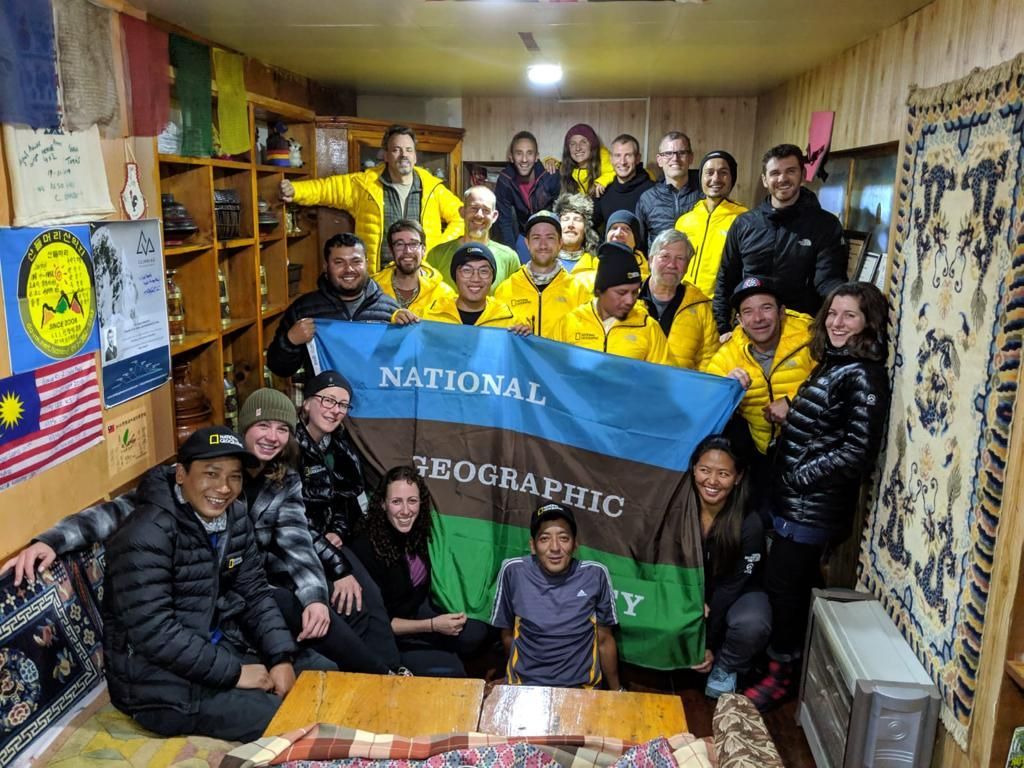 Members of the 2019 Extreme Expedition to Everest.
Explore what the team discovered as they climbed the tallest mountain on Earth and uncover what this giant can teach us about the greater Himalayas' life-sustaining role as critical water towers, feeding life for a billion people living below them, how climate is changing this iconic mountain, and what life exists – and persists – at Earth's extremes.
Due to limited connectivity on the mountain, posts will be delayed, but the dates listed correspond to the dates of our team's activities as described.
Contribute to this expedition
Thank You for Your Contribution!
Fundraising Details:
Submit/Modify
You have a goal to raise by for:
How will raising these funds impact your expedition?
Is any part or component of your project funded by the National Geographic Society or a National Geographic Society Grant?
You've responded:
Is anyone on your expedition/project team affiliated, either currently or in the past, with the National Geographic Society?
You've responded:
Did you apply for a grant/funding from the National Geographic Society for this project?
You've responded:
Note:
Fundraising is almost live!
Thank you for applying to collect contributions! We will review your request and follow up with next steps via email.
Feel free to email us if you have any questions.
openexplorer@natgeo.com