Exploring Hicklin Lake
November 6 2014
TAF (The Access Foundation) and DiverLaura hope to team up and empower youth to follow their curiosity with the help of OpenROV. TAF was founded in 1996 to help reduce the opportunity gap in education and bring more youth of color to STEM-related disciplines and careers. Since then, school reform has not produced the types of lasting gains we need, but TAF has persisted. Hundreds of students have graduated from our programs and attended their first or second choice of college. Over half have graduated college already and many of those have since returned to their communities as invested role models and leaders.
You are set up to receive WePay payments.
Here are the details to your account:
Name: Laura James
E-Mail: ljjames@mac.com
Account ID: 474128966
These kids are AWESOMENESS!
Learn more about the floating islands at Hicklin lake
We are getting super close to starting our build! Earth day is coming up fast and you can tune in to portions of the day at TAF by following @diverlaura on Periscope. Get the Periscope App for your iphone/pad now :)
Super excited to get our expedition started with the kids from TAF!
This map is showing the Hicklin Lake Drainage area. As our micro-expedition progresses we hope to document the flow from Hicklin Lake during high stormwater runoff events into Puget Sound, specifically a stormwater outfall near the mouth of Salmon Creek.
In doing so we hope that our team can be instrumental in encouraging the county to put in aerators which will enhance the efficacy of the floating islands and possibly even add additional floating islands to reduce the toxics load being discharged into Puget Sound.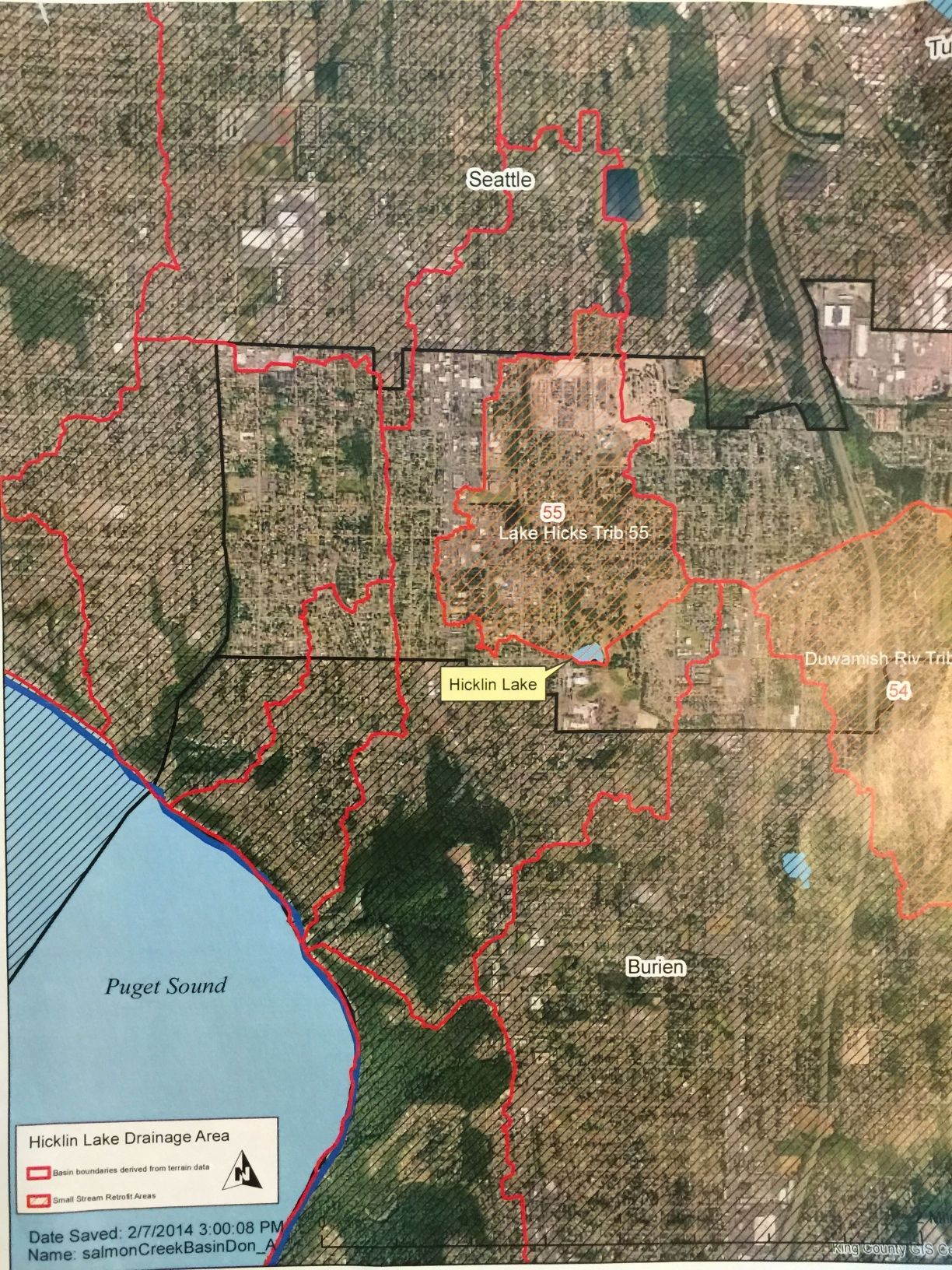 I'm watching the weather like a hawk and hoping to get out to Hicklin lake for an investigatory dive tomorrow! (waiting because i didn't need the added challenge of breaking the ice to get into the pond) It has been a cold and mostly dry couple weeks so I'm expecting the lake visibility to be reasonably clear. Stay tuned!!
I hope to get out as soon as the weather warms up a bit (no huge desire to break ice) and do and investigation dive at Hicklin lake with my current OpenROV. I will make a video of the fun and if it turns out well, hopefully get the TAF kids interested in the project (and anyone else who happens to be walking by at the time)
Additionally my friend Neal C has developed a neat stand for growing and studying algae. Perhaps we could utilize this type of device to house collected lake water and study the algae blooms and techniques to reduce the nitrogen and/or inhibit the blooms in the mean time.
Help is on the way for Hicklin Lake – the small lake with big water quality problems in King County's Lakewood Park.
In addition to the ongoing work of finding and eliminating illegal and inadvertent sewer connections that discharge pollutants into the stormwater system that flows into the lake, this year King County will experiment with technology that uses floating "islands" of vegetation to capture excess nutrients in the water that lead to Hicklin Lake's water quality problems.
Thanks in part to a $50,000 grant from the Washington Department of Ecology Algae Control Program, King County will install four floating islands in Hicklin Lake this summer and measure their effectiveness.
Each floating island is 250 square feet in size and built of a durable polycarbonate, anchored in place.
The islands are perforated with dozens of holes that are planted with a variety of native wetland species. The plants' roots will reach into lake as they grow, where they will take up excess nutrients.
A bio-film of microscopic organisms that forms along the bottom of the floating islands and the plant roots will also take up nutrients from the water.
King County staff will take monthly water quality samples from locations throughout the lake to test the islands' effectiveness at absorbing pollutants for three summers.
The project is expected to start this spring and will be completed by June 2015 at a total cost of more than $86,000.
Hicklin Lake water quality has been a concern for years, with elevated levels of fecal coliform bacteria and phosphorus, as well as a history of harmful algae blooms that have posed potential health threats to people, pets and wildlife.
The lake has been treated twice with alum to reduce phosphorus levels – first in 2005 and again in 2011. It is hoped that the floating islands will prove to be effective and will help to reduce the need for alum application or types of in-lake nutrient controls.