Sydney Harbour Open Lab
December 31 2014
We're going to combine the best that Sydney has to offer in terms of marine science, aquatic exploration, engineering & biotech hackerspaces and citizen science. We'll explore Sydney Harbour, conduct scientific research, work on ROVs ... and use this expedition as a jumping off point to set up Sydney's first marine-based hackerspace/open lab.
You are set up to receive WePay payments.
Here are the details to your account:
Name: Bryan Curtin
E-Mail: bryan.curtin@gmail.com
Account ID: 649508346
Look at that what we did!
- chassis
- e-chassis
- top side adapter
- lights
- imu
- battery and main end caps
- wire harness
- electronics
- camera
-escs
- motors
-potting of the esc, battery end caps and MEC
That means, we have almost all done. Still some fiddly bits to do but we rocked the past 8 hours.
Thanks to Neill from Robots & Dinosaurs and Scott from NSW Wrecks for helping me guide and everybody that was involved in the build today!
After a quick skills lab where we learned how to glue acrylics and how a solder iron works, we started out build.
We split in 2 to 3 groups and got a lot done!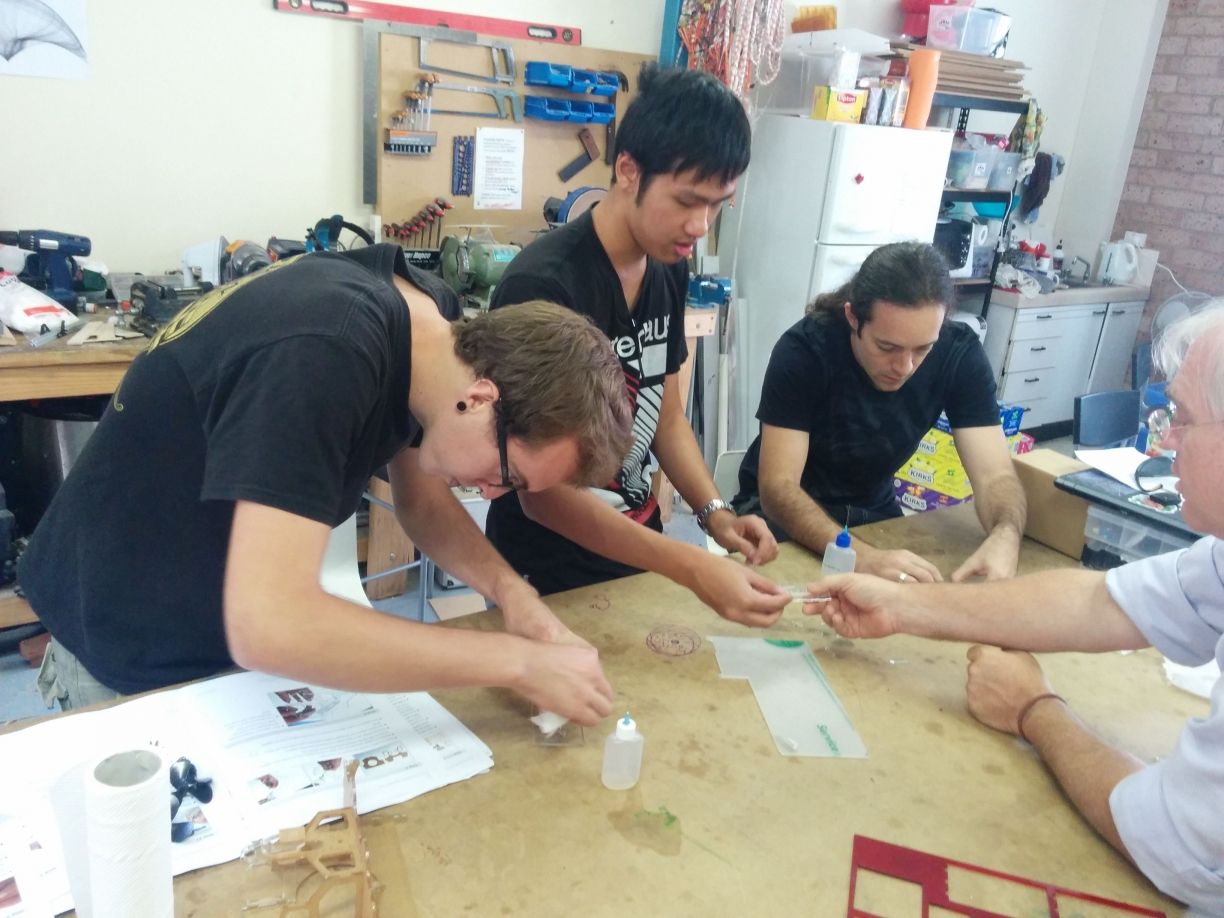 Looks like we've scheduled our first build session for Thursday this week!
The session will be held at Robos & Dinos, another Hackerspace at 10/27 Bank Street, Meadowbank, Sydney. The community is slowly expanding! Anyone is welcome to come along from 2pm to 8pm, on Thursday 29/1/2015. Even if you can't make the whole thing, we'd love to see you there - just drop in after work! Hopefully we can get a good representation from SIMS, BioHack, CREATE, R&D, and the rest of us!
Dominik from OpenROV will be guiding the build session, so special thanks to Dom, and to Neill Wainwright and Robos & Dinos for opening up the space and procuring the acrylic cement!
Any questions, comments, just post them below :) Let us know you're coming at doodle.com/hzee773hzzfbn73z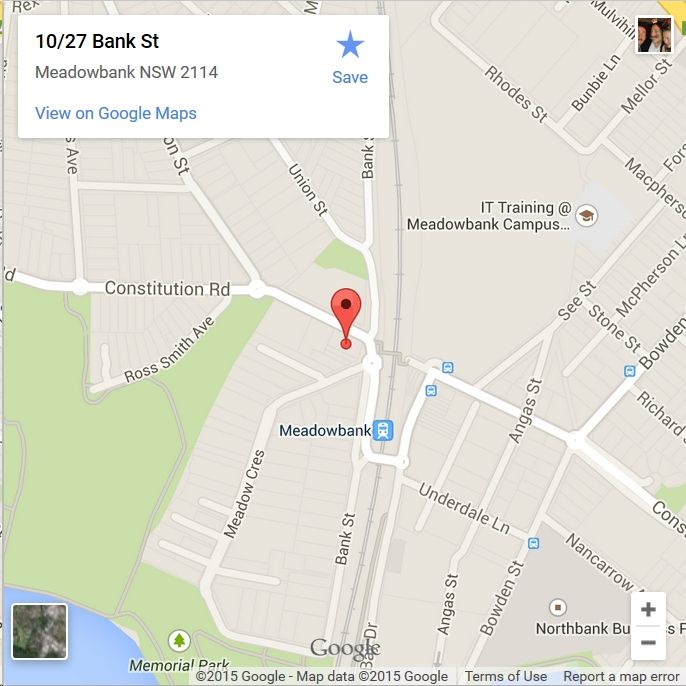 Time to open the mystery packages!
We opened up the boxes at CREATE's end of year COFA Hackerspace and discovered a whole bunch of goodies waiting inside. The OpenROV 2.6 kit components, Depth Sensor, IMU and batteries were all accounted for.
Now we've compiled a parts inventory, all that's left is to gather up some remaining components including acrylic cement and soldering equipment; to find a build space; and then we can get down to the business of building the ROV together!
Some exciting news! The mystery packages have arrived!
With our powers combined, we have won an OpenROV submarine! Many thanks to the team at OpenROV for creating an awesome product, and for their campaign to bring collaborative exploration and discovery to the masses. Special thanks to the Moore foundation for sponsoring the prize, and of course, a giant congratulations and hearty pat on the back to all for making the effort to win the submarine. The proof is in the packages!
Now let's get building! The first step will be to inventory the parts.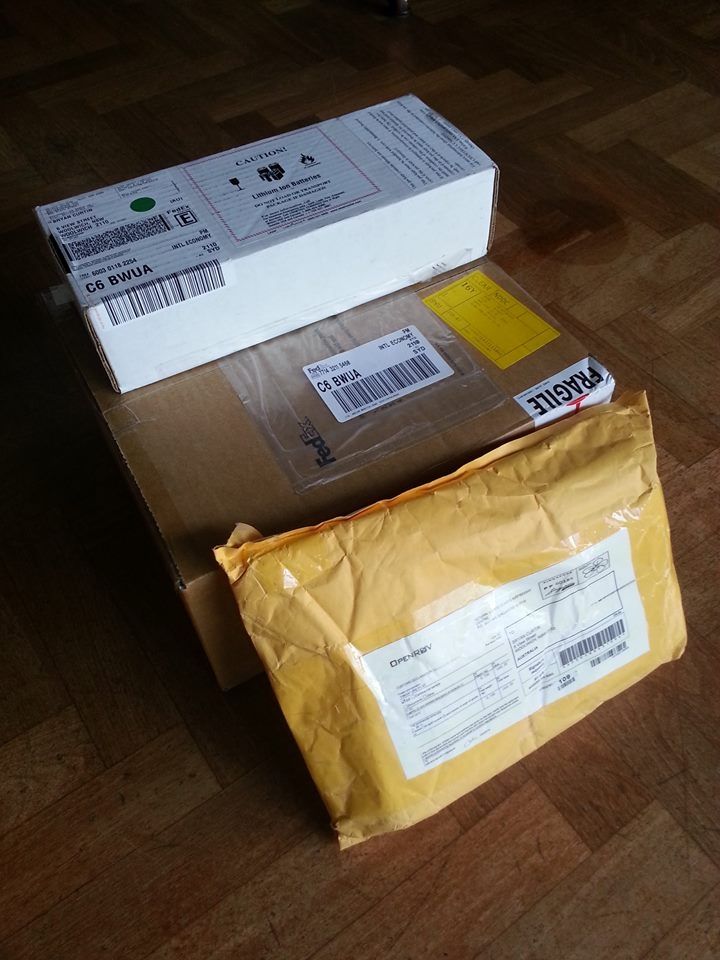 Sydney Harbour is world famous for its natural beauty and for hosting one of the world's major cities. At the same time, it is one of the most urbanised estuarine environments in the world. It has long been home to the Cadigal people who lived and died on this land and its waters. In more recent times, it has seen industrial and military heritage give way to civil life around people's homes, public ferries, beaches and parks.
There are over 2 million people living on and around the harbour; many with little idea of the incredible biodiversity (over 550 species), amazing underwater geomorphology, habitat diversity and more that exists beneath the surface.
Above the surface, Sydney is experiencing a rise in the number of open innovation/DIY communities of hackerspaces, makers, scientists and others. We're realising that there's so much the Sydney community can do if it is empowered to collaborate and put its skills together.
This project aims to create Sydney's first marine-based open lab/hackerspace which brings together these diverse groups. We'll engage and empower the public by using, improving, and tinkering with OpenROVs, linking up with biotech and engineering hackerspaces, along with marine scientists. We'll thus enable the public to explore the harbour, perhaps contribute to research, and importantly, to get informed about and engaged with the precious harbour we're living on.
*image courtesy of Tourism NSW