The Greening Arctic
Latest update July 18, 2019
Started on August 2, 2008
Warming temperatures, melting sea ice and thawing permafrost are transforming tundra landscapes. Team Shrub is heading to Qikiqtaruk - Herschel Island to capture vegetation and biodiversity change as they unfold across the greening Arctic.
Follow
The science behind our journey
The Arctic is warming more rapidly than the rest of the globe and has already warmed by two degrees Celsius (nearly four degrees Fahrenheit) in the last half century. This warming is melting sea ice, thawing permafrost - permanently frozen ground - and changing the tundra environment. And as the tundra warms, plants are responding.
Pondering permafrost and Arctic greening on Qikiqtaruk - Herschel Island (photo: Sandra Angers-Blondin).
In recent decades, scientists and people living around the Arctic have started to notice a much broader transformation and from space, the Arctic now appears much greener than it used to be. Making sense of how rapidly the tundra is changing is critical for understanding global climate change for the planet as a whole.
This is what vegetation change can look like - increases in shrubs (photo: Team Shrub).
While we are certain that the Arctic is changing, the scientific findings to date are also full of contradictions. For instance, not all satellites seem to agree on which areas are greening. In some places, satellites suggest big landscape changes, but they aren't obvious on the ground - and vice versa. But satellite pixels can be as large as nearly 10,000 soccer fields and long-term monitoring plots can be as small as 1 x 1 m or the size of the surface of a card table. This is a massive scale gap!
Drones are providing new tools to monitor changing Arctic landscapes (photo: Jeffrey Kerby).
Is our understanding of Arctic change hampered by the fact that we aren't collecting data at the most useful scales to connect the dots between warming and plant responses? Drones will allow us to bridge this gap to disentangle how tundra ecosystems are responding to climate warming across these frozen landscapes.
Tundra ecosystems are surprisingly diverse given the only two-month long summer (photo: Jeffrey Kerby).
With a warmer and greener tundra, biodiversity is expected to increase as plants slowly move northward from warmer climates or begin to spread from the warmest parts of the landscape to take over the once bare ground. Scientists have been monitoring plots across the landscape for over two decades to track the rate of this biodiversity change.
Meter-squared plots are how vegetation change has previously been monitored across the Arctic (photo: Mariana García Criado and Gergana Daskalova).
But what about the species found outside of plots? How many species have escaped the notice of scientists over time - the Arctic's hidden biodiversity? Will uncovering this so called "dark diversity" influence our estimates of how tundra biodiversity will change in the future?
Team Shrub pictured here in 2018 is heading back to the Arctic this summer (photo: Gergana Daskalova).
Team Shrub has been working for over 10 years to figure out how high latitude ecosystems are responding to the rapidly warming climate. In the summer of 2019, we're heading back to the Yukon Arctic Coast and Qikiqtaruk - Herschel Island to study the rapidly changing Arctic. This year's team is made up of researchers from the University of Edinburgh, Dartmouth College and Purdue University. Our research will identify the hotspots of change across the landscape that satellite and long-term yet small-scale observations might be missing.
Let the science and the adventures begin!
Team Shrub: Luke Hull
I'm Luke Hull, a certified drone pilot and an undergraduate student at Purdue University majoring in Unmanned Aerial Systems (UAS), part of the school of aviation. The course of studies includes construction, operations and data analysis of unmanned systems solutions as well as general aviation operations and aircraft maintenance. My passion for unmanned systems, combined with my love for the outdoors, has sparked my interest in working with and creating innovative solutions for unmanned aerial systems in different environmental applications. For as long as I can remember I have had a love for exploration, I am more than excited to embark on my first trip to the Arctic!
Team Shrub: Noah Bell
Returning from a successful drone flight after a smooth landing in the surrounding cottongrass (photo: Sandra Angers-Blondin).
I'm Noah Bell, a member of Team Shrub for the past year, and I am passionate about drones and climate science.
Where I grew up, in Washington, DC, it is illegal to fly drones anywhere in the city, so I had to travel well outside the beltway to practice. I studied civil engineering at the University of Vermont (UVM) and worked at the school's Spatial Analysis Lab, an applied research facility that uses geospatial technology to assess a wide variety of environmental and human resource needs. While earning my engineering degree, my research lab experience exposed me to imaging projects that included emergency planning for developing nations and using drones to map invasive species, inundation areas, and riverbank erosion. During my third year, I became a certified drone pilot and was sent to fly mapping missions in such exotic locations around the US as Lake Tahoe, Hawaii, and the Massachusetts Turnpike.
Last summer after graduating from UVM, I joined Team Shrub as the drone pilot for the climate-vegetation research team heading to Qikiqtaruk – Herschel Island. There, I fulfilled my dream of being able to fly a drone anywhere I wanted, so long as the weather, winds, mosquitos and wildlife cooperated. But it was on the ground, working with the amazing biologists and ecologists during their annual study of the island, that was the most rewarding experience. The summer was extremely rich in new perspectives while learning about climate impacts on Arctic ecosystems from the researchers themselves.
I have recently moved back to Washington, DC to work at a local engineering firm where I hope to get authorization to use drones to monitor the health of green roofs used to store stormwater and keep the city's rivers clean from sewage runoff. But part of me wants to be back where, once getting permits and certificates approved by the Canadian government, the only authority needed to carry out drone research is nature itself.
Team Shrub: Mariana García Criado
Me happily carrying a Global Navigation Satellite System around the tundra (photo: Sandra Angers-Blondin).
My name is Mariana and I have been part of Team Shrub for almost two years now. I am currently working on my PhD, which focuses on understanding plant species responses to climate change in biomes found at extreme climatic and seasonality conditions, with a particular focus in the tundra.
I have always been drawn to remote and exotic places. Being born and raised in the gentle Mediterranean climate of southwestern Spain, "exotic" did not only mean tropical latitudes, but also the northernmost Arctic ecosystems. I recall developing a long-term fascination with the tundra after my Geobotany professor at University explained that the word 'tundra' derives from Finnish 'tunturia', meaning a treeless plain. I remember thinking just how poetic and appealing that sounded – even though, ironically, I have always loved trees.
That promise of such different and sometimes dramatic environments, shaped by centuries of cold temperatures driving geological and ecological processes, took me traveling to the north of Europe over the years. I visited Iceland, Norway, Sweden and Finland, and was entranced by what I found there. In Iceland, some landscapes resemble moonscapes and are truly otherworldly. In Fennoscandia, the transition of boreal forest into tundra forms a very interesting ecotone. But all these landscapes have something in common. Life above the Arctic Circle has a special light, and a different rhythm.
One of the most spectacular midnight suns we saw in Qikiqtaruk, around 2am (photo: Mariana García Criado).
Developing a PhD project with Team Shrub made me realise that I did not only have to settle with admiring the tundra biome – I could also understand it. This search for answers took me to the Canadian Arctic in the summer of 2018 as part of the field crew to collect data on tundra greening. I remember the moment the plane left us on the strip of sand that acts as an airport runway in Qikiqtaruk. We watched the Twin Otter take off and disappear towards the mainland, and I remember thinking I had never felt so far away from everything.
But after a month in the island I felt fully at home in Qikiqtaruk, and no longer far from anything else. The fieldwork, the wildlife sightings, the exuberant midnight sun, the collaboration with researchers and the Inuvialuit people, and the new friends made along the way are experiences that I will always treasure. All the memories from last summer still feel very close to my heart and I really hope to return to Qikiqtaruk one day. A piece of myself was definitely left there among the polar bears, the ice sheets, and of course – the shrubs.
Cottongrass in Qikiqtaruk, with a view of the thawing permafrost in the slumps in the distance (photo: Mariana García Criado).
Team Shrub: Gergana Daskalova
Photo: Sandra Angers-Blondin.
I'm Gergana Daskalova and my motivation for exploring the Arctic stems from my love for heading off into the unknown in search of new discoveries and being part of a larger community with a common mission.
These two passions of mine have been common threads throughout my life, and on Qikiqtaruk-Herschel Island in the Canadian Arctic, they come together. I didn't expect to ever see the Arctic with my own eyes, yet now it feels natural to be eagerly awaiting my third summer in the tundra. I am one to first go to a place chasing the unknown and then return pulled by an urge to contribute to a vision and understanding extending beyond just me. This crossroad between individual drive and common aims, between international explorations and a sense of belonging has been at the base of many of my decisions in life. This is the crossroad that ultimately led me to the Arctic.
Roads like this one in the Bulgarian village Tyurkmen have played a big role in people's lives for many generations. Photo: Gergana Daskalova.
Though there have been many crossroads, my journey started with the simplest of roads – a dusty dirt road in the Bulgarian village Tyurkmen. I am from probably one of the last generations in Bulgaria to have grown up running around village roads like this one. If you're ever looking for someone here, chances are they are either in their garden, or "on the road". Village roads are where grandparents wait for their children to return, where gossip flies fast as dust in the wind, where cow bells mark the beginning and end of each day. As a child, I rushed to the road every morning as soon as I heard the bells and watched first the cows, then the sheep and goats, and finally the buffalos head to pasture. We would play all day on the road until the buffalos returned as the sun was setting.
The last tomato harvest before the autumn frosts combines tones much alike those of traditional Bulgarian attire. Photos: Harvest (Gergana Daskalova) and portrait (Galina Daskalova).
Village roads are where many people, me included, first saw the world beyond their own homes. I grew up running between the garden and the road. Perhaps that's what made me a quick runner – I was always dashing across wanting to see and experience life both in the garden and beyond. I loved hanging around my grandparents – we made endless jars of peach compote, turned pig fat into soap and seemed to always be watering the garden. I dedicated many hours to mastering the art of telling when a watermelon is perfectly ripe. But I was also always lured by the road, the far away neighborhoods (them being a whole half an hour walk away!), the dam and the fields. I grew up, and so did my world. Now it stretches way beyond the furthest field I dared explore as a child. I have found my passion and chased it all around the planet – from the wet and windy hills of Scotland to the hot red dust of the of Australian outback and now north to the Arctic. My world is much bigger now, but I am still very much split between the pull of home and the pull of the unknown.
Behind this basement door, tens of jars of pickles and compote remain unopened. Photo: Gergana Daskalova.
First people wondered how I could ever leave my garden. I was picking tomatoes and making tomato sauce till the very last day before my flight to Edinburgh where I would start my undergraduate degree in ecology and environmental science later the same week. I became one of the many villagers who hide away their gardening hoes, lock whatever doors can be locked and walk off into the distance. Then people wondered why I keep coming back. It is unusual for someone from a village like mine to go to places like Australia and the Arctic. What's even more unusual, however, is for them to then come back to the village. Some of my gardening hoes were stolen the first year I left the village. My neighbor remarked: "well, you can't blame whoever stole them, nobody thought you'd ever come back to use them again".
Once the roofs fall, rain begins to wash away the sod from the walls and soon only a pile of stones remain to mark what was once somebody's home. Photo: Gergana Daskalova.
There isn't anyone waiting by the road for me in the village anymore, the generations have turned and now I'm the one trying to preserve the traditions, home and garden I grew up with. Most of the houses on my road are empty and many say my village is on the way to becoming one of Bulgaria's many ghost villages. Places ruled by memories, hidden or lost stories and a once jubilant past that may never come again. But I still see life in my village – different life to the life around me when I grew up, but life worth coming back for, nonetheless.
"Katmi" - the Bulgarian version of pancakes - are traditionally made over a fire, with the fire lit at the crack of dawn, so that the stone heats up enough. Once I use to wake up to the smell of katmi, now I wake up early to start the fire. Photo: Yovina Daskalova.
Villages are changing and this new epoch for rural areas can impact cultures, ecosystems and biodiversity. But if nobody is there to see it, if nobody returns, then we will never know what these new types of villages might mean for life around us. Similarly, the Arctic is changing, and it is not enough to just go to the Arctic once to capture how climate warming is altering life across northern latitudes. We need a long-term perspective – the kind of perspective you gain by returning, listening and working with the people for whom the Arctic is a long-term home. I am learning to embrace my age-old dilemma, to use it as the fuel for my motivation in my research, but also in my life. I love going to new places, but I also love returning to the places that I've already been to foster a much deeper connection and understanding over time.
Though monotonic at a first glance, tundra landscapes support a surprising diversity of plants. Photos: Landscape (Gergana Daskalova) and portrait (Sandra Angers-Blondin).
I don't remember ever thinking about the Arctic, or shrubs growing up. My interests in plants were mostly utilitarian – jams, compotes, pickles, stakes for the cucumbers that would turn into pickles. And yet, here I am today, with my mind literally spiralling like our tundra protocols do to capture hidden biodiversity. A surprising diversity of tundra plants lurks across these landscapes, and I am eagerly awaiting our return to Qikiqtaruk-Herschel Island.
For the Arctic's Hidden Biodiversity project, I will be teaming up with Yukon Parks rangers and scientists from the Arctic (check out Kayla Arey's bio just above this post) and beyond (read more about Team Shrub and about Isla Myers-Smith here). We will combine extensive ground surveys of Qikiqtaruk's flora with aerial monitoring using drones. Our goal is to capture the tundra's dark diversity – the species that lurk across the landscape yet have never been recorded inside small-scale monitoring plots. These elusive species might be the ones that shape the arctic ecosystems of the future, and I am so excited to return to Qikiqtaruk and work together with the community of people on the island to shed light on the tundra's dark diversity.
For tales in Bulgarian, check out Градината на слънцето.
Team Shrub: Jeff Kerby
A brief intro and pre-departure thoughts from long-time Team Shrub collaborator, expedition photographer, and Arctic scientist Jeff Kerby:
"Extreme weather and climate have spurred incredible adaptations in Arctic plants and wildlife, while also shaping the region's deep human history. This diversity of extremes initially drew me to the north as a biologist a decade ago, but now rapid Arctic warming threatens to reshape these stories. I'm excited to return to Qikiqtaruk-Herschel Island this summer to collaborate with Team Shrub by using photography for two purposes: 1. as a scientific tool, continuing my work as a fellow at the Dartmouth Institute of Arctic Studies, 2. and to tell stories, building on my experiences as a National Geographic photographer, by sharing perspectives on Arctic science, climate, and life in a globally important region as it transforms in front of (and often beneath!) us."
Team Shrub: Isla Myers-Smith
I'm Isla Myers-Smith a global change ecologist from the University of Edinburgh in Scotland. I study plants in the Arctic and beyond and how ecosystems are responding as the planet warms. I work with my research group Team Shrub using all sorts of tools from measuring tapes to drones to capture Arctic change that we are seeing first hand at our Yukon field site Qikiqtaruk and around the tundra biome. What drew me to the Arctic over a decade ago was the promise of adventure and my curiosity about tundra responses to a warmer climate. I can't wait to return this summer to add another piece to the puzzle of understanding Arctic greening!
Me walking among the ice bergs up on Ellesmere Island in the Canadian Arctic last summer (photo: Jeffrey Kerby).
Looking back it is hard for me to pinpoint when exactly I developed a fascination for the lands north of the treeline – the tundra. And I don't know when it was that I first knew that working to understand change in the Arctic was going to become my life's passion. It has been 30 years since I first went North as a child and 17 years since my first trip to the Arctic. I have been studying the impacts of Arctic climate change since 2008, the first time I set foot on Qikiqtaruk – Herschel Island. As I build a deeper and deeper connection to that place, I also am forming a deeper understanding of the change that is occurring on Qikiqtaruk and around the Arctic.
My first trip to the Canadian North in 1989 and my first bush pilot flight out over the Kluane Range Mountains (photo: Jamie Smith or Judy Myers).
My first trip to the Canadian North was when I was a 9 year-old kid. My parents were biologists and my father was working on a project in the boreal forests of the Yukon Territory. My childhood memories of that first trip North are mosquitoes, mountains, plane flights above the Kluane icefields out towards Mount Logan, and of course people who now are lifelong friends.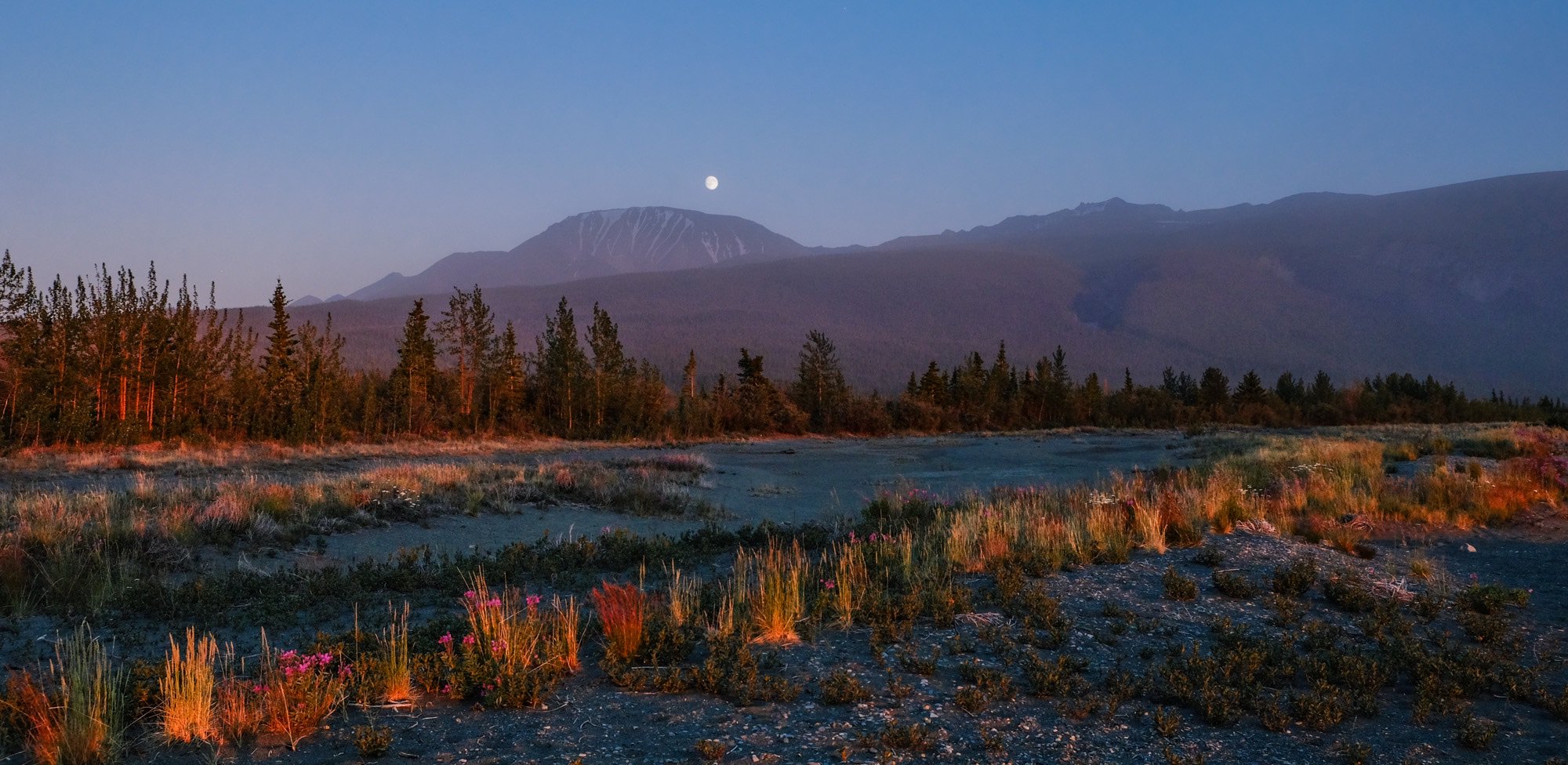 The Kluane Region of the Yukon Territory - my first introduction to the north as a nine-year old child (photo: Sandra Angers-Blondin).
Twelve years later when I was in university, I asked my undergrad thesis supervisor where should I go to do my graduate studies and she said she always thought Alaska sounded adventurous. And a year later I was moving north to the University of Alaska Fairbanks. My first trip beyond the Arctic Circle was at the very beginning of my time in Alaska. We drove up the Hull Road from Fairbanks the 600 kms North above the Brooks Range, beyond the farthest north spruce tree, to the Toolik Lake research station. It was here that I first formed an understanding of the impacts of a warming climate on tundra ecosystems – the focus of my research today.
An old photo of mine from my Alaska days in around 2003 in the Brooks Range north of treeline in Alaska (photo: Isla Myers-Smith).
Six years later, I made my first trip to Qikiqtaruk – Herschel Island, the destination for our 2019 research expedition. I was hanging out in the Kluane area conducting my PhD research on the increases in shrubs in the alpine tundra of the mountains around Kluane. In the same place where my father had been studying birds twenty years prior. And, I heard out about a trip to the Arctic coast of the Yukon – they were short one member of the team – someone to study the plants.
Pauline Cove (or Ilutaq) on Qikiqtaruk - Herschel Island on the Arctic Coast of the Yukon Territory (photo: Sandra Angers-Blondin).
The Yukon is a triangular shaped territory in the far northwest of Canada adjacent to Alaska. Most of the people live in the southern parts of the Yukon with nearly 80% of people living in the biggest town Whitehorse. There aren't many people living in the Northern part of the territory which is mostly wilderness where wildlife range free. Up on the Yukon Arctic coast there are no permanent settlements, though Inuvialuit people visit the coast to fish, harvest wildlife and live off of the land. Very few other people get the opportunity to visit this remote part of the Canadian Arctic. So when the opportunity arose to replace a botanist on a trip up there, I jumped at the chance.
A lone caribou on Qikiqtaruk-Herschel island with an abandoned oil platform in the background (photo: Jeffrey Kerby).
Qikiqtaruk means the island in Inuvialuktun, the local language. My first memories of visiting Qikiqtaruk are of the plane flight out there from Inuvik. My first trip was on a float plane – a one and a half hour flight out to the island with all your food for the trip. It is a sometimes exciting flight across the vast Mackenzie Delta, along the Arctic coast past remnants of cold war radar stations and oil exploration from the past. It is the only island along the Yukon Arctic coastline – a chunk of mostly frozen mud, green with plants in the summer. On first approach it often emerges from the mists.
Tent shelters in the mist on Qikiqtaruk - Herschel Island (photo: Sandra Angers-Blondin).
I have been back to Qikiqtaruk eight times and every year for the past six years. This summer I will have the chance to return again to this place that is the territory of the Inuvialuit people, but feels like an Arctic home to me. I am eagerly anticipating that flight where we head out again across the delta with our plane load of gear and food. When we finally land on the rough beach airstrip and are greeted by the Park Rangers. That moment when I step down off of that plane and back on to the island that I have come to know and where I get to observe firsthand the change that is happening across the Arctic.
Discussing drone flights with pilot Noah Bell on Qikiqtaruk in 2018 (photo: Sandra Angers-Blondin).
The Greening Arctic
photo: Jeffrey Kerby
The frozen Arctic
Every summer in the Arctic, a dark frozen landscape rapidly transforms into a vibrant tundra ecosystem rich with plants and wildlife. This remarkable yet brief transition from 24-hour darkness to midnight sun creates a tundra teaming with life which has drawn scientists north for decades. The answers to big questions about how, where, and why life survives can be found here at the climate extremes of the planet.
photo: Gergana Daskalova
A transforming tundra
Over the last half century, scientists and people living around the Arctic have started to notice a much broader transformation. Tundra landscapes are fundamentally changing, and from space, the Arctic now appears much greener than it used to be! Sea ice breaks up earlier in spring and returns later in fall. Wildlife such as moose and beaver are moving north. Bare ground is becoming vegetated and where plants once grew they're now growing taller. This may be the biggest biological signal of climate change anywhere on the planet.
photo: Sandra Angers-Blondin
Life at extremes
The Arctic, where life is shaped by an extreme climate, holds the key to our understanding of global patterns of diversity and species interactions. However, the scientific findings to date are full of contradictions. For instance, not all satellites seem to agree on which areas are greening. In some places, where satellites suggest big landscape changes, those changes aren't obvious on the ground - and vice versa. Detailed records of vegetation change collected over decades can miss species lurking just outside of monitoring plots. And it is this hidden biodiversity that could be what will reshape the Arctic landscapes of the future.
photo: Anne Bjorkman
Thawing carbon
Making sense of how rapidly the tundra is changing is critical for understanding global climate change. The Arctic is warming faster than any other place on Earth. These high latitudes are home to a third of the planet's soil carbon - that is vulnerable to loss as the region warms. And if that frozen carbon is released, it will further warm the planet as a whole. The changing Arctic affects us all.
photo: Jeffrey Kerby
Team shrub
We are Team Shrub - a group of scientists, photographers and drone pilots. We're heading to the Yukon Arctic Coast and Qikiqtaruk - Herschel Island this summer to study the rapidly changing Arctic as we have for the past decade. We will work alongside local collaborators, and share an inside account of our journey.
photo: Jeffrey Kerby
Join us along the way!
Check out https://teamshrub.com/!
Keen to learn more about the elusive plant species of the tundra? Check out The Arctic's hidden biodiversity expedition!
Contribute to this expedition
Thank You for Your Contribution!
Fundraising Details:
Submit/Modify
You have a goal to raise by for:
How will raising these funds impact your expedition?
Is any part or component of your project funded by the National Geographic Society or a National Geographic Society Grant?
You've responded:
Is anyone on your expedition/project team affiliated, either currently or in the past, with the National Geographic Society?
You've responded:
Did you apply for a grant/funding from the National Geographic Society for this project?
You've responded:
Note:
Fundraising is almost live!
Thank you for applying to collect contributions! We will review your request and follow up with next steps via email.
Feel free to email us if you have any questions.
openexplorer@natgeo.com