The Steep N' Deep Project
December 1 2016
We are a group of citizen scientists taking progressive steps for climate change adaptation by investigating high mountain glacial lakes at risk of outburst flooding. Accomplishing our mission requires creating a hybrid of exploration disciplines to perform underwater inspections of unstable lakes across the Andes and Himalaya mountains. We are testing experimental extreme-altitude diving methods in research laboratories, and in the world's highest lake atop a sacred Chilean volcano, as we prepare for our Peru and Nepal expeditions. www.VanguardDivers.com
You are set up to receive WePay payments.
Here are the details to your account:
Name: Zachary Bowland
E-Mail: VanguardDivers@gmail.com
Account ID: 1978280454
Vanguard Diving & Exploration and Science in The Wild have successfully operated the OpenROV 2.8 in the Spillway Lake of Ngozumpa Glacier, high in the Himalayan mountains of Nepal as part of our Sherpa-Scientist Initiative.
The goal of this endeavour is to provide local communities with the tools and skills they need to contribute to scientific investigations of high mountain glacial lakes that pose a threat to their communities and way of life.
The OpenROV was chosen as the ideal platform to build the underwater research component of this citizen-science project, and we are using this testing period to develop the technology and develop curricula to train mountain communities to participate in climate change adaptation.
Thank you very much to OpenROV and their investors who provided our team with our first ROV, and have helped set an impactful project in motion.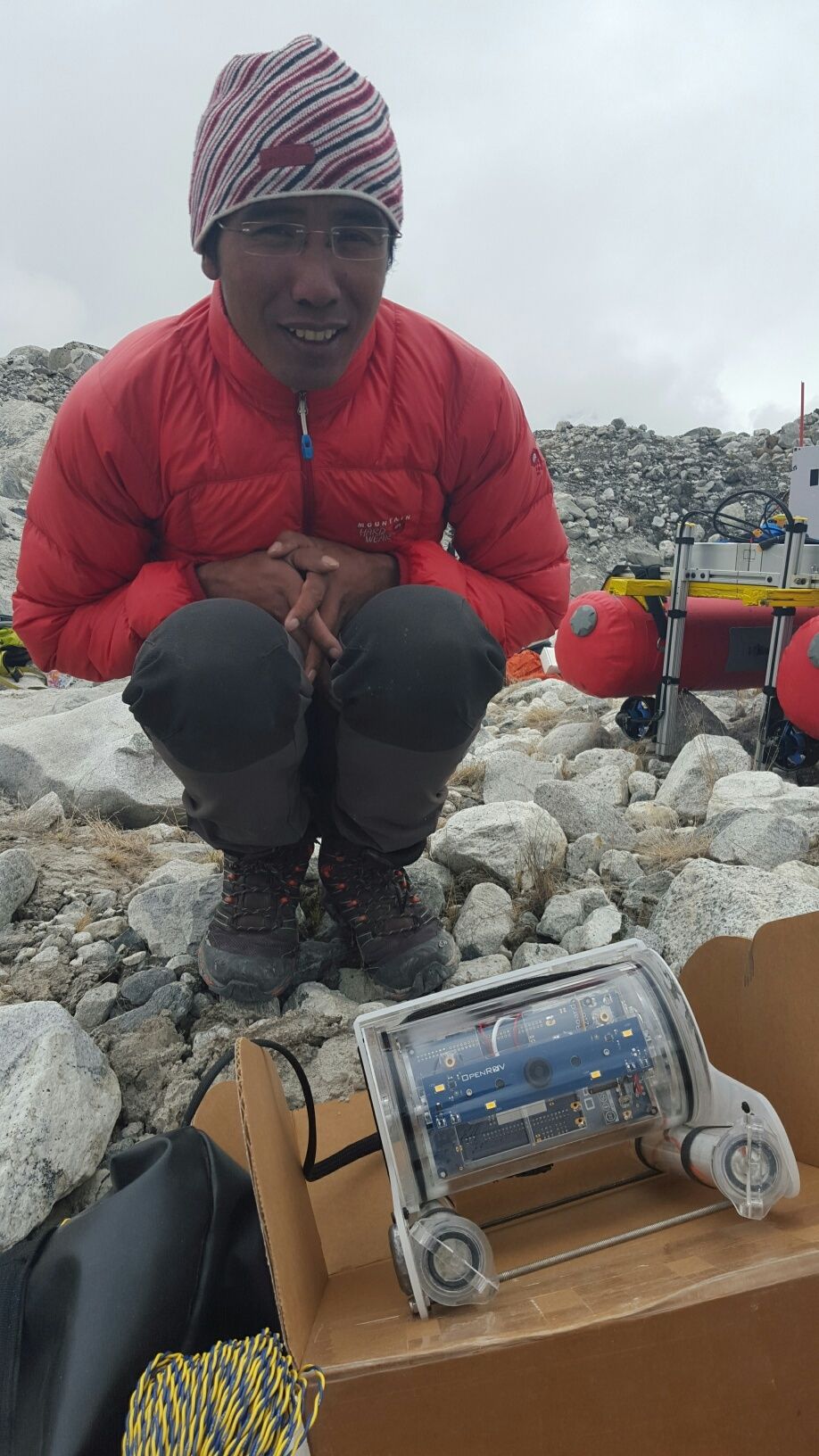 We are thrilled to announce that through the generosity of their grantors, our friends at OpenROV are able to donate a V2.8 model to The Steep N' Deep Project! Our lead scientist Dr. Ulyana Horodyskyj will be heading into the field with this little baby starting in early November to test it's capabilities, and begin tailoring it for our upcoming inspections of unstable glacial lakes in the Andes and Himalaya.
So how are we planning to use the OpenROV platform? I'm glad you asked! We are using the OpenROV to add underwater research capabilities to our Sherpa-Scientist Initiative to give mountain communities the tools and training necessary to monitor the glacial lakes that threaten their safety and way of life. For more details, please check out the Glacial Lake Science page on our website at vanguarddivers.com/glacial-lake-science.html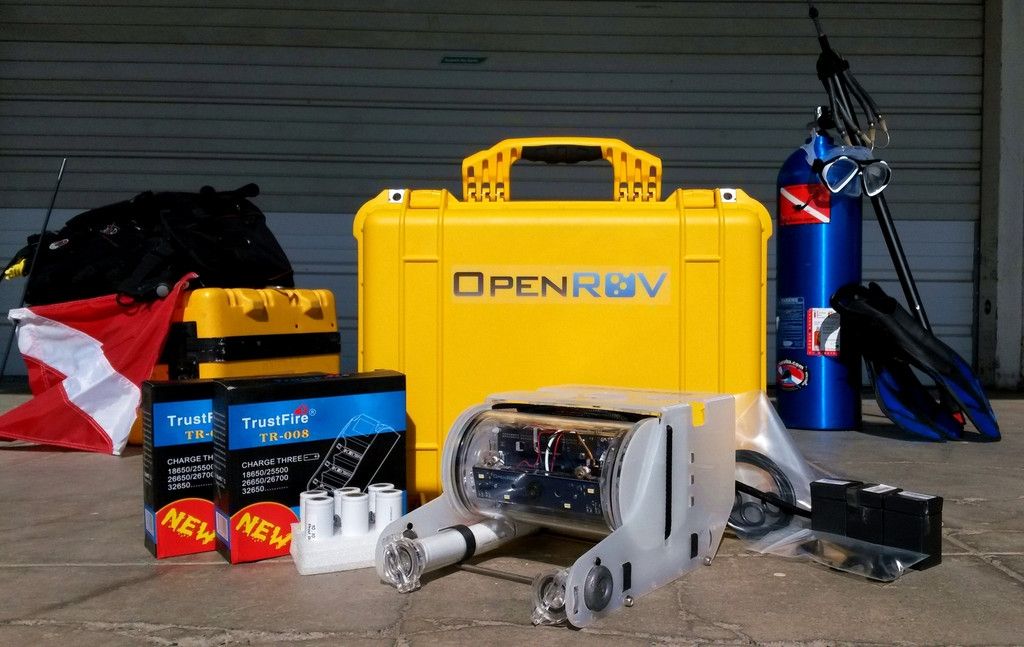 The Steep N' Deep Project (SN'D) by Vanguard Diving & Exploration is a citizen science initiative focused on climate change adaptation and educative exploration. We are a multinational team of concerned citizens mounting several scientific diving expeditions to the world's highest waters across the Andes and Himalaya, to help quantify the risk of glacial lake outburst flooding (GLOF). Continued warming trends are forming thousands of glacial lakes around the globe, with immense quantities of meltwater confined by dams of loose rock and ice. GLOF occurs when these moraine dams fail - causing a tsunami of meltwater and debris that can destroy downstream communities, crops and critical infrastructure.
We are developing and testing safe practices for diving at extreme altitudes so we can study these glacial lake systems from the inside out, and help researchers predict which natural dams are most likely to rupture. We are currently planning a series of pioneering expeditions over the next 4 years to dive and explore the world's highest lake atop Licancabur Volcano (LV) on the Chile/Bolivia border, the glacial lakes of Peru's Cordillera Blanca, and finally Nepal's Lake 464 near the base of Mt. Everest.
The LV site is a cultural centerpiece of Inca tradition, and affords a unique opportunity to explore various forms of ancient life while testing high-altitude rebreather diving protocols 19,500 feet above normal sea level diving conditions. Dive missions will document abundant "extremophile" life in the lake that provides clues for ongoing astrobiology research of how life could have evolved on ancient Mars. The SN'D team is being mentored by explorers from NASA/SETI Institute and the National Geographic Society who are among only a handful of people who've ever investigated this unusual lake in the past.
Field testing of high-altitude expeditionary scientific diving procedures (custom tables, lightweight rebreather systems, field compressors, etc.) operational procedures (power generation, IT infrastructure, logistics, etc.) and emergency procedures (wilderness medicine, mountain rescue, survival skills, man-portable recompression chamber, etc.) at Licancabur Volcano will prepare the SN'D team to safely investigate glacial lakes in the Himalaya. The skills, procedures, tactics, and team development gained from the LV expedition will create the key operating principles for formal underwater scientific investigations of high-altitude glacial lakes at risk of outburst flooding.
After completion of the LV expedition, the SN'D team will apply their Isolation Diving operating model to performing detailed inspections of the natural glacial dams that are barely holding back the often 300+ foot deep lakes formed by melting snow and ice in the high mountains. These inspection surveys will be designed and tested in the glacial lakes of Peru, before the team sets out to apply them in Nepal's most unstable glacial system: Lake 464.
The SN'D team will spend several weeks in the remote Himalayan wilderness as they haul their entire diving operation through famously rugged mountains to inspect the mysterious lake near the base of Mount Everest. Along the way they will be filming, conducting science, testing equipment and getting to know the families and communities that could be destroyed when Lake 464 finally ruptures and drains its contents down the mountain. We plan to help give them the tools and skills necessary to protect themselves from the unpredictable nature of their environment.
Glacial lake outburst flooding is a stark example of the sort of challenges humanity must adapt to in these times of rapid change in the natural world. There is much public confusion about the realities and implications of climate change. The perception is that it is a problem that is too big to fix. The Steep N' Deep Project is intended to be a beacon of hope - that something can be done. That even common people can make important contributions to environmental stewardship and the protection of our own habitat.
We choose to dedicate our lives and talents to the challenge of climate change adaptation for the same reasons John F. Kennedy chose to put a man on the moon. We do these things "not because they are easy, but because they are hard. Because that goal will serve to organize and measure the best of our energies and skills, because that challenge is one that we are willing to accept, one we are unwilling to postpone, and one which we intend to win"
The Steep N' Deep Project unites a passionate team of climbers, divers, scientists, filmmakers and other exceptional people hell-bent on improving the health of our global ecosystem and popularizing environmental stewardship. We all have an obligation to do the best we can to preserve the habitability of our planet. This is our way of rising to the occasion and leading by example.