Walk to India: a pilgrimage
December 26 2014
It's simple in many ways: I (and anyone else who would like to join me for all or part of the journey) am walking from Glastonbury to India in stages over the next few years or so- however long it takes. This has been something that I have thought about doing ever since I walked to the source of the Ganges at Gaumukh (Gangotri glacier) when I was 20 and promised I would return to give thanks by walking- a pilgrimage. My time in India was a time of great spiritual change and experience. It was in India that I felt a real sense of universal love, of divinity and of the power of knowing the self. Since then, my spiritual journey has continued and it feels right now, in my 35th year to begin to act on a promise made all those years ago. The aim is simple, to walk, to experience, to reflect and further my own spiritual development and also to support others in doing so too. To meet and learn about people along the way and deepen my understanding of ecotherapeutic practice. I am carrying a book of names with me for souls who have departed this earth and for those still here who would like to be carried on this great journey. Anyone can be included. At the glacier, each name and message (if there is one) will be read. The walk began on on the 20th december 2014 from Glastonbury Tor. I imagine the vast majority of the walk to involve camping, maybe with occasional nights in the houses of friends met along the way. If people would like to join me, they are welcome to get in touch but will need to understand the nature of what I am doing- back to basics in so many ways- and spending time reflecting and growing spiritually. be open minded and with a sense of adventure and purpose.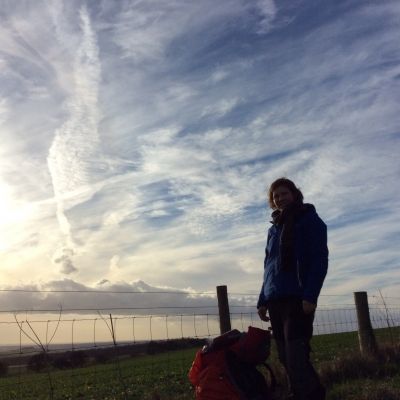 Accept contributions for your expediton by providing us a few details. We will create an account on your behalf at WePay. If you haven't already registered with WePay, they will send you an email to complete your registration.
Follow
So I began the next leg from Calais to then on the 26th April 2015. I was not sure what to expect as everyone seemed very worried about Calais as somewhere very dangerous. I felt slightly apprehensive as I was going on my own and planned to camp as much as possible. I reLy need not have worried. The ferry crossing was cool, I met a guy who couldn't quite get his head around the fact I was walking but was very positive...I am sure I will find this a lot the further I go although I do feel that people from the east understand spiritual purpose much more than those from the wets the. I know I am generalising here but the sense of devoting time in your life to something so much more than the self, your self is more 'normal'. Pilgrimages, ritual, worship, are much more practiced...an interesting debate could be had here. For example, the Turkish ladies I met seemed relived to meet a westerner who had spiritual purpose and was not so self oriented and closed, who wanted to sit with them and not keep themselves remote...what do you think?
Anyway, Igot off the ferry and then wondered about where to walk first. Although it was in the wrong direction, I had to get to the sea, it felt very important to look across towards the land that I had left and the west and then to face the east and the land that I would cross. On the beach, there were men with long tubes they would push into the sand. I wondered what they were doing and then I realised that they were catching lug worms! I assume for fishing. It was quite something to watch as the deeper sand they were pulling up in the tubes was very black and stained the beach like ink. I took photos on my camera which I can't download yet but will when I get back to the uk and then I will try to post here.
I found my way through Calais and to the canal. The Michelin map I had showed that I should be able to walk along the canal towards ardres which is what I did! All along the canal to just outside ardres where I saw the heron and found a campsite as the sun was starting to move into its sleep time in France.
Well I have made it to then in Belgium! This is the first real opportunity I have had to write a post as I have been mainly wild camping since I started from Calais. It took 7 walking days to arrive here which was probably pushing myself too hard, but I knew I had a short time. It has been a powerful journey and I thank the divine for keeping me safe and helping me to come through the fire. It feels like this has been a test for me, a test of strength and belief and I feel I have come through the other side. And I feel even more convinced in my purpose and the joy that it brings not just me but others. I met a lovely Turkish mother and daughter last night when I arrived at the youth hostel here in Ghent, I had planned to camp but I couldn't find the campsite just outside the city centre.
They have taught me a powerful lesson. and to share the lesson, I aslo need to share something else about me. I am very linked or connected to herons. When i ask for guidance or a sign, they always appear, sometimes a pair but usually one as they are quite solitary birds. As I walked yesterday, I was very low. My feet were sore, it had been raining and it felt like i would never reach a destination. Then a heron flew past me, circled and landed very close. It circled around some tall lime trees as the sun broke through the clouds and I understood that the day would improve, that light would come through the dark. I wondered if the heron was telling me I would find a campsite as that happened on the first day of this walk- I was desperate for a campsite and then a heron flew overhead and into the distance and landed and I knew where it had landed there would be a campsite sign and guess what, the was! Anyway, the heron yesterday meant that the day did brighten although I had to work for it. I only arrived at the hostel around 9pm and felt pretty broken to be honest. But relieved. The last bit of the walk had been in the sun and the setting sun which is always powerful-the ending of the day, the beginning of the night. I was in a dorm bed and wondered who I would be sharing the room with. And then I met two beautiful women in my dorm who were welcoming, kind and so wonderful. To go to sleep after making a new friendship, to wake up and have breakfast with new friends in a new place is so very special. And brought light and certainty where there had been darkness and doubt. I really believe they had been sent as I had been sent to them to reassure them of humanity in a European world which can seem so cold and distant. We shared smiles, and thoughts. And I know the heron knew that the light would not just be form the sun but also from the human heart. So that is the lesson. It all happens for a reason.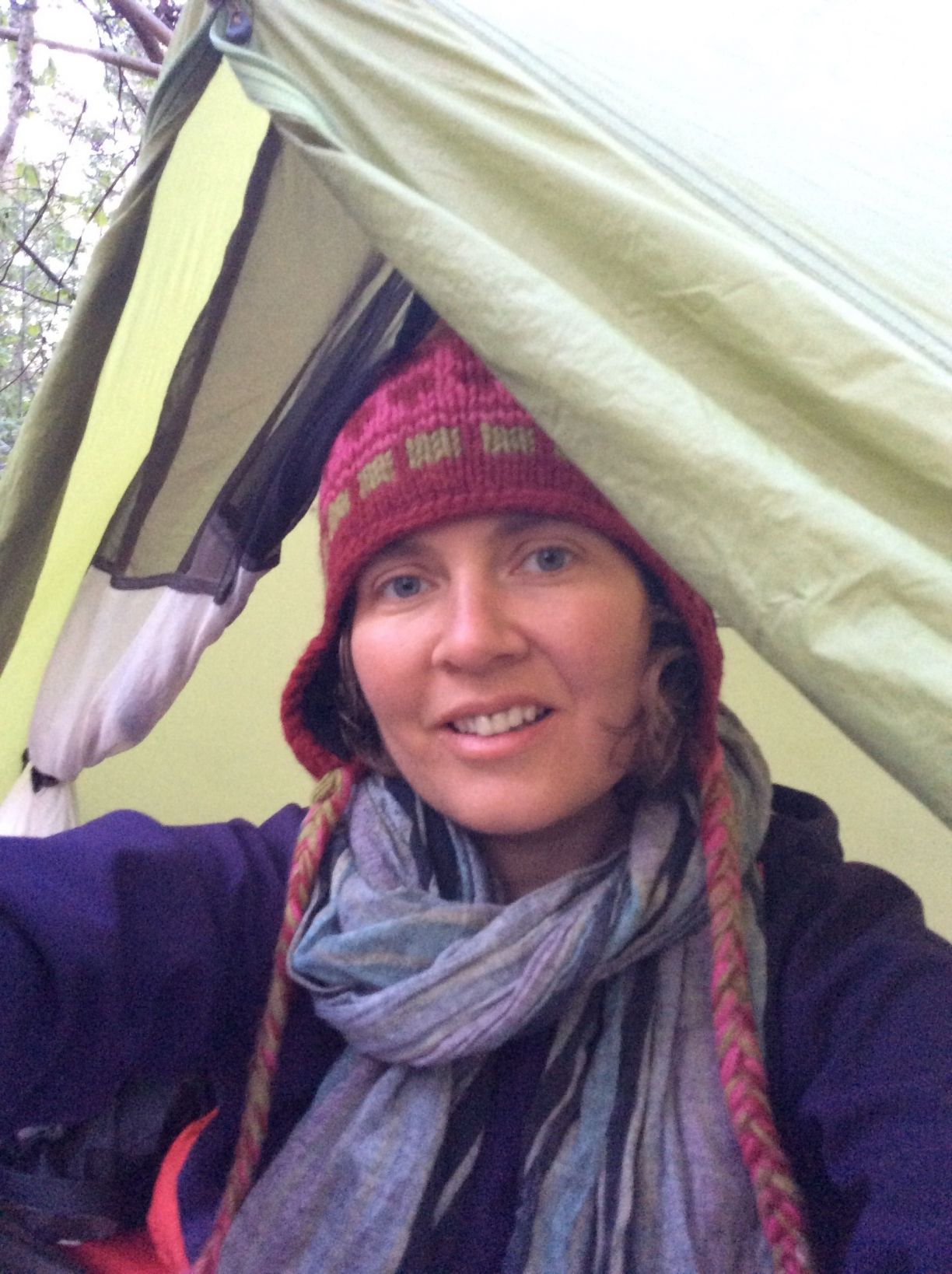 I am at London victoria waiting for a coach to Dover. It is a rainy morning and it started early for me, up at 1am to make sure I hadn't forgotten anything, then a walk in the dark with my pack to get the 3.25am coach. A few drunk people stumbling around me on the way, unable to speak although one did ask me where the city centre was as he weaved in the opposite direction. I met a woman on her way to Burma and we chatted about her work there. Now I am thinking about the call of the road and how it compels me forward as it does us all. Since time began, humans have ispften been intrigued by an open path. I love standing on train tracks which sounds odd I know. But as I stand there, looking both ways at tracks that go straight in to the distance and feel never ending, like the rainbow, I feel an upsurge of joy at what could be discovered if I followed those tracks. Which way and for how long? What will I find when or if I get there? What riches in terms of experiences... So embrace the open road and it will embrace you!
Apologies for being so quiet! We made it all the way to Dover, arriving on I think the 20th January and then it was back to normal life for a while...what's normal?? I will post more information about the England part of the walk, but suffice it to say it felt great to know I was one country closer to the final goal!
On saturday morning, I am on a bus at 3.30am from bath to Dover to catch a ferry to Calais. I am planning to walk another stage where I hope to arrive in Ghent in Belgium. I only have about 10 days before work calls in the UK, but it will be great to have that spirit time and to walk through the landscape. This journey has been incredible so far. Every time I drive, journey in a vehicle, my heart and feet yearn to feel the earth and to pass at my pace through the land...it is addictive and spell binding and tomorrow I am blessed to have a bit more of that precious experience and to share. I am barefoot walking this morning which I often do. I am in Bath and have just walked by the river and along ancient streets, sometimes on flagstones maybe 300 years old and on cobbles and the contrast of those smooth surfaces worn by thousands of footsteps with the modern, gritty harsh Tarmac is really noticeable. I have to go now as I am having a one to one lesson on using an iPad...technology is really not my strong point and I want to make sure I can keep folk updated more!
The beauty of the English landscape. How lovely it is to really have time to appreciate the beauty of the land I was born and raised in after all my travels all over the world. Lucky me. Om Nama shivaya!
Phew, it has been really windy up on the downs! With winds gusting up to 70mph, how have we survived? Luckily, last night we found a really handy wooden cabin on a golf course to shelter in out of the wind and rain. We rigged up the tent to cover all the gaps which was Andy's genius idea and we wholed up for the night. We walked about 18 miles yesterday across the tops of the downs carrying all our kit (as we have to) and the wind got progressively stronger although the day was really sunny. One place that really had such a great atmosphere was called chanctonbury ring, a hill fort encircled by trees up on the downs with amazing views all around. There are so many of these ancient sites along the route, it is quite humbling, we have walked past a lot of burial mounds too. But this ring of trees, wow. I have been to many hill forts but none have had the feeling I got there and I wonder if it is because the trees were like sentinels watching over the past and holding it for the present. Marking the landscape so we remember and revisit. We sat there a while drinking tea from our flask. I think it was ginger and black chai (I do love tea) saying hello to the many people that passed by. As the day went on, we had many people asking us where we were walking, how long it would take etc..perfunctory exchanges made with a bit of extra curiosity because we were carrying big packs. In the end I replied 'east' and 'it takes as long as it takes'....which some people enjoyed others probably found strange. But it seems that people want definite boundaries, perimeters to activities when perhaps there should be flexibility, floating, wandering. For something to take as long as it takes is a way of surrendering with meaning. how often do we, in our western, busy culture, allow ourselves to go with the flow?
Now, after a wild day in the wind and rain where we covered about 15-16 miles, we are drying out at the South downs yah and planning the next steps. The weather is looking a bit unsettled for the next couple of days which may change our plans.
I have loved the exhilaration of the wind, but was slightly perturbed earlier when I was almost blown off the top of the hill, even with a big rucksack on. We made the decision to drop down and ended up in a lovely little pub in a village called Kingston near lewes to have a lime water before carrying on in the rain to the hostel. And now it's rice and dal for dinner...and more tea...yippee :)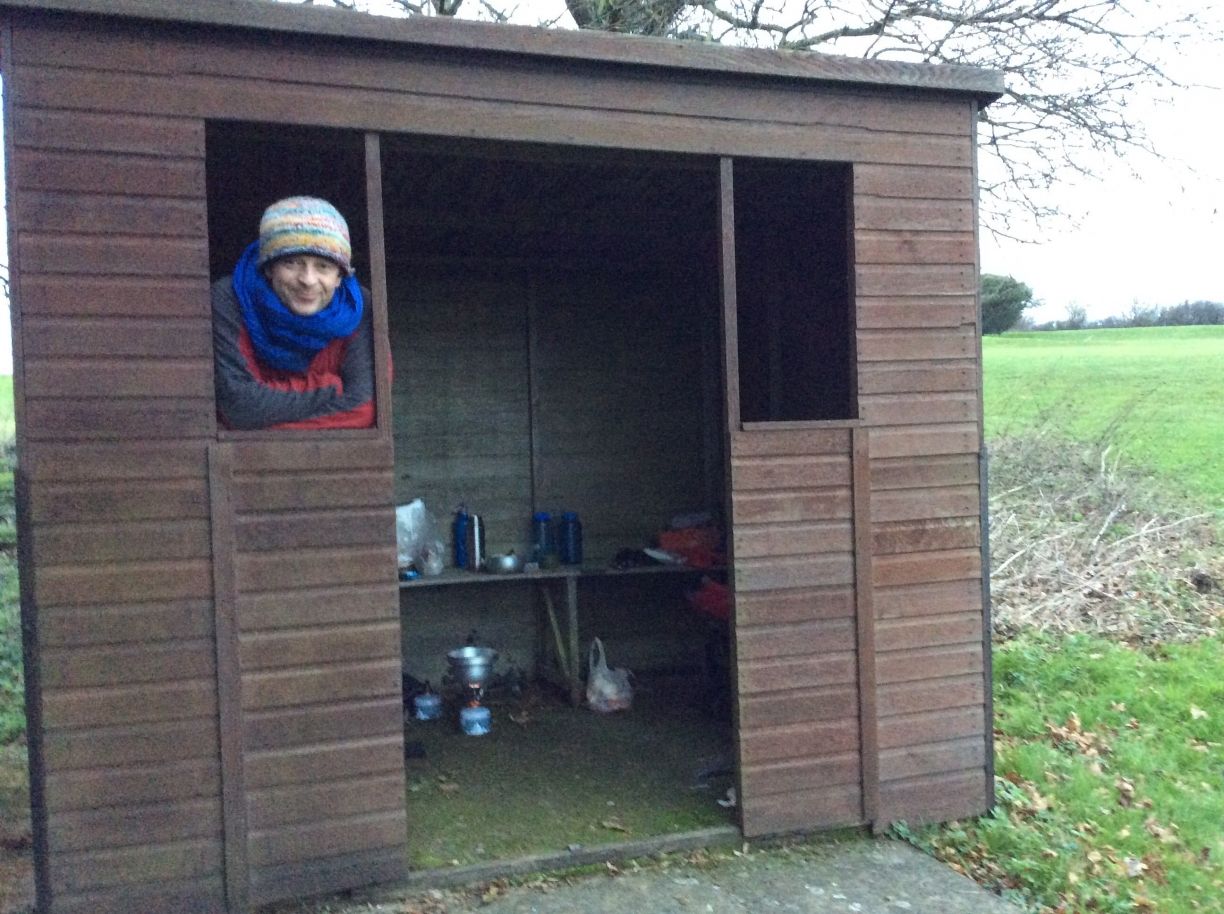 ANCESTORS: part of my spiritual practice is to walk with the ancestors, to really imagine and walk with them. To use my felt sense to connect and engage with them with each step. Whilst walking on Roman roads, I could hear the ancestors coughing, I could sense the weights they would have been carrying, the mud on their clothing, the wariness of attack. I felt my peripheral vision expanding as I contemplated this. How often in our modern lives do we use our true range of vision? We were up Winchester hill which is an ancient hill fort on the South Downs way. The view is stunning and you can underpants straight away the thought process of our ancestors- what drove them to choose that spot to defend their relatives, their property, their power. There are many ancient hill forts in the U.K.
And one of the wonderful gifts they give us is the gift of dream time imagining because in a way there is nothing there although the here is so much there. So you see a ridge all around the hill fort but you have to imagine the wooden walls, the settlements inside, the smells, the sounds of cooking, children, conversations, we found ourselves contemplating the best defence positions and where the fort was the most vulnerable. We felt Truely part of that landscape and history.
Unfortunately, as the weather was not that great, we could not get a Clear view to the sea but we did look to the east and back to the west. The past the present the future all together. I also took the opportunity to do some hill rolling which is excellent fun!
A misty morning as we wake up at an ecohostal on the South Downs way. The pace of walking through the English countryside in early January changes depending upon the terrain and the weather. As we are camping, everything gets damp and is a bit harder work. You carry all your kit including food and water, you have to take down your tent each day before walking, pack up, cook breakfast like hot muesli or porridge, walk while it's daylight hours (Twilight is around 3.30) and then find somewhere to camp, usually a lovely ok English woodland full of oak trees and mysteries. And then set up the tent, cook, sort out kit...it becomes a healthy rhythms of life. Once the jobs are done, we may venture for a walk around the woods noticing silhouettes, smells, the moon as she shines down. There is a majesty about being in the outdoors pretty much 24 hours of the day. Although today we wake up in a hostel where we have been able to dry out kit, wash, access wifi...all those things that we are attached to or give us some level of extra comfort.
On the night of the full moon, it felt as if the wood was full of witches. The trees seemed to be reaching out and I could imagine a broomstick shadow crossing the moon. Everywhere we camp we are aware of the calls of the tawny Owls and hear the odd shriek of an unfortunate mouse.
There are not that many walkers at this time of year and there aren't any camping like us, but we are meeting some amazing people along the way including a beautiful elderly lady called Mary who wanted to come with us and was so happy with what we are doing. She is in the book of names as is her late husband, she said he would have been thrilled to have gone to India. So now he is. We also met a cyclist who has worked in turkmenistan, a new friend and important contact for the onward journey. His brother will be in the book of names and will journey with us.
I am not sure if the exact mileage yet since I started in Glastonbury, but it must be well over a hundred now. The South Downs way is 99 miles in total and we are walking all of it befor picking up the Kent coastal path to take us on to Dover. As each day passes and we get further east, I feel an excitement building and a sense of real purpose and realisation of the challenges and the exciting adventures which lie ahead. I look to the east and I say with conviction on nam aha shivaya! I embrace all aspects of life and I embrace all aspects of this incredible journey.
The first small phase completed- I arrived at Salisbury and gave thanks for such a powerful beginning to the journey. In only 4 days. I have already been overwhelmed by the kindness of strangers and also by the support that people have given me.
Dawn on the winter solstice- the second day of the walk. A challenging day today in terms of navigation and climbing over barbed wire and disorientation in the woods...but what a powerful dawn. Dancing barefoot to the 4 directions in a muddy field on a hill, turning form the west to the east and saluting the sun.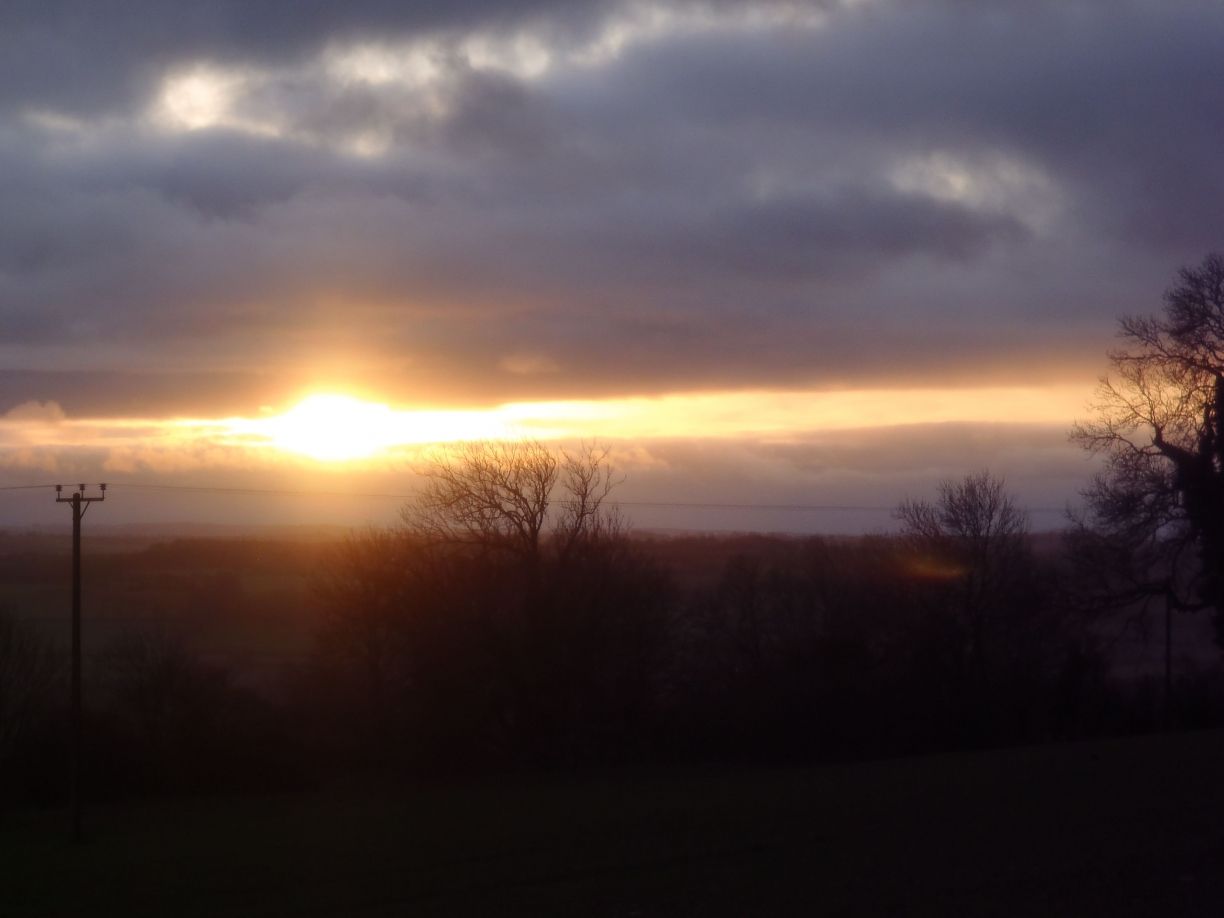 Dawn on the winter solstice- the second day of the walk. A challenging day today in terms of navigation and climbing over barbed wire and disorientation in the woods...but what a powerful dawn. Dancing barefoot to the 4 directions in a muddy field on a hill, turning form the west to the east and saluting the sun.
Book of names: I am keeping a book of names for anyone who would like to be part of the journey or has a departed loved one that they would like remembered. I can write a short message for them too. Perhaps you could think of 3 words that sum the person up (or yourself up) or a short sentence. For example, for my granddad (who died suddenly when I was in India) I have written- an unfinished journey: we walk together.
I would love to hear from you if you would like a name or names in the book. And it can be you, a friend, relative living or dead.
All the names and messages will be read at the source of the Ganges when I arrive there, offered to the divine energy of the river.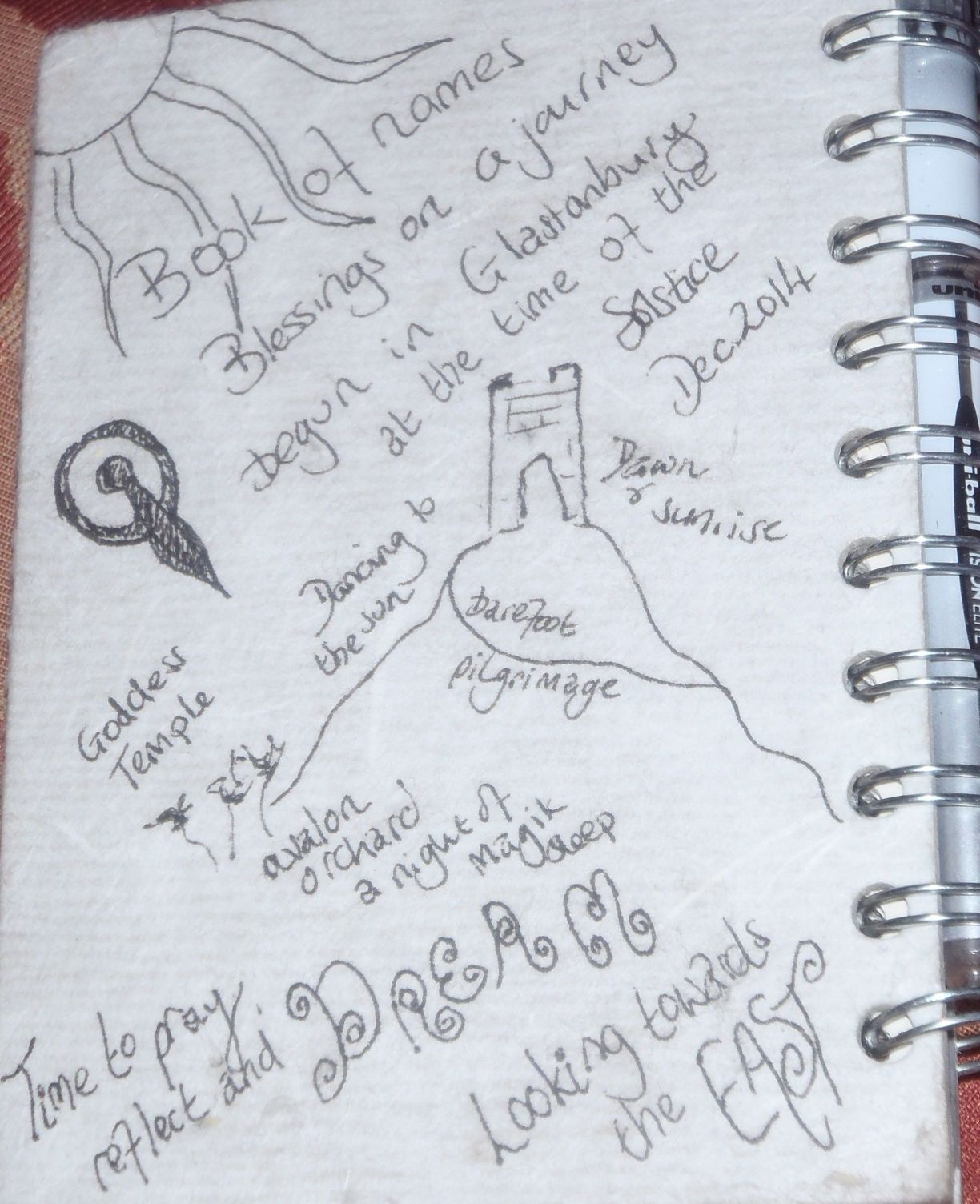 An early morning in Avalon Orchard, Glastonbury. I woke up in my tent and walked up the Tor to dance to the dawn and rising sun and to look towards the east. Today, the 20th December, is the day I start the walk, an exciting, landmark day. It began with a dance and a namaste to the sun, then packing up the tent to walk into glastonbury- I needed fuel for my camping stove. The search for fuel became an expedition in itself- I ended up walking to Street (the next town) in desperation. However, success was achieved and I returned to Glastonbury knowing I would be able to cook during the trip.
In Glastonbury, I was drawn into a crystal shop where I met Emma Rose who suggested I buy a book to write down people's names to carry on the journey. In the shop, I bought a piece of clear quartz for clarity and focus to wear during the pilgrimage, it felt like the right thing to do. Emma Rose asked me to put her mum's name in the book of names. I felt very honoured to do this.
The next stop was the wonderful Goddess Temple to seek guidance and make an offering on the eve of the Solstice. The temple was so beautiful, full of incense, candles, offerings and wonderful images of women both young an old. on one wall, facing towards the east (ish) was a fantastic image of the face and hair of an old woman which I found very thought provoking and moving. What a beautiful way to set my intentions for the pilgrimage and to ask for support and guidance from something so much greater than myself.
So the walk actually started in the dark in the end as I headed back to the Tor at around 4pm (dark in december in the UK). I walked towards the east, following the map and soon decided it would be easier to road walk in the night as footpaths were hard to follow over the fields. After about 4 hours walking, passing through villages, I found a place to camp- a small piece of scrubby woodland by the side of the road. Home for the first night of the pilgrimage!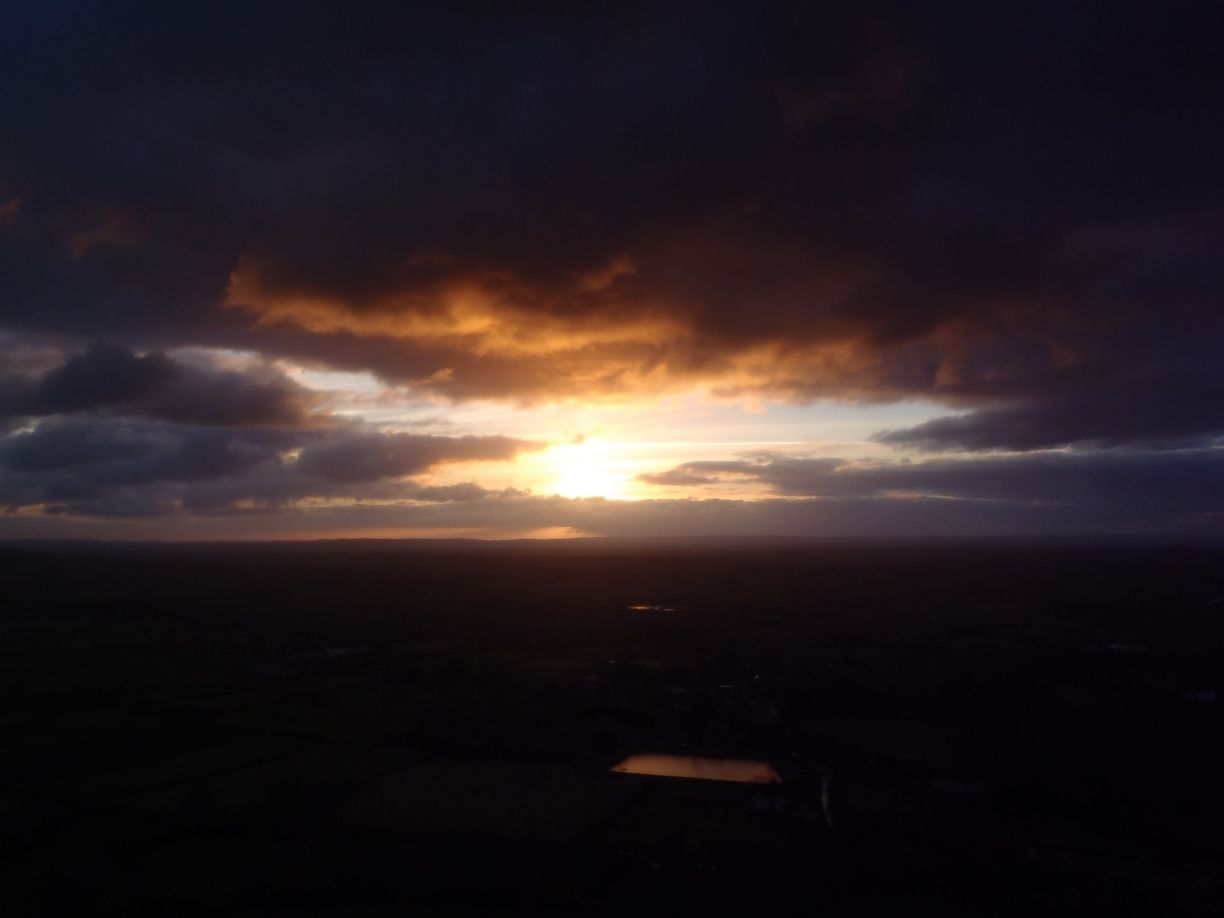 The idea and proposition for this expedition was born from very powerful spiritual experiences I had in India. I know it sounds like a cliche: go to India, find yourself, find spirituality....but I cannot deny what I felt, saw, thought and experienced during the 8 months or so that I spent there. Staying in Ashrams, participating in a Vipassana silent retreat, trekking in Ladakh, making a pilgrimage to the Golden Temple in Amritsar, spending 4 days on a boat on the Ganges and swimming in the Ganges at Varanasi, going to temples, pujas, swimming in the Yamuna river with local children, dancing with the Hare Krishnas and meditating at the Vivekananda rock in Kanyakumari. Sitting by the Ganges at Rishikesh was I think the inspiration for me to walk to the glacier from which ma Ganga springs. When I arrived there, at the beginning that springs from an end (the melting glacier) I felt the need to make a promise. I felt so grateful to India and Ma Ganga, for what they had taught me and for the certainty I felt in divine love that I wanted to show my gratitude through some kind of endeavour and challenge and the promise to walk back was made.
At that time, I thought I would start the walk at the age of 35. This year I have had many signs that it is time to start the walk, it has also happened to be the year that I have turned 35.
The plan for the walk has always been to walk out the front door with my backpack on and keep heading east until I get there. This altered slightly this year in that I decided to start from Glastonbury, head east and do the walk in stages rather than all in one go. The nature of the walk will likely evolve over time. I am carrying with me a book which is being filled with names and messages for the departed and those here who would like to be part of the walk. Anyone can be entered into the book. The names will be read out at the glacier mouth. At the end of a long journey.
The walk is for everyone, although the inspiration has come from my own experience. The walk is an opportunity to deepen and share ecotherapeutic practices, to visit holy places, shrines, ancient sites along the way, to discuss and investigate spirituality with anyone and everyone and an opportunity to give thanks to the earth with every step taken. The walk is simple- walking and camping, perhaps sometimes staying with friends met along the way. It is a celebration of life, the earth, the elements and humanity.