Youth Engaged in Native Plant Restoration Science in Kauai
December 22 2014
I am conducting a conservation biology research masters project out of the University of Hawaii at Manoa, studying the effects of restoration efforts on native vegetation at Limahuli Preserve in Kauai. I am engaging local high school students and studying the effects of youth involvement in ecological research on their academic and personal achievement.
You are set up to receive WePay payments.
Here are the details to your account:
Name: Nadia Stanis
E-Mail: natestanis@gmail.com
Account ID: 2004453123
Data collection and youth outreach is underway at Limahuli Preserve on the North Shore of Kauai. We're deep in field data collection of native plant inventory and baseline microhabitat measurements.
We've take measurements of 6 quadrate so far: 3 in an area in managed restoration and 3 in an area of previously restored and currently unmanaged forest.
The first trip was sunny and warm and we all got to have a dip in the river to cool off after the field work.
The second trip this past Saturday was wet! It poured on our team the entire day, but we made our measurements, and the teen volunteers were troopers. One of them exclaimed at one point (ankle deep in raspberry bushes and drowned in rain), "this is so fun! I love this sort of thing!"
Please consider helping with a donation. This project is unfunded currently, and we are planning field trips for the spring for local high school students to visit the preserve.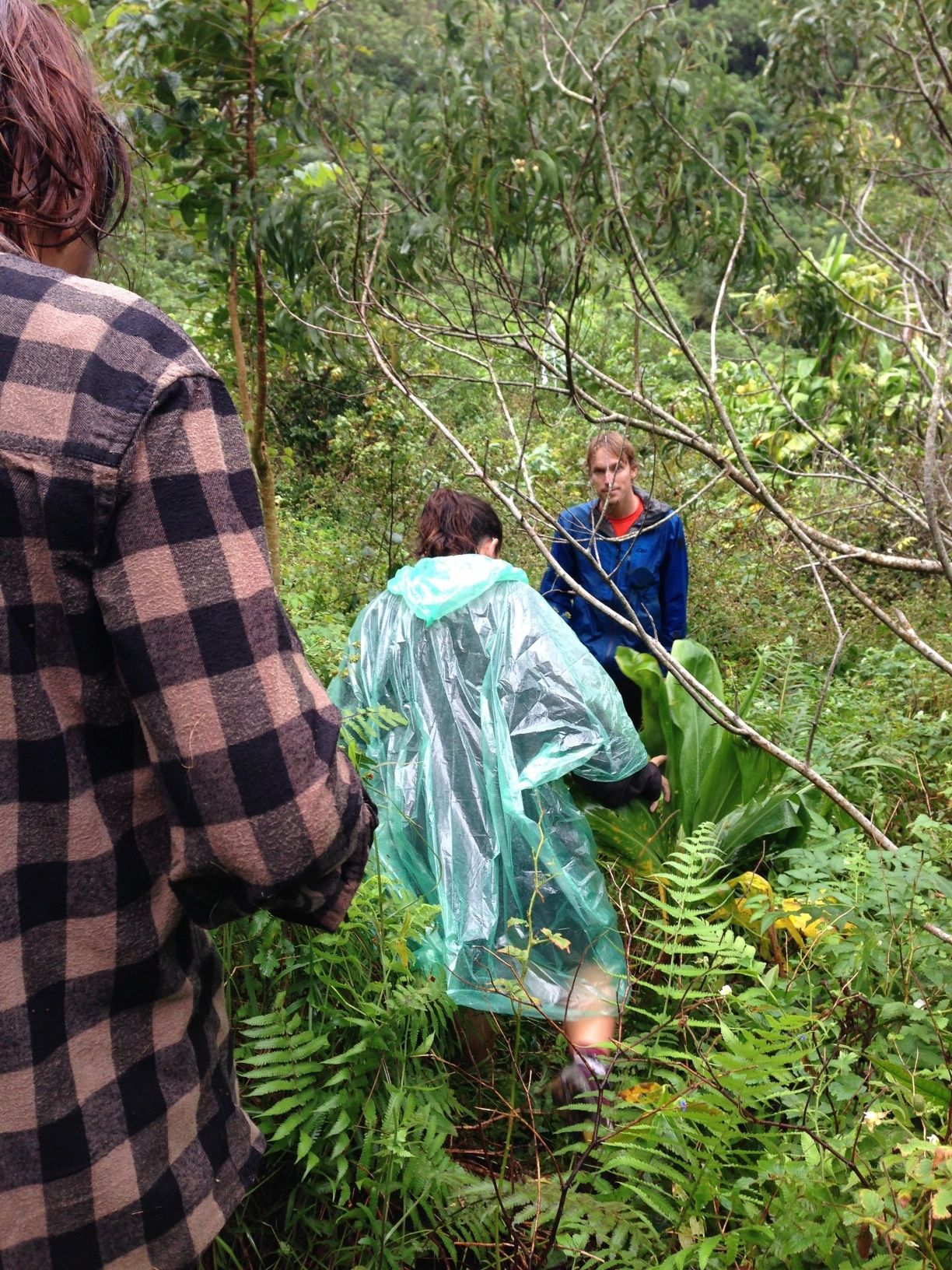 I am conducting a study of native plant restoration and youth engagement in restoration at the Limahuli preserve and Kapa'a High School on the island of Kaua'i. I will measure plant establishment, identify the abiotic and biotic drivers of restoration success, and measure student scientific achievement and perceptions after exposure to restoration science and involvement in restoration projects.
Specifically, I propose to (a) assess the effects of restoration on the long-term persistence of out-planted native plant species in the Limahuli Preserve in Kauai, (b) determine the conditions under which those species thrive, as well as (c) assess the effects of involving local high school student in restoration science and projects on their achievement and attitudes in science and (d) study the potential effects of the student's involvement on the restoration efforts. I hypothesize that establishment success depends on the length of time of active management, indicating a need to actively protect threatened or degraded ecosystems until ecosystem functioning and population regeneration goals have been met I hypothesize that students scientific aptitude and likelihood to enter STEM fields will improve with the level of involvement in restoration activities. Specifically, students who serve as field assistant and more actively involved in measuring restoration success will have a better understanding of and a more positive perception of science fields, higher assessment scores, and increased knowledge in science than students who only participated in classroom restoration science lectures.